Dear All,
Housing related stocks (Cera, Astral, Repco, etc.) are in flavor yet real estate developers have been struggling for some time now.
Since the market is generally overvalued, I was looking at real estate sector after a long time trying to make sense of which companies can survive the real estate recession and ride the growth wave as and when growth re-emerges. Of course, a healthy balance sheet is critical for this.
Chennai is one market which has seen green shoots of recovery in real estate sector. More on this can be read here:
Digging a little further, I came across a relatively unknown Smallcap, which seems to have a good brand image in Chennai Real estate market and has prestigious projects in sought after locations. This company is LANCOR HOLDINGS, market cap of 170cr.
The company has recently celebrated its 30th anniversary and announced foray into affordable housing segment, apart from the premium housing segment which it has already been catering to. More can be read here—> - Lancor eyes newer locations - The Hindu
The company has a NEWS section on the website with a lot of recent articles which seem very promising prima facie. Flats for Sale in Sholinganallur | Duplex Apartments for Sale in Keelkattalai | Lancor Holdings
Key Financials:
Financials FY15 (FY14): in crores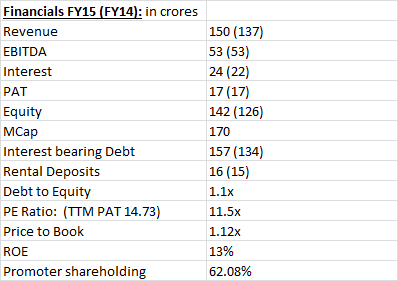 A few key highlights:
The company recently said in one of its BSE filings that it has a potential of construction of 8,00,000 sq ft of built up area, with an estimated turnover of Rs 400 crores at a margin of 25 per cent from a land that it has acquired. (FY 2015 turnover was 150cr)
The company has recently become pretty active in acquiring lands and has announced new projects. Looking at the clean management (received "the Highest transparency" award at The CNBC CREDAI Awaaz Real Estate Awards 2009.) and high quality/timely construction, I believe this can be a good story to ride on.
The P/B mutilple of 1.1x and PE ratio of 11x (9x on 2015 earnings) looks pretty low risk to me. Also, the company has been recently talking bout Senior Housing in their annual report; this segment has seen a big growth recently (See Ashiana Housing). If the company is able to deliver, the stock can shoot up significantly from these levels.
Disclosure: Recently took a tracking position.