Merger gets CCI approval.
The most important is the RBI approval which is very difficult at this point of time.
Looking at the present NBFC crisis and history of Indiabulls group, it is very difficult for RBI to give approval for this merger.
The market seems to know this ahead

The latest announcement by the bank taking pride in its history shows the increasing desperation.
With the fall of PMC bank due to HDIL, nobody at RBI would've been ready to bell the cat. Additionally, IBHFL has very close connections in Congress. The numerous baseless allegations coming just in time to stop the merger is proof.
But with the merger plan behind, LVB can work on getting out of PCA. Half of all banks put under PCA have come out stronger. Even Dhanlakshmi Bank survived. This one will be a long road to recovery.
I only hope those who resigned recently are not guilty of any NPA scams.
An Independant Direct Mrs. Anuradha Pradeep resigned recently. It has come to my notice that she is the wife of one of the Promoters Mr. K R Pradeep.
I see this as a possible directive from the RBI.
Also, the lot of noise about scams and frauds that was being made during merger with Indiabulls has subsided.
I see these two points as a positive.
the bank is possibly going to post worse results than last quarter.
Also, there have been no updates on raising capital.
These two points are a negative.
It is going to take a couple of quarters before PCA by RBI starts showing positive effects.
No upside visible. It was good that RBI initiated PCA.
Jm financial and Capri global have been major investors in the latest quarter. But the bank has managed to stay away from negative news.
Chinese Covid19 pandemic is going to push the bank into a tough situation as investors won't be coming fast enough.
Among smaller banks, Lakshmi Vilas has got highest default cost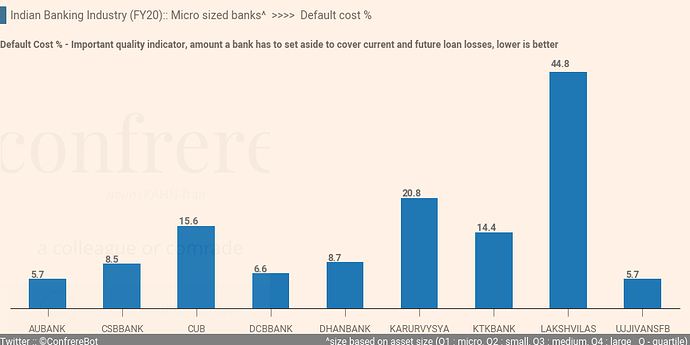 source :: https://twitter.com/ConfrereBot/status/1328529490511683586?s=20
RBI placed moratorium on bank. Till it is over, depositors can withdraw at max 25K. Bank is getting merged with DBS bank. and as per some twits, share price is going to 0 (?).
Thought of sharing the news.
I am not an analyst. This is not an advice. No interest/investment/trading in the bank.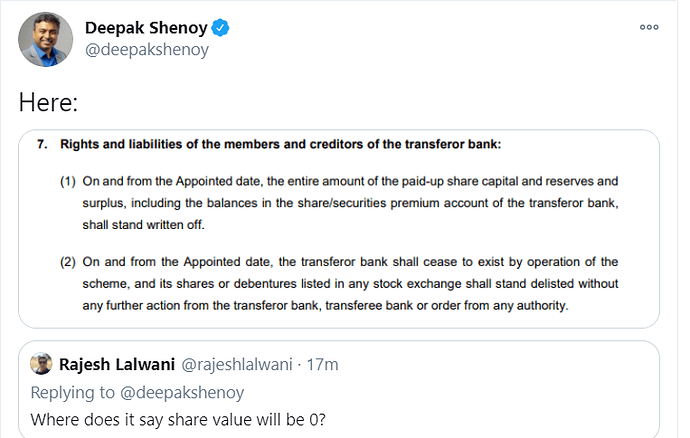 And the link to RBI announcement
https://www.rbi.org.in/Scripts/BS_PressReleaseDisplay.aspx?prid=50674
some excerpts from the article.
Any move that hinders the principles of natural justice should be avoided, an institutional investor said, as quoted by The Print.\

Shareholders have also suggested other options for the resolution of the stressed lender, including a bidding process from prospective suitors.

Public sector banks' officer union AIBOC too opposed the LVB-DBS amalgamation saying it is not in the national interest and demanded consolidation with any PSB.
How is it justice if those who are NPA's are roaming scott free and shareholders who own the bank are robbed of their ownership? Why did RBI not intervene in the Clix capital deal to safeguard interests of the shareholders too?
The bank is a lost case and badly governed but that does not give RBI the right to just take away shares. Why different treatment to IDBI, Yes Bank and CSB and stepmotherly treatment to LVB? Why not merge LVB with IDBI and gift it to LIC to burn money? both banks have similar NPA's and IDBI can easily stomach Lakshmi vilas bank and still recover faster. (just my opinion).
DISC: Holding since 2017 (Pre NPA crisis).
The DBS merger may not be so smooth after all.
lot of opposition coming in from all quarters