L&T Technology Services Limited (LTTS) is a global leader in Engineering and R&D (ER&D) services. Our ER&D services help customers innovate to build new products, minimize cost of development, reduce time to market, and meet the increasing regulatory demands. Partnering with 52 of the Fortune 500 companies and 51 of the world's top engineering R&D spenders, LTTS offers cutting-edge solutions in the areas of Digital Engineering, Cloud, Analytics, Artificial Intelligence, Machine Learning, Automation, Augmented and Virtual Reality, and Cybersecurity.LTTS is a publicly listed subsidiary of Larsen & Toubro Limited, the $18 billion Indian conglomerate operating in over 30 countries.
LTTS provides E& RD in various segments like Industrial, consumer electronics, medical devices, transportation, plant engineering, telecommunication, semiconductors, media & entertainment
CEO- Mr. Keshav Panda has doctorate degree and worked in DRDO, ISRO. He has studied in IISC, IIT Bombay, Wharton and has 27 years of experience.
Financial Performance - From Screener.
Sales growing @ 13 % cagr (3 years avg)
Profit growing @ 18% cagr (3 years Avg)
ROE: 30%, ROCE: 38%
PE: 23
Debt Free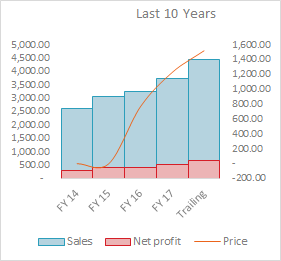 Customer Geography
North America constitutes largest market with 57.6% of revenue share followed by Europe and India with 18.6% and 11.7% share respectively. Rest of the world contributes 12.1% of our global revenues.
Latest Quarter results are much better than past past cagr & is way above guidance.Highlights for Q2FY19
| | Q6 | Q9 | Q10 | QoQ | YoY |
| --- | --- | --- | --- | --- | --- |
| Sales | 900.60 | 1,152.20 | 1,266.10 | 10% | 41% |
| Net Profit | 123.00 | 198.10 | 191.80 | -3% | 56% |
From Website: https://www.lnttechservices.com/
Employees: 13000+
Customers: 235+
Repeat Business: > 90%
Patents Filed: 349
Acquisition: Graphene & Esencia
20:20:20 COMPANY VISION
As part of our 5-year Lakshya strategy, we have drawn up an organization wide roadmap termed as the 20:20:20 vision. This blue print envisions a sustainable 20% annual topline growth, complemented by healthy EBITDA margins of 20% and 20 new technology patents annually, which will achieve the momentum necessary to drive growth to $1 billion by 2021.
Industry Outlook
The $75-80 billion ER&D global services industry is expected to grow at a rapid pace (14-16 percent YoY) and reach a valuation of $145-155 billion by 2020.
Opportunities , Challenges & Risk
"Indian ER&D market is registering a combined annual growth rate (CAGR) of 13% since 2012. Our $24 billion is only 22% of global market size. The share of the US and UK continues to be big compared to India,"
India is Still a follower than a trend-setter
Limited global eco-system connect, lack of innovation culture and availability of converged digital and ER&D skills
Top 30 customers contributes more than 50% revenue. Concentration Risk
lack of large deals. 89 nos 1 mn deals and only 2 nos 50+mn deals
Over dependence on North America
Competition in India
TCS, Wipro, HCL
CRISIL CREDIT Rating
Total Bank Loan Facilities Rated Rs.250 Crore
Long Term Rating CRISIL AA+/Stable (Reaffirmed)
Short Term Rating CRISIL A1+ (Reaffirmed)
Disclosure
I am not a SEBI registered financial advisor. Initiated a small tracking position. This is not at all a Buy/Sell recommendation.
Request to VP members to share feedback !
Source of Information: Screener, Annual Report, Online eR&D market reports etc