Apologize for the blank post. Had lot of content but somehow it was posted as blank. will reproduce it soon.
I would love to read your content, but even though this stock shows up on my screener, I always avoid going deeper because of the high debt-to-equity ratio. Please do comment on that in your analysis
India is the largest producer of milk in the world. Also the consumer!
- Kwality Ltd. (Formerly known as Kwality Dairy) is a company selling milk and milk products.
CMP â Rs. 49
Products
Ghee, Cow Ghee, Low Cholesterol Ghee, Curd, Paneer, Milk, UHT Milk, Skimmed Milk, Flavoured Milk, Instant Creamer, Pasteurized Table Butter, Yogurt.
Sales
From Sales Turnover of Rs. 99.14 cr in 2006, the company has made it to Sales of Rs. 4570 cr in 2014.
(Standalone sales in Cr.)
| | | | | | | | | |
| --- | --- | --- | --- | --- | --- | --- | --- | --- |
| FY 06 | 07 | 08 | 09 | 10 | 11 | 12 | 13 | 14 |
| 99 | 149 | 332 | 582 | 1054 | 1600 | 2390 | 3692 | 4570 |
Product Quality
- International Quality standards are maintained as per HACCP standards.
- Company Boasts of USFDA and HALAL certifications.
- Company products also have BIS, ISI and Agmark certifications.
Procurement of Milk
Company has farmers network in Haryana, Western UP, Rajasthan which is continuously being strengthened, as indicated by consistent growth.
Company claims to have a transparent system to procure milk from farmers which ensures quality of milk.
Company also runs some schemes for farmers which help in bringing in more farmers to the company.
Network
The company has 1000 distributors and 27000 retailers who sell its products by the brand name of Dairy Best & Kream Kountry.
The company experimented with its own Shopees in Delhi & NCR and the experiment seems to have paid off.
Exports
Company started exporting its products in FY 2013 after GOI lifted its ban on Skimmed milk powder & whole milk powder export. At present, company exports 3 brands of ghee and skimmed milk powder.
The company exports to various countries including Algeria, Afghanistan,Bangladesh, Iran, Japan, Jordan, Lebanon, Togo, Pakistan, Saudi Arabia, Seychelles, Syria,Turkey, UAE, Yemen and is planning to export to other countries viz Australia, Netherland,Singapore, Holland.
The exports are still in nascent stage but are expected to grow with time.
Subsidiary
The company has its subsidiary in free trade zone of UAE, Kwality Dairy Products â FZE.
The Subsidiary has recorded sales of approx. Rs. 430 cr. for year 2014, which is the 2nd year of its operation.
Naturally, more growth is expected on that front too.
Debt
The total Debt of the company for FY 14 stands at Rs. 880 cr.
On first glance the companyâs loan value looks like a reason for worry. But I personally believe that if the debt is justified by growth in a companyâs earnings, it can be overlooked.
The company has shown a consistent growth in EPS for the past five years.
Also the company balance sheet shows sundry debtors at RS. 930 cr. which is mostly money credited to its distribution network.
For the above two reasons I believe the Debt is not really a worrisome factor here.
Favorable Factors
- Consistent growth both in domestic and international market.
- Huge opportunities ahead with increasing middle class and their milk products demand pan-asia.
- Shopee model working well for company.
Arguments Against
- Can the company increase its procurement network to meet the increasing demand?
- Can the profits be sustained with increasing competition in this sector?
P.S. - I have kept this shorter this time since my original post went blank for some reason and Iâm a bit overworked today. I invite views and criticism of fellow valuepickrs. Please correct me if Iâm going wrong somewhere.
Disc :- Invested at CMP
Hi Nikhil,
Thanks for doing this good work.
I was doing a quick check on the dairy sector.While Hatsun,Heritage are enjoying a high valuations with PE of 40+,Kwality is trading still at PE of 7.68 and industry P/E is 40, not sure why Kwality is languishing below 8.Even market cap to sales is abysmallly low at 0.21.
If I want to buy this company today which is making a sales of Rs.4500+ crores and increasing 30% every year,I will be paying atleast half of the sales which is Rs.2300 crores, whereas the current market cap is just Rs.1650 crores which is ridiculously cheap.
My only concern is company has never shown positive operating cash flow except for the current year.One another thing is if we go through their AR,it is pretty difficult to understand where the future growth will be coming from.Kind of vague to get some useful information out of it.
In case of Hatsun,they are moving into branded businesses especially they are expanding into ice cream parlour business quiteaggresively.And market is already cheering it up with high valuations.
Even if Kwality's sales numbers are not true,if we take out half of the yearly sales from Rs.4600 crores,we get Rs.2300 crores.And current market cap is still less than that.
Again,market knows something we dont know.End of the day market is always right.
Disc: Not invested.
Hi Sampath,
I believe Kwality's stock hasn't risen because of their debt. They have been fueling their growth with debt. Market probably views this as a big negative, even though they have maintained the interest cover ratio around 2.5 for last 5 years. For me, this means that they have somehow maintained a balance of increase in debt with their growth.
On the point of future growth, I believe there is a huge market to be covered. With India's growing middle class, their products will be sold more. Also kwality is going for the shopee model, which may give their brand a boost and sales a further push. I believe, kwality still doesn't have reach like amul dairy, so there is still huge scope for growth.
Lastly, I don't think their numbers are cooked up.
Disc :- Lightened my position as there are better short term opportunities.
On EV/EBITDA basis this trades at the same valuation as Hertiage foods (~6.2).
Idon'tunderstand why after the conversion of warrants shareholder M/s. Pashupati Dairies Pvt. Ltd. is not considered as a part of the promoter group given that it is classifed in the 2014 annual report as "Enterprises on which Key Managerialperson having significant influence"
Any ideas on how they achieved that? This move also makes me a bit nervous about it.
Shan,
Kwality has been repaying their long term debt with good consistency since last four years. It seems they would become debt free in a year or so.
2014 2013 2012 2011 2010
Long Term Debt / Equity 0.24 0.39 0.56 0.94 1.07
Tejas,
As per the latest announcement by the company,the outstanding debt is Rs.1160 crores approximately.They may repay the long-term of Rs.96 crores in a year.But they have a huge short-term loans (Working capital) of close to Rs.900 crores which is massive.That is the reason market is not assigning low PE for this stock even though it reports 30%+ sales growth for the last few years.They are constantly infusing capital for their expansions through debt which shows this company is very high capital-intensive and cannot feed its growth on its own(internal accruals and cash-flow).
Technically above 58 it has given good break out from 3 yrs consolidation looking for the tgt of 106 sl 55
CMP 66 as on 7/7/2015
disclosure :- added to trading portfolio
Hi,
I also pondered on this stock considering its valuation and market share. There is a huge margin of safety as far as valuations are concerned.
Sales have been consistently growing, crossing 5800 Cr in FY 15. This I guess is top most by a private player in dairy sector after cooperatives such as Amul (20K Cr), Mother Dairy etc.
EBIDTA - close to 10% - better than peers ranging in 5 to 6 %.
Historically company has been in B2B sector processing milk for Amul and later foraying into supplying milk products to organized retailers.
The present business mix is 70% B2B and 30% B2C along with 61% non-branded sales and 39% branded sales (Dairy Best).
The focus of the company according to recent presentation seems to be on
Direct Procurement (presently only 15% is direct and target 50%).
Focus on retail business - transforming from commoditised player to branded one - drivers are value added products, brand development, retail network strengthening
Debt levels are high but as voiced, considering growth these are justified.
The important aspect is that company tried raising funds by diluting stake twice
Jan 2014 - Rabo Equity Advisors - Funds 500Cr @ Valuations 3500 Cr approx
Sep 2011 - Funds 500Cr to 1000Cr - Either debt or equity
It would be worthy to find reasons for inability to do so since many other dairy companies raise funds at much better valuations except those were already in retail market chase.
Also, there have been issues like operator scam etc in script where 50+ entities were barred from operating. The chart shows this with majestic fall of Nov '2011. Though the promoters seems to have come out clean, market still has given them clean-chit i guess considering valuations.
Heritage Dairy - trading at 29X
Prabhat Dairy listing tomorrow - 40X
Many other including Tirumala, Parag raised PE money at very good valuations in the past. It's been golden period as far as fund raising is considered for dairy companies. Though Kwality raised debt, it failed to raise equity.
http://www.moneycontrol.com/stocks/reports/kwality-presentation-upto-march-31-2015-1729161.html
Looking forward to inputs.
Disclosure - Invested.
I have made the money and lost some also in 2010 when I purchased and sold Kwality for Trading. You can see the price graph. Dont know whether it was operator play at that time. .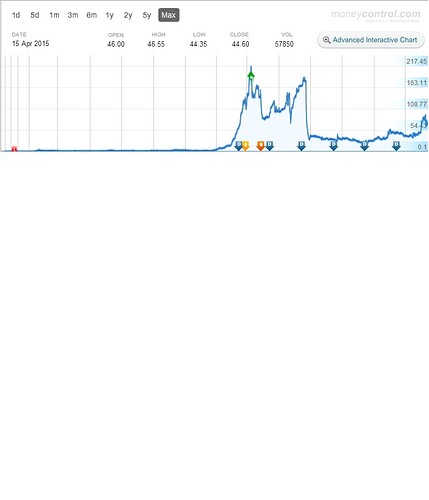 And that was without any fundamentals. Now I will be very cautious while investing in this and others like this.
Lately, Kwality moved up sharply with huge volume. On PE basis, the stock looks relatively cheap. Can someone who is tracking this stock throw some light on any new development/trigger? 40% top line growth company available at less than 20 PE for FY16. Any insightful information would be appreciated.
1)Debt has been reduced
2) It seems that company plant to introduce some new products (I need to validate)
Do Not hold any position but I may add soon.
yes it looks cheap compared to a Hatsun or Heritage
primary factor seems to be the shift towards value added products like ghee, ice-cream, butter, yogurt, etc which have a better margin compared to milk
recently entered into an agreement with Kwality Group to use the "Kwality" artwork (branding) for their products in Delhi/NCR
Akshay Kumar roped in as brand ambassador
more like the diary foods theme that is being played currently Organised Dairy To Grow At Over 22%
do not hold any, sold at ₹106
Hi,
There has been significant focus in the dairy sector as a whole post Prabhat Dairy IPO. Also the previous exits of PE funds from dairy stocks in last 5 years or so has been encouraging. Since my last post on Kwality, investors like Dolly Khanna, Vijay Kedia have picked up Heritage stake.
The last few months and price rise is clean example of theme based investing.
However, I am still holding with conviction of cheap valuation and growing dairy sector and 'kwality' business.
@nityanandparab - On the fluctuations in the share price of Kwality - it was a operator play, some brokerage firms were banned from Noida for sometime. I tried sneaking in to see if there is any promoter play also involved, however they seems to be clean and have paid price with low business valuation for years. They have tried raising funds in recent past at higher valuations but it didn't go through.
Disc - Invested.
Can anybody quantify or give insight to the fight going on between the promoter family which had led to such a downfall in stock .
I would like senior vp members and others on forum to provide some understanding .
Disc - Invested but not able to understand recent news coming from promoter family .
I have been studying the dairy industry now. Though not yet invested in any of the companies. What you notice straight away is the high amount of working capital requirements for growth. Kwality has a working capital cycle of 106 days and so has Prabhat. From what I understand opening new milk procurement centres to increase the volume of business is very much contingent upon working capital availability. From the time you pay cash to the point where you collect from your buyer is a huge haul.
As such there is always a tradeoff between margins and liquidity. If the company wants money to return faster it would adopt a B2B model and if it has comfortable liquidity, it would increase its exposure to B2C trade where the margins would be higher but funds would be blocked for a higher period.
The shift towards value added products also operates more or less in similar fashion. Value added products would fetch higher margins but would mean an extended working capital cycle with higher investment in fixed assets as well. There would also be additional spend on marketing and sales promotion.
Kwality currently is operating mainly in B2B segments and is trying to move up the value chain by moving into B2C and value added segments. Both these moves cannot happen without additional fund availability. If it tries to do so without shoring up its equity, it could turn out to be a potentially dangerous move given that on Mar 15 its debt:equity was already high at 2:1.
have initiated a position in kwality dairy at 120 rs today.
broadly the points which got me interested :
the company has been in the dairy business for long and knows through functioning of the sector. supplies milk to all the big houses like itc hul britannia etc etc. which is their b2b business.
one would tend to agree with the broad theme of urbanisation and the growing demand for value added products. i rem myself consuming products like flav milk , yoghurt etc often only after getting my first job.
they have roped in a seasoned veteran and star akshay kumar as their brand ambassador for marketing and branding purposes. akshay kumar according to me has decent recall and value esp in the north indian stars.
kkr would have done due diligence before investing 550 crores , also the fy 16 ar brings out that the management is clear in its resolve to push for value added products for higher margins and profits. they again and again reiterate the point that the company is at a inflection point. if a company with vast exp like kwality will not be able to execute it then who will be able. ( odds are on their side )
overall i have this gut feel that the change of the business dynamics has favorable tailwinds.
also dairy stocks as a sector don make much headlines and news. if the turnaround happens and this catches market fancy the returns can be really handsome, otherwise with the current price at max i can end up having either mediocre returns ( either profit or loss).
regards
divyansh
I sold it off with a decent profit a month ago when it was hovering around 150. I wasn't comfortable with Company's debt, significant capex & branding exercise required to transition to a B2C player, & the highly competitive nature of the dairy sector.
As of now Kwality procures only around 20% of milk directly (which they plan to increase to 50% in the next 3 years), whereas Hatsun, Heritage, Parag procure ~100% of the milk (Prabhat - 65%) directly.
Most of their competitors (including the Co-ops like Mother Dairy, Amul) in North India have already established themselves as a B2C player. I couldn't see clearly how Kwality could position itself to deal with the competition.
Good Q4 results despite the demonitization effects in both q3 and q4. Q4 NP up 42% YoY. FY17 NP up 18%. Debt to Equity down to 1.42 from approx 1.7. B2C business grown at 30%+.