First of all thanks for registering me as a member of this wonderful forum. I would like to learn from the seniors as well as add value to the discussions in the forum. I was initially hesitant to write about my holdings in a forum with wide audience and seasoned investors like this, but have now somehow gathered courage!
Here is my PF with % allocation (in approx):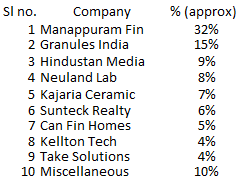 High allocation to Manappuram is due to its recent outperformance , it has been a 3 bagger for me in less than a year. Kellton , on the otherhand has been a disappointment so far, was lured by growth in Kellton.
Recent exit include Repco homes (mostly) which I was holding since its IPO days. The proceeds was invested mainly into Sunteck & Canfin
I always try to maintain a some what concentrated portfolio.
Also, I have been on some leverage since last few years. I know purists will be against the idea of leverage. I am now trying to reduce the leverage.
I try to look ahead only next 2-3 years , can't forecast beyond 3 years with certainty .
Looking for feedback/ criticism from seniors and fellow members.
Thanks
Disclaimer:
I am not a SEBI registered research analyst. The above portfolio is not a buy or sell recommendation. Please do your own due diligence before taking an investment decision. I may sell, switch, or further buy any of the stocks mentioned above on my discretion.