Kridhan Infra, over the last decade, has evolved from a steel product manufacturer to a niche foundation engineering company. Kridhan was originally founded in Mumbai as Readymade Steel India Pvt. Ltd. (RMS) in 2006. RMS pioneered the concept of "ready to use" steel for the Construction Industry in India.
Kridhan Infra provides Mechanical Splicing (Couplers) and threading solutions in India. It provides Type II Parallel thread Mechanical Splicing (Coupler) systems that meet all the national and international codes/standards and its onsite threading services are considered to be one of the best in India.
Kridhan Infra has been very successful in providing technology and service to major companies in the construction and Infrastructure business. Some of its clients are L&T Constructions, HCC, Lodha Group, Indiabulls, Delhi Metro, Kochi Metro, Lucknow Metro, Hyderabad Metro, J Kumar, Eversendai, Omkar Group, Marathon Realty, K Raheja Group, DB Realty, Ariisto Group, Lokhandwala Group, Capacite etc.
Over the years, through a series of acquisitions, Kridhan has evolved into a high quality service provider in foundation engineering across the construction and infrastructure sectors - both in India and South East Asia. The Company is present across the value chain of foundation engineering, from soil investigation to piling.
Kridhan has also successfully ventured into other SE Asian countries including Malaysia and Myanmar. It is well placed to tap the growing infrastructure opportunities in India on the back of superior technology and execution track record.
Background and History
Kridhan Infra was incorporated on March 21, 2006 as Readymade Steel India Private Limited. It was a Joint Venture between CSC Holdings Limited ("CSC"), Krishna Trading Corporation ("KTC"), Triveni Enterprises ("TE") and Mr. Anand Goel. Company commenced its test operations in Bangalore in 2007. But it soon ceased operations and from Bangalore and set-up an existing processing facility in Khopoli, Raigad in the year 2008 financed through a term loan from Union Bank of India amounting to Rs.3.9 crores. The Khopoli facility had an installed capacity of 27000 MTPA.
In 2009, Company entered into an LOI with Larsen & Toubro Limited for processing of steel for its Mumbai Monorail Project. In 2010, it became a public limited company with an ISO 9001:2008 certificate under its belt. In 2012, company entered into Technical Collaboration with CABR Technology Co., Ltd, China and completed acquisition of KH Foges Pte. Ltd., Singapore. In 2013, Readymade Steel bagged Rs. 115 Cr. order from Ministry of Health, Singapore and an order worth Rs 35 crore from Shangri La Hotel, Myanmar. Also, in the same year, company acquired PSL Engineering PTE Ltd and Rotary Piling PTE Ltd in Singapore.
In 2014, Company changed its name from from "READYMADE STEEL INDIA LIMITED" to "KRIDHAN INFRA LIMITED.
Acquisitions & Collaborations
Oct 27, 2017 – Vijay Nirman Company
Signed a definitive Share Purchase Agreement with institutional and other investors of Vijay Nirman Company to acquire a 36.60% stake in the company. Vijay Nirman Company is a private construction company with over 35 years of operations. VNC's key business activities include roads, bridges, metros, affordable housing, urban and rural infrastructure, industrial infrastructure, ports and terminals. It has more than 1,600 equipment units to complement its 1,600-1,700-strong staff team. The company has completed over 400 projects and has in-house Design & Execution and Training Academy and a fully equipped 20,000 Sqm Fabrication yard near VSEZ, Visakhapatnam. According to a statement from Kridhan Infra, "VNC is an excellent operational and strategic fit with Kridhan's existing business and will create significant long-term value for its shareholders. Through this strategic acquisition, Kridhan Infra will strengthen its position in India in the EPC segment. The acquisition provides Kridhan with a strong execution team to complement its superior and unmatched skill set in road and bridge works, foundation engineering, micro tunneling, flyovers, landscaping, and others."
16 Aug, 2016 – Swee Hong
Through its Singapore subsidiary, KH Foges, Kridhan Infra acquired a majority stake of 50.2% inSingapore's leading public listed EPC Company, Swee Hong for a consideration of SGD$8 million (about $5.7 million). The EPC order book of Swee Hong stood at SGD 120 million as on 31 March 2016. Swee Hong, one of the leading EPC Company in Singapore listed on Singapore Stock Exchange (SGX), engages in the civil engineering and tunneling works in Singapore with over 50 years of experience. Over the years, Swee Hong has grown to cover entire spectrum of EPC services with expertise in tunneling, sewer works, bridge works, roads works, flyovers, among others. Considering the robust demand outlook in Singapore, India and other South East Asian countries for civil engineering works and smart cities projects, this acquisition will enhance capabilities of Kridhan to empower them to participate in larger EPC projects.
August 03, 2015 – CCCC Tianjin Dredjing Co.
Kridhan Infra Limited has signed a Memorandum of Understanding (MoU) with CCCC Tianjin Dredjing Co. Environmental Engineering ("TDC-ECC") to work together in the Indian market for business opportunities in the field of Dredging and all related activities. CCCC Tianjin Dredging has a fleet of cutter suction dredgers ranked No.1 in China and high in the world. TDC's main businesses include port and waterway dredging, land reclamation, hydraulic and foundation engineering, survey, design, consultation and environmental dredging. TDC has worked in over 30 coastal ports of China and in international projects in more than 10 countries' and regions of Southeast Asia, South Asia, the Middle East, North Africa and Southern Africa.
Sep 25 2014 - Econ GeoTech
Kridhan acquired 60% stake in Econ GeoTech, a Singapore-based firm through its Singapore arm, KH Foges. The acquisition will allow Kridhan to upgrade its technological know-how and develop its staff competency in geotechnical engineering. "Soil investigation is an integral part of foundation engineering works and now with Econ's association with us, we have an in-house team to carry out site investigations which will not only speed up our on-site work but will also enable us to deliver higher quality engineering solutions within the project budget," said Anil Agarwal, MD, Kridhan Infra.
Sept 3, 2013 – PSL Engineering and Rotary Piling
Readymade Steel India Ltd (RMS), now Kridhan Infra, entered into a sale and purchase agreement with Singapore-based PSL Holdings Ltd for the acquisition of two of its wholly owned subsidiaries—PSL Engineering Pte Ltd (PSLE) and Rotary Piling Pte Ltd (RPL)—for Rs 80 crore to Rs 100 crore through its RMS's subsidiary KH Forges Pte. PSLE was incorporated in September 1984 and specialises in providing micro-piling, civil, mechanical, construction and ground engineering work. RPL, which was incorporated in November 1974, is a contractor of bored piling, civil, mechanical and ground engineering work. "The proposed acquisitions reflect KH Foges' effort towards upgradation of its capabilities through acquisition of new technologies and investment in the development of human resource competencies and compliment (its) vision of becoming the foundation engineering specialist in Southeast Asia," said Anil Agrawal, MD of RMS.
Jul 13, 2012 – KH Foges Pte
Ready Made Steel India completed the acquisition of 90 per cent stake in KH Foges Pte Ltd, Singapore through its wholly owned subsidiary RMS Singapore Ltd. Established in 2004, KH Foges is a specialist contractor in foundation engineering works. For the year ended December 31, 2011, it had a total income of about Rs. 350 crore and a net profit of Rs. 20 crore. "The acquisition of KH Foges was a step towards integration, diversification and value creation for RMS. With KH Foges, we have been quite successful in Singapore as we won several projects across the board in High end Infra Projects like Metro Stations, Commercial Projects like Govt Hospitals, Hotels etc as well as several Housing board projects covering Residential. Now, we see a much greater opportunity in India than what we saw three years ago. This is exactly why we are keen on focusing on infrastructure projects, on the back of the success with K H Foges," said Mr Anil Agrawal, MD of newly formed Kridhan Infra Limited.
Strategy – Capability building through acquisitions
From its background of being a readymade steel producer, Kridhan found potential in the infrastructure space. It began putting its pawns in place with the first major acquisition of KH Foges in 2012, which is a specialist firm in foundation engineering work. Thereafter, the 2013 acquisitions of PSL Engineering and Rotary Piling helped the Company gain foothold in the piling work which extends further its capability in the foundation engineering work. After the name change from "Ready Made Steel Co." to "Kridhan Infra" in 2014, company repositioned itself as a player in the fast growing infra sector in Singapore. In 2016 came a big moment when Kridhan acquired majority stakes in a stressed firm named "Swee Hong" for ~5.7$ M. Kridhan worked hard for over an year to integrate and turnaround the performance of Swee Hong. And when they succeeded in doing so, Kridhan had the capability to become a full-fledged player in the EPC business through the resources acquired from Swee Hong. They have moved up the value chain from the humble beginnings of being the pioneers in the business of RMS, to a specialized player in Foundation Engineering, Tunneling, Piling, Soil Investigation etc.
In Singapore, the Building and Construction Authority ("BCA") has projected that value of construction contracts to be awarded in 2017 will be between S$28 billion and S$35 billion. BCA is anticipating an increase in public sector construction demand from S$15.8 billion last year to S$24 billion for 2017, boosted by an increase in demand for most building types and civil engineering works. Beyond 2017, BCA projects the average construction demand to be between S$26 billion and S$35 billion per annum in 2018 and 2019 and between S$26 billion and S$37 billion per annum in 2020 and 2021. After positioning itself as Singapore's 2nd largest Foundation Engineering Company, they have now laid eyes upon the Indian Government's strong impetus on infrastructure development.
Although, so far the company has limited presence in Indian Infrastructure space, they have identified India as a fast growing market in Infrastructure and they are moving in fast to grab the opportunity. A 36.60% stake purchase in Vijay Nirman Company will provide them access to Indian market wherein pooling of resources would benefit both the firms. The local market knowhow and handling bureaucracy are some of the benefits Kridhan would enjoy with Vijay Nirman's vast experience of project execution in the country. The skill and technology that Kridhan brings would benefit Vijay Nirman, as both companies derive synergy from this collaboration. With its vast experience, technological prowess and superior capabilities, Kridhan can emerge as a significant player in Indian Infra space.
Group Structure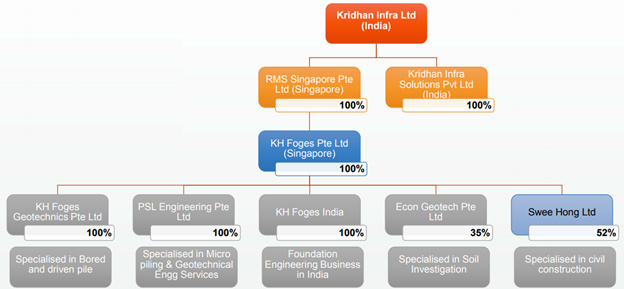 Financials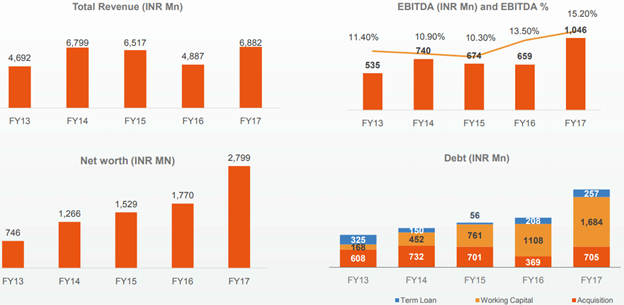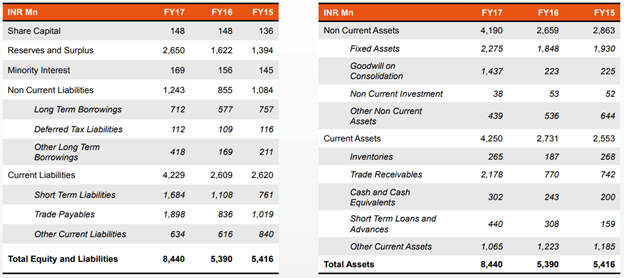 Management is targeting a revenue increase of 3x by FY20. Following drivers will be the catalyst for TO growth:
Singapore civil construction vertical - S$150-200mn,
Singapore foundation engineering vertical - S$100-150mn
India construction vertical Rs.300-500cr,
India steel services Rs.50-100cr
This translates to 1547-2275 cr. (at current SGD to INR FX conversion rate of 47.88)
Foundation engineering contributes over 90% to revenues of the company. It involves:
Foundation Engineering & Geotechnical Works
Bored Cast-in-Place Concrete Piles
Contiguous Bored and Secant Pile Walls
Driven Piles
Soldier Piles/King Posts §
Micro Piles and Geotechnical Works
Steel products & Services
Stirrups
Prefabricated Steel Cages
Steel Couplers
Reinforced Bars – Cut & Bend
Company has a presence across all segment of Foundation Engineering…

Company came into focus when Mr. DD Sharma of Risk Capital Advisory gave it a thumbs up –
Risk factors
Dependency on large government contracts – Company is still new to Indian market and would find it hard to manage the local authorities. It has in place a partner in India having experience in Indian market, yet till Kridhan gains Indian market knowhow, it will largely depend upon its partner for liasoning and marketing functions. Besides this, delays are common in government contracts which makes it difficult to forecast market size and sales numbers.
Competition from established players – Kridhan would find stiff competition from established players in India. We will have to see how its technology and its superior skills work to its advantage.
With general elections round the corner, the funding for Infrastructure projects might get diverted to populist schemes to drive popular opinion in favor of the government. Such moves can adversely impact the industry growth. Also, the future growth agenda would be dependent upon the policies of the newly formed government after elections.
---
Disc: Invested 8% of portfolio. All transactions in last 3 months.
http://www.kridhan.com/ControlArea/investor_presentaion_pdf_folder/Kridhan_EP_Q1FY18.pdf
corporateethos.com/corporate-domain/kridhan-infra-to-acquire-36-60-stake-in-vijay-nirman-company/