Some notes that I could gather from the recent BQ Prime interview:
Another Strong quarter in terms of numbers.
Attrition has gone down. Already taken wage hike last quarter. Employee headcount increased by 47% annually
60-70% of the revenue might not be tied up with the economy. They already have 5-6 year long contracts with established OEMs.
If they execute well in these large contracts it will help them in attracting more large scale contracts from large OEMs.
Any impact of US-China semiconductor dispute should be on a very low existing revenue base.
Increased their growth guidance from 21% to 23%
Technica acquisition will help them in establishing relationship with 2 new clients and improves chances of winning contracts with them.
Management didn't highlight any risk pointers for the next few quarters in the interview. Only time will demonstrate this optimism

This forum is for fundamental analysis but having so many people already discussing about how good the company is and it's growth prospects for years to come, the charts are also showing the same picture in the short term. It seems, KPIT is forming a Rounding Bottom Pattern on a weekly time frame. The volumes in the bottoming period show consolidation and recent upturn is facilitated by huge delivery volumes and green candles. Now it has reached it's previous highs of 750 and we can see some consolidation here as well.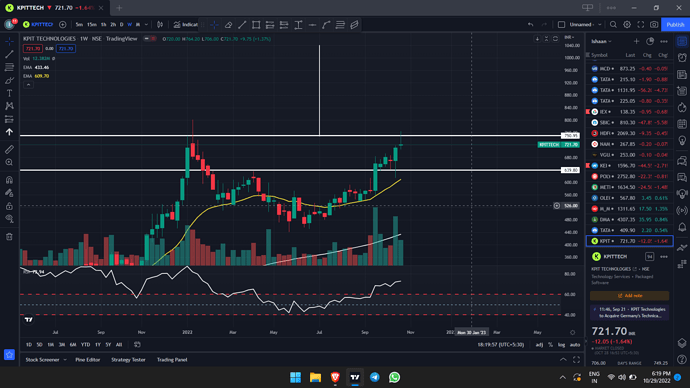 The targets after the breakout comes at around 1000 but even being a bit conservative we can safely assume the stock to reach 850-900 levels in the short term. Ofc this will only happen if it crosses and sustains the 750 levels with decent enough volumes. The RSI is also above 60 which is showing the buying momentum might continue.
Not an investment advice. Just a study and for reference. Pls do not make any investment decisions based on my post.
selling in short term will be obvious , MF & media is pumping so retailers will be trapped for sure, Good stock at any price is not good in short term
When was this broadcast? Is this a recent video or an old one?
The race to reinvent the car industry. Can carmakers catch up with Tesla and pull off the shift to software?
Driving is an experience in itself, Tesla is kind of tech company that has mastered in battery technology.
End of the day it is just battery technology and many automobile companies with decades of experience are working on this battery technology, so these companies (likes of Mercedes, BMW, Audi ) can provide that experience (Tesla cannot match them in providing that experience)
Everyone is talking about Hydrogen fuel cars, where as Toyota launched them almost a decade ago (Mirae)
Immediate puzzles to solve
Number of miles one can drive on single charge (Recently Mercedes did a test single charge 1000km + 10% battery left )

How quickly one can charge the battery
Tesla is basically providing Chinese technology with a very attractive packaging which give little bit set back to 100yrs old companies, the way Big companies are spending money on R&D in CASE soon it will surpass, KPIT is the best proxy play as ER&D company & undoubtedly very focused & capable & doing bolt on m&a which give them more converge, they premiumization is increasing in India soon will see more & more Tech driven cars may not be autonomous but technology advanced,
Hi sir, I see you too have been following KPIT since quite some time.
Would like to know your view on cyclicity of automobile industry and headwinds for IT both would affect KPIT ?
Also unable to understand if we can categorize KPIT and Tata Elxsi in same bucket? Both these companies are moving in quite opposite directions.
@paramjeetsingh KPIT is a pure play, i.e, focussed only technology for automobile sector where as Tata Elxsi (LTTS , Cyient etc…) is a diversified play in ER&D space that caters across the sectors not only just automotive. KPIT in their calls made it very clear that ongoing automobile projects are very long term in nature so I don't see any near term headwinds. These technology projects are always long term in nature.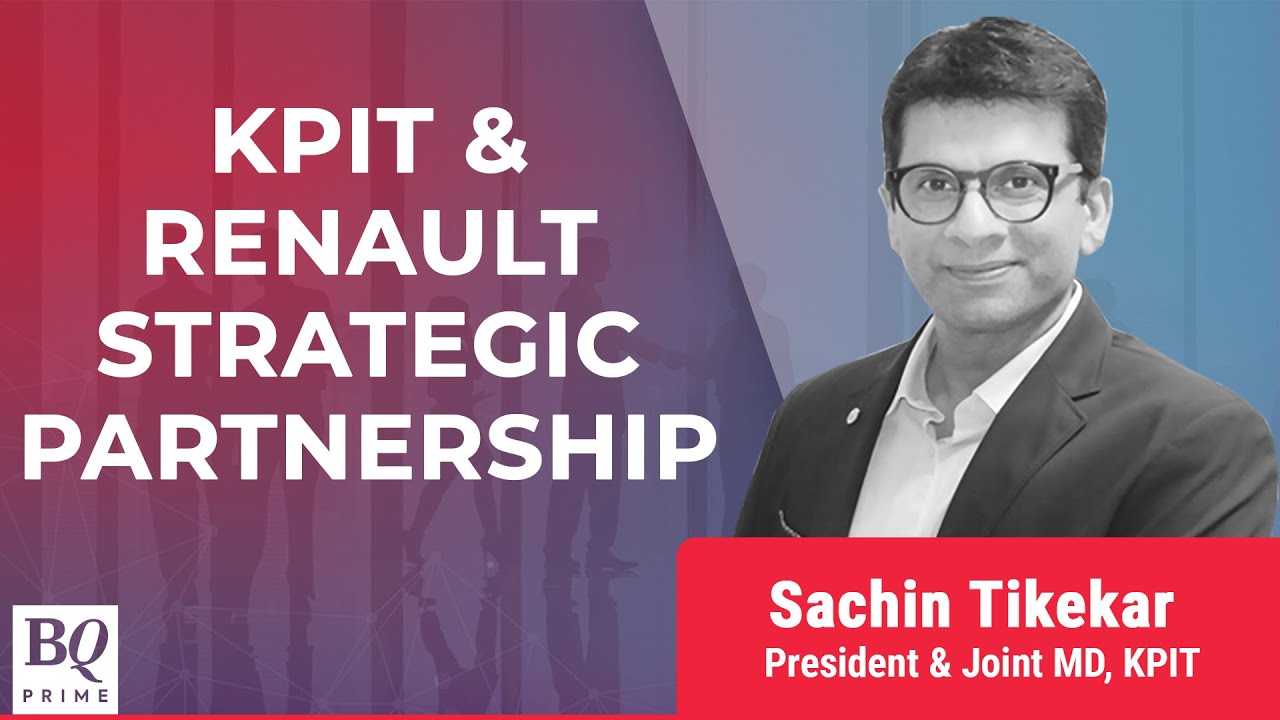 Renault has set up Ampere, a standalone company, that will develop, manufacture, and sell full EV passenger cars, with software-defined vehicle technology, under the Renault brand.
Qualcomm will provide chips and invest
Collaboration with Google for Software‑Defined Vehicle and cloud software to enable an SDV digital twin.
KPIT is a strategic software integration partner in building the SDV platform. 600+ engineers on the contract, TCV $100m+, potentially additional work expected. The first contract itself adds 10% to the top line.
Exploring opportunities to cross-sell Technica (recently acquired) and other services
First vehicles due out in 2026
Another similar strategic deal expected (TCV > $100m)
https://www.nasdaq.com/articles/renault-group-to-create-dedicated-electric-and-software-company-ampere
Got it. So any headwinds to Automobile sector might indirectly affect projects which KPIT would bid for perhaps.
However, the overall theme of integrating technology in automobiles seems promising!
Qualcomm engaged with almost all automotive companies except few like Tesla. Will other car companies too will be engaged by KPIT since they will have the experience of integrating their product on QCOM's chipset?
Slide from Qualcomm automotive investor day:

This will be quite valuable to KPIT. They will gain expertise in
Integrating with QCOM chipset
And also with Andriod Auto,
which quite a few auto OEMs should adopt as well The "Software Defined Vehicle" will bring together the best of the automotive and digital worlds to allow for new on-demand services and continuous upgrades to be delivered to the car, building on the existing Android Automotive Operating System and Google Cloud technology collaboration. https://www.renaultgroup.com/wp-content/uploads/2022/11/partnership-renault-group-google_en.pdf
This should be quite valuable in pitching similar services to other auto OEMs as a large number of second-tier OEMs would be using the same stack. KPIT also mentioned they are bringing some of their accelerators/existing IP as part of the deal. This means this deal is not purely time and material and margins should be higher.
The Technica acquisition could a masterstroke too. Not only is it EPS accretive, but it is also more than the sum of parts given the synergies and cross-selling opportunities it brings. It then expands KPIT's offering into networking and SDV testing and validation. They will get a bigger piece of the pie in each deal. We have yet to see this in action yet.