I think it is Sentient Labs not KPIT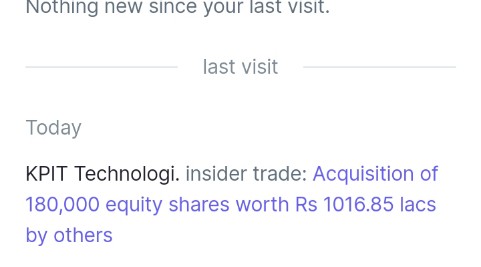 From what I understand this share buying by KPIT employee trust is for ESOP so not actual buying from stock market but allocation from promoter or company's pool to welfare trust.
This happens at regular basis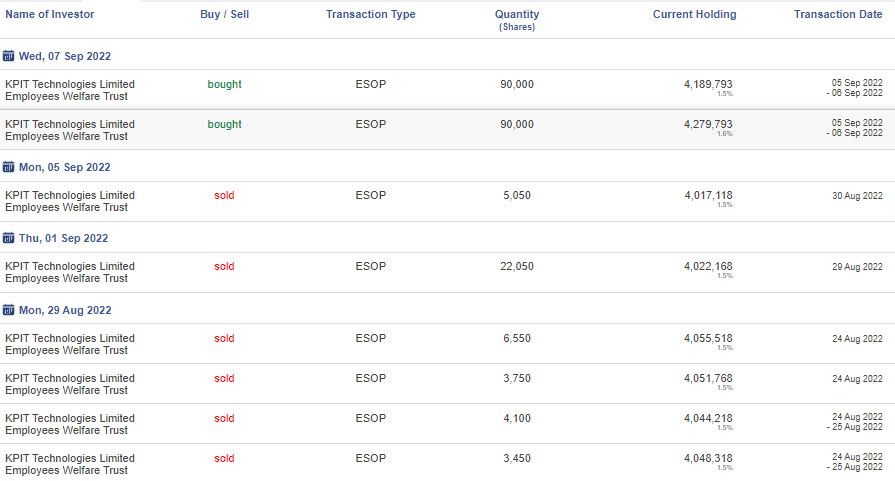 Technically a reverse H&S pattern being formed. If breaks out 592 levels, can move higher.
Disc: Invested
KPIT Management Says" the newly acquired company technica engineering will add at least 10% incremental revenues to FY24
Will revise guidance once acquisition is complete

some of technica clients are notable disruptors "
That does not seem difficult to achieve - Technica revenues last year were EUR 43 mn which is ~INR 340 crores. That in itself should give them more than 10% of FY23 revenues as they should achieve ~ INR 3100 crores this year (assuming 5 months of Technica revenues this year + their initial guidance of 18-19%). Is there something I am missing here?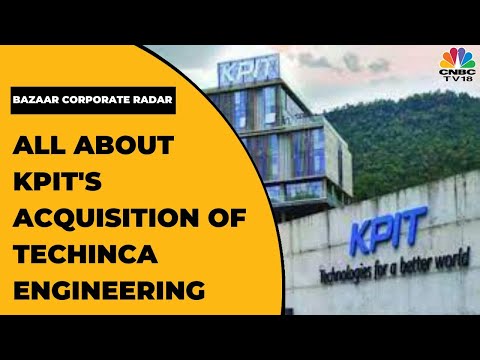 Europe Exposure to the north of 40% after this acquisition (this new company is working on some disruptors which KPIT doesn't have )
"Arguably largest software integrator in the world for OEMs"
Decent set, next quarter will have techinca as well ( Technica has an Annual Revenue run-rate of Euro 42 – 43 million with EBITDA margins in the 20% range )
Growth guidance revised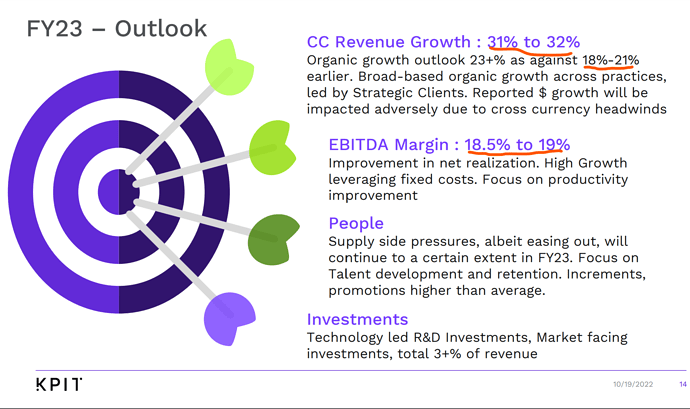 https://twitter.com/Nigel__DSouza/status/1582965605946167296?t=8M_s7kbVd2h0ljlrl5uyrQ&s=08
Hi, I am a fairly new investor and bought KPIT from lower levels based on the theme of how automobiles will become more technology integrated with time. So fairly bullish on KPIT.
However, I have a question - KPIT has a high dependency on US and Europe for the projects it gets same as Infosys, TCS and other Indian service providers. But still observed KPIT not falling despite all IT companies being in bearish mode in the last couple of weeks. Won't the situation in Europe (high gas prices, Russia-Ukraine war, recession) impact KPIT revenues in the next quarter. Would like to know views of fellow forum members.
My two cents:
KPIT is working on EV which is emerging sector and future looking.
Economic situation or slowdown across globe more specifically in EU will affect the revenues but to a less extent than other IT spending in the field of banking, retail etc. One another factor we should consider is the investments in EV and future mobility is pretty stable. Moreover, EV sales growth is pretty strong despite inflation induced economic turbulence.
Some notes that I could gather from the recent BQ Prime interview:
Another Strong quarter in terms of numbers.
Attrition has gone down. Already taken wage hike last quarter. Employee headcount increased by 47% annually
60-70% of the revenue might not be tied up with the economy. They already have 5-6 year long contracts with established OEMs.
If they execute well in these large contracts it will help them in attracting more large scale contracts from large OEMs.
Any impact of US-China semiconductor dispute should be on a very low existing revenue base.
Increased their growth guidance from 21% to 23%
Technica acquisition will help them in establishing relationship with 2 new clients and improves chances of winning contracts with them.
Management didn't highlight any risk pointers for the next few quarters in the interview. Only time will demonstrate this optimism

This forum is for fundamental analysis but having so many people already discussing about how good the company is and it's growth prospects for years to come, the charts are also showing the same picture in the short term. It seems, KPIT is forming a Rounding Bottom Pattern on a weekly time frame. The volumes in the bottoming period show consolidation and recent upturn is facilitated by huge delivery volumes and green candles. Now it has reached it's previous highs of 750 and we can see some consolidation here as well.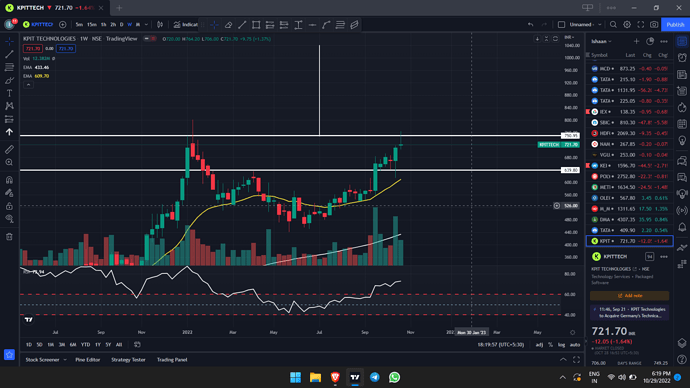 The targets after the breakout comes at around 1000 but even being a bit conservative we can safely assume the stock to reach 850-900 levels in the short term. Ofc this will only happen if it crosses and sustains the 750 levels with decent enough volumes. The RSI is also above 60 which is showing the buying momentum might continue.
Not an investment advice. Just a study and for reference. Pls do not make any investment decisions based on my post.
selling in short term will be obvious , MF & media is pumping so retailers will be trapped for sure, Good stock at any price is not good in short term