how can I get the latest concall transcript or audio, does not look like they post it on their site
I presented on Kolte Patil recently in our meetup, presentation is available here:
@Manoj_ravi - the conference call transcripts are hard to get our hands around. In one of the recent calls, one of the analysts had requested them to post the scripts regularly. With that stated, here is what I could dig and find on the internet - last 4 conf call transcripts. Have consolidated them.
Have fun reading!
Just an FYI, there are a few mistakes - which I would recommend you use the conf call audio on youtube if possible to supplement the transcripts.
Kolte Patil CCT Consolidated.pdf (606.6 KB)
Latest management interaction (link):
Current revenue mix: 70% from Pune, 15% from Mumbai and Bangalore. Next year, Pune will come down to 60% and Mumbai will go to 25%
Should exceed previously guided bookings of 1.8 mn sq.ft for FY21 due to the launch of Life Republic project called "Universe"
Plan to exceed 3mn sq.ft in FY22 with realizations >6'500 /sq.ft from the current 5'500 due to higher contribution from Mumbai market. Average Mumbai realization > 15'000 / sq.ft
Strong launch pipeline >5.9mn sq.ft with booking value ~ 5'200 cr (8-10 projects across Pune, Mumbai and Bangalore)
Here are my notes from FY21Q3 concall
Getting good deals with landowners with 33:67 profit sharing with lower upfront payment which earlier was 40:60 sharing
Bullish guidance: Want to achieve pre-sales of 5 mn sq.ft over next 3 years (FY24) translating into topline of 3500-4000 cr. If they are successful in doing this, operating leverage will lead to profits of 500 cr.
Base guidance: Pre-sales of 3.5 mn sq.ft leading to 400 cr. profit by FY24 (on a conservative basis).
Core of the business model has changed from the earlier higher EBITDA of 40%+ to lower EBITDA of 20-26% but much faster turnover i.e. higher IRRs. Current PAT margins of 8-12% will persist going forward
Disclosure: Invested (position size here)
Company announces their operational numbers for FY21. Here are the highlights:
FY21 sales at 2.08 mn sq.ft vs 2.51 mn sq.ft (surpassing guidance of 1.8 mn sq.ft)
Realizations are higher at 5'785 vs 5'309 /sq.ft because of higher contribution of Mumbai projects (with realizations in excess of 15'000/sq.ft)
Geographical diversification is going well with 25% of sales now coming from Mumbai + Bangalore market
FY21 had two launches: Universe at Life Republic (their flagship Pune project) and Evara at Borivali (Mumbai) where they sold 75% of their inventory
Upcoming launches: two in Mumbai (Verve in Goregaon, Vaayu in Dahesar)
Signed three new projects in Pune under capital light models (expected topline ~ 1'500 cr., PBT ~ 220 cr.)
Cashflows robust (collections at 1'128 cr. in FY21 vs 1'368 cr. in FY20) and further reduced debt
Disclosure: Invested (position size here)
Mohnish Pabrai has reduced his exposure to Kolte Patil by ~9% acc. to latest filings.
Yes i noticed that too.
Maybe to fund his buying in Korea and Japan stocks. But i am not sure
I doubt if that's the sole reason since he recently bought a huge chunk of Edelweiss and Mohnish being very bullish on India (inspite of past failures) compared to Japan, Korea etc. given the demographics of the country.
I've never been able to comprehend Pabrai's investment decision on Kolte Patil. The co. has compounded it's Retained Earnings at a meagre CAGR of 2.5% over the last 10 years (compared to Pabrai's other investment in Sunteck which has compounded at ~20%), co. is majorly based in Pune, a landlocked city. Moreover, given the size of the co., it is expanding too soon (imo) into multiple geographies without being a leader in its home geography.
I believe Real Estate has always been a sector where local players have the biggest chances of attaining excellence due to ability to pounce upon opportunistic acquisitions, network, cognisance of regulations and the efforts required for lobbying.
However, that being said I'll continue to monitor KP and Pabrai's movements and if the management starts delivering against all odds, won't hesitate to add a small position.
I am just guessing and it can be as good as anybody's guess. People sell stocks for a variety of reasons. Maybe he found better opportunity and needed cash to deploy in some other stocks.
As per my evaluation, Sunteck and Kolte Patil looks like a basket bet on future development Mumbai real estate market.
In Dec 2016 or first quarter of 2017, he had Sunteck, Kolte Patil and Oberoi Realty (which again points to a basket approach on mumbai real estate)
As per my last checking, he moved out of Oberoi realty after that in second or third quarter of 2017 and just stuck with Sunteck and Kolte Patil.
Also,
As per the latest Q4 results, they mentioned Mumbai and Banglore is 25% of the Sales. So, i am assuming that majority of the sales is still coming from Pune market.
As per management commentary, they are trying to expand into Mumbai mostly via society redevelopment projects with high roce and Bangalore by developing projects.
I am more excited about their growth in Mumbai market and if they keep gaining market share from other developers in Mumbai, i think it can bring a good outcome in next few years.
Ofcourse, it needs to be monitored closely.
Sub: Press Release - Kolte-Patil Developers Limited – Kolte-Patil signs two new
projects with a combined saleable area of ~1.3 msf in Pune under DM model
Thats good. Growing in asset light model.
I can see he has reduced 1% as per Trendlyne - Latest Mohnish Pabrai shareholdings and portfolio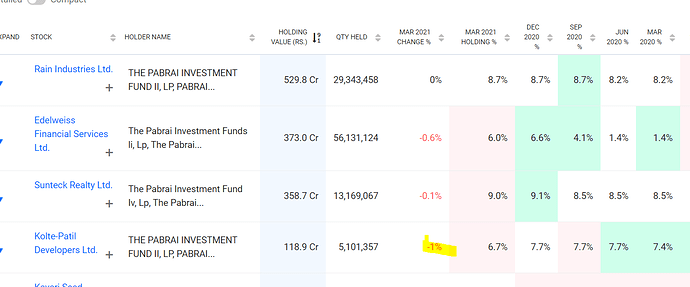 Pabrai recently sold off some more and now owns 7%
Here are my notes from their Q4FY21 concall
Very positive commentary, focused on growth at good ROCEs (14-24%)
Mumbai launches (Verve in Goregaon, Vaayu in Dahesar): Seeing encouraging traction despite challenging covid, have 3-different redevelopment projects in pipeline (potential of 700 cr.)
Expect sales from Mumbai to double in FY22
Acquired 5 projects with a combined saleable area of 3.5 msf in the last four months
Current inventory of ~3mn sq.ft which is good enough for Q1 and Q2. Should have 5mn sq.ft inventory by end of H1FY22. Should be surpassing all previous numbers in FY22. Aim is to have ~5mn sq.ft of sales by FY24
Was hoping to maintain 0.85 mn sq.ft quarterly run-rate in sales. Q1 has been impacted because of COVID. If everything falls back in place, should exceed 3mn sq.ft in FY22
In redevelopment projects, there is a contractual timeline for execution giving lower scope for flexibility in launch dates
Raw material inflation: Will look to increase prices by Rs. 500-800, if not possible then will try to optimize working capital to maintain project level IRRs
In regular business, 3-4% cancellation happens. Currently, 90% of demand is from owners and 10% from investors
Currently, 70-75% of labor is available
ROCE should be 14-24% in the next few years, 20%+ EBITDA and 10%+ PAT. Want to maintain net debt/equity < 0.5
8-10 projects at any given time is within management bandwidth
Disclosure: Invested (position size here)
Thanks for the summary. Looks like a good growth.
The only potential concern i am seeing is with the Raw material inflation point.
Are real estate companies able to pass down the increase prices to the customer or do they have to take a hit on their P&L?
I was recently on a webinar where the head of one of India's prominent Asset Mgmt cos said that real estate as an investment is pretty much dead…