I had come across this news a couple of months back but I did not follow up on this.
But what caught my attention again was L&T CFO's interview in financial express last week. Where he mentioned
"Among the areas that are expected to see the biggest amounts of capex are water, followed by power transmission and renewable energy. The fourth would be urban congestion."
Now if water is biggest infra opportunities pump will a key beneficiary. Kirloskar with market leader can benefit disproportionately.
What does KBL does and how if fits into this story?
They are into all types of pumps. They have global subsidiaries across UK, US and south africa all into pump business.
They also have valves and some turbines.
They had 80% of business coming from EPC around water projects but have reduced that to around 20% due to obvious challenges of EPC business.
So going forward they are like pure play capital goods company.
They are focus into a niche segment and don't have any unrelated biz.
They have around 15% of India's market share and 3% of global market share. A company which has paid dividend 95 years out of last 100 years.
We are already seeing government's focus on water conservation, drinking water and effluent treatment with projects across country. This story is true for most of the developing world including mid-east and Africa.
Also, housing, agri (solar pumps) will drive growth in a reasonable way with government's continued focus.
Private capex and normal infra (airports, metros etc) can also see improved demand.
What can be other triggers?
KBL is trying to focus on product and not get into EPC business. They had got into EPC business big time in 2003-08 and that dragged down their profitability till 2016. This can improve return ratios dramatically.
Coming to financials:
As mentioned above last 10 years have been washout due to EPC projects. So nothing spectacular here. This has been true for most companies in capital goods.
Ratios: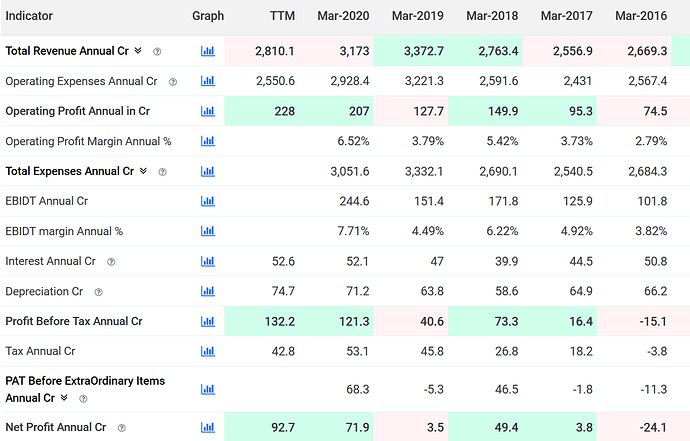 Flattish revenue has to be seen in the context of their getting out of project business. That is validated by improving margins.
But valuations continue to be compelling even taking these valuations into account.
A bit about valuations. They have revenues of 3000+ Crores With 60/40 Domestic and Global split.
They trade 1100 cr valuation at 0.3 P/S and 11 PE. Div yield is around 2%. Return ratios are low. D/E is around 0.3 very comfortable.
Now comparing with a similar engineering company which is market leader in its segment and similar global foot print. Elgi equipment trades at 5000 cr mcap, 2.5 times P/S and 100+ PE.
Even a small player Shakti pumps trades at 2 P/S and much higher PE.
There is a nice old report which gives good details for those who want to do deep dive into business, subsidiaries etc.
They continue to remain focused on adopting new technologies
Trivia: They have a factory in Tamilnadu totally run by women. Shows their forward thinking and commitment to larger values.
If visible triggers play out this can get rerated very quickly.
Now what can be risks which can prevent that:
Water, waste water, effluent treatment capex not taking off- Very unlikely.
Global biz - 40% dragging down performance. Reasonable chances.
Competitive intensity - Being market and technology leader they should be able to handle it well. KSB was always a competition.
Delayed payments and high working capital dragging down performance - Unlikely as they have got out of EPC projects and they are equipment supplier. So complete project risks are off to the EPC partner.
Kirloskar family disputes - This is common issue across family owned businesses be it Reliance or Muruggapa. as long as biz is not impacted, I would not attach too much importance.
Disc: Invested around current price. Looking forward to add to my position.