Why Kernex Microsystems could very well be a potential 5-10 bagger: A low risk - high reward bet. (M-cap: ~ 50 crores)
---
Part 1) What is TCAS (Train anti-collision device)?
The railway is conducting trials on an indigenous and cost-effective anti-collision technology, which can help avert accidents that take place due to the driver's error.

Indian Railway currently employs Automatic Train Protection System called Train Protection Warning System (TPWS), which is based on European technology. As of now it is available in just 100 trains because of the high cost factor

The indigenously-developed technology will cost one-third of the European system and can be
installed on much larger number of trains

The new system is called Train Collision Avoidance System (TCAS)

It will mainly deploy Radio Frequency Identification (RFID) tags every kilometre on a railway track and a TCAS system at railway station, which will gather data from RFIDs.

A radio tower will transmit this data to the engine of a train and a TCAS computer onboard it will display the data.

TCAS will have two main functions. If an engine exceeds its speed on a certain section then there will be warnings generated for the driver. If the driver fails to respond, the brakes will apply automatically.

Secondly, a train can send an SOS message to another or to a railway station and viceversa in order to prevent an accident

The new technology will undergo extensive and rigorous trials before its introduction. [Final set of trials expected to end in Sep 2017, Source: Annual Report'17 HBL Power]
Source1: http://www.financialexpress.com/india-news/trials-on-indigenous-anti-collision-technologyto-avert-rail-mishaps/370516/
Source2: http://www.thehindu.com/news/cities/Hyderabad/extended-trial-runs-for-train-collisionavoidance-system/article18620043.ece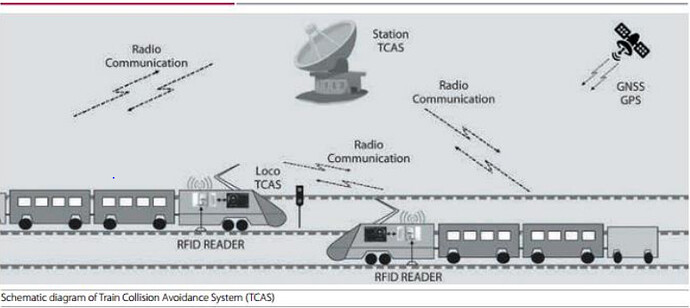 ---
Part 2) Who will manufacture and deploy these TCAS (Train anti-collision device)?
Three Indian companies shave been selected to bid for TCAS:
HBL Power systems (listed)
Kernex-Micro systems (listed)
Medha Servo (unlisted)
Source 1: http://corporates.bseindia.com/xml-data/corpfiling/AttachHis/1e2fd937-b230-4dd9-8eac-4e109061124d.pdf
Source 2: SCR tests low-cost anti-collision system
Below is an excerpt from HBL Power Systems annual report (2016) that explains TCAS and mentions 'two other Indian suppliers' (page 18)
Source: http://www.bseindia.com/bseplus/AnnualReport/517271/5172710316.pdf
---
Part 3) How big can the market be for TCAS?
The Indian railway network in the fourth largest railway network in the world comprising
119,630 km. Theoretically TCAS can be implemented on the entire length

Rolling stock has ~11,100 engines/locomotives while TPWS (the costlier version of TCAS) is
implemented in only 100 trains.

Cost is approximately 10 lacs per km

Annual market for TCAS could be around 2,000- 3,000 crore per year.

Excerpts from Kernex-micro annual report

(Source: http://www.bseindia.com/bseplus/AnnualReport/532686/5326860316.pdf)
---
Part 4) Order-book for FY2017-2018?
Source: http://www.indianrailways.gov.in/railwayboard/uploads/directorate/finance_budget/Budget_2017-18/Pink_Book_2017-18/07-Pink%20Book%202017-18-SCR.pdf
---
Part 5) Margin of Safety – Sale of 10 acres of land near Hyderabad airport (close to Wonderla)
Kernex is trying to sell its 10 acres (48,400 square yards) of property and plant close to new Hyderabad airport
This sale alone can fetch an amount close to ~50% of current market cap conservatively. (Assuming Rs 4,000 per square yard)
Thus ensuring high margin of safety
Source: http://corporates.bseindia.com/xml-data/corpfiling/AttachHis/baac7142-5433-4d53-b5e2-4b1c4dd077f6.pdf
Rough location for land at Plot no. 38, hardware tech park (Wonderla & Hyd airport can be seen
closeby)
---
Part 6) What could be the TCAS orders that Kernex will get?
Given that it is an Indian railways order and all three vendors have spent significant resources to develop and run trials for this technology, all three should will get orders.
Assumptions:
i) Orders will be Split in the ratio of 40% || 40% || 20%
ii) EBITDA Margins of ~12-15%
Source:** Not verified; some scuttlebut
The order distribution for three years could look like this:

Important Note: This is a conservative order-book scenario for Kernex. Kernex might get the second biggest order going by the size of trials being executed by the three vendors)
---
Part 7: Risks to investment thesis
The key risks for the company is delay in receiving orders from Indian railways.
The second risk is that of execution.
Any new player trying to enter the market will have to undergo 3-5 years of extensive trails and inter-operability tests before being inducted as vendor. Hence, there is minimal risk of new competition entering the market.
Disclosure: Invested at current levels. Small portion of portfolio.