Did anyone attended Kellton Tech's AGM?
Can you please provide the updates given on guidance and any new information?
This is trading @80-90x FY16 while the promoter seems to be acquiring companies left, right and centre. They have projected only 15% organic growth so acquisitions should continue to justify these valuations. I am still not very convinced about Kellton's overall strategy. Could anyone explain what causes cost of material as negative? All ISMAC players are trading at astronomical valuations attracting circuit filters. It would be great if someone can share AGM notes.
They have projected 15% QoQ growth not YoY. That's my understanding from the interview

May be that's what is driving the price ?
Disc: No holding.
1)TTM PE as of today is 27.5x, and still the 2 quarter of the Revenue of 100cr is yet to be reported.
Hence if i assume they maintain the same revenue runrate with the same margins for next 2 quarters, then Forward PE comes to 21x(approx)(assuming Rs.40 crores profit).
@rajpanda,- Even my understanding is same coz he explicitly said only Rs.50 crore revenue will be coming from acquisition this year. hence to reach Rs.550 for the June year end, they need to grow Q-o-Q only.

one other issue today, UC is limited to yesterday's closing and decreased the LC to 5%, can anyone tell me what is the criteria for decreasing the circuit limit from 10% to 5%??
Regards,
Ateek
Disc: invested
Thanks, I stand corrected as I looked at standalone nos. I could manage to get Cambridge as small % of my portfolio and was looking at Kellton from industry point of view.
They have made it clear in the recent interview, Rs.600 Crore target is for August-sept 2016.
Regards,
Ateek
They plan to acquire and reach their Revenue target of 500 crore through Dilution of 15 to 20% and debt. This doesn't sound encouraging.
15-20% dilution is more for the Target of Rs.2000crore in next 3 year, MD has said they wil grow by around 15% Q-o-Q in the current year to reach around 550 crore and Rs.50 crore will come from acquisition. (By september-2016) refer the interview link above
Regards,
Ateek
Kellton Tech Q1-17 results are out. Some Highlights:
Revenue:
 Operating revenue of Rs 1,400.9 Million; up 5.9% QoQ and up 35.0% YoY
 Total revenue of Rs 1,404.3 Million; up 5.8% QoQ and up 34.6% YoY
 Profit:
 EBITDA was at Rs 193.6 Million; up 9.5% QoQ and up 45.0% YoY
 EBITDA Margin stood at 13.8%
 Net Profit stood at Rs 122.1 Million; up 8.3% QoQ and up 42.2% YoY
 PAT Margin of 8.7%
 People:
 Net addition of 58 in the Quarter
 Total Headcount 1200+
Won 18 new clients during the quarter.
Experts, please provide your comments/advice.
Not an expert, the results are on expected lines and nothing transformational when they want to raise equity funds. My problem is that they have too many small clients and too many new businesses being acquired. They will keep struggling with scale of the business and face margin pressures. Offshoring share of the revenue has fallen which is supposed to be margin kicker. This growth is mostly coming from consolidating previous acquisitions. I will be happier if they provide break up to help understand organic growth as well e.g Take soln provided in Q1. It is good that they have stopped giving mindless revenue and EBITDA targets far out in the future.
Disc: Exited at small loss recently
Thanks champvimal for the result update
Organic growth of 20% in a small cap. The company gives Fy17 revenue target of 900cr inclusive of potential acquisition they would do. This is like China GDP planning where they know in the beginning of the year what will be growth irrespective of any circumstances. I am not sure I have seen anything like this here.
What was he thinking when he said 900Cr?! As mentioned in the interview, even a 20% organic growth would amount to only 550Cr, the rest 450Cr has to come from an acquisition that they are only looking at. He even claimed at the start that he is being conservative.
well, i think they may or may not achieve the target and that is not very important. This kind of incoherent talks clearly marks down the perception about mgmt. quality. Many investors will not go beyond 1st step to check numbers.
Kellton tech did acquisition of ProSoft technology group in 2015. According to Economic Times here. Kellton paid $14m for acquisition.
Now I was trying to find the revenue for ProSoft. According to this website. The revenue of Prosoft is $42m. I am quite surprised, Why would someone sell his company for 0.3x sales?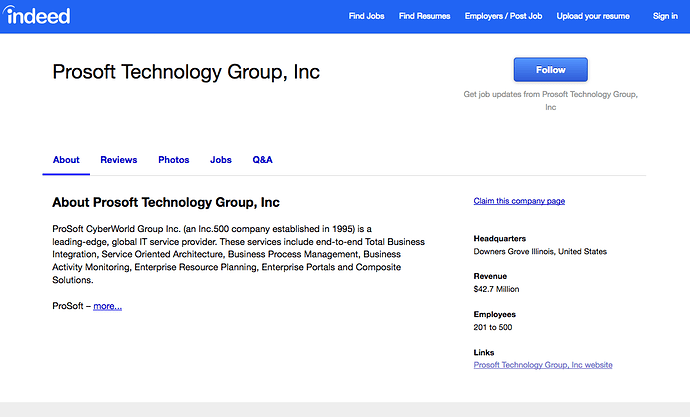 I tried to search for the financials of Prosoft Technology Group, but couldn't find it. Is there a way to find out Prosoft's OPM? That might answer your question.
This is from a disclosure by the company on BSE
Wow. Looks liek a great buy. If this business is for real, Kellton optically appears to be a super value creator!
Today NSE volume of Kellton tech was 14 times of average 30 days volume. Volatility was very high. Opened at 128.70, around 10.30 am down to 103 & closed at 115.65. In afternoon Kellton mgmt clarified - no pending announcements or any sudden biz change. Sure of top line growth targets. Can someone explain the technical side of this very bizarre movement? What does it signify for a 8% holder at around Rs. 208 purchase price.
Thanks in advance.