Hi Everyone,
My portfolio stands as follows: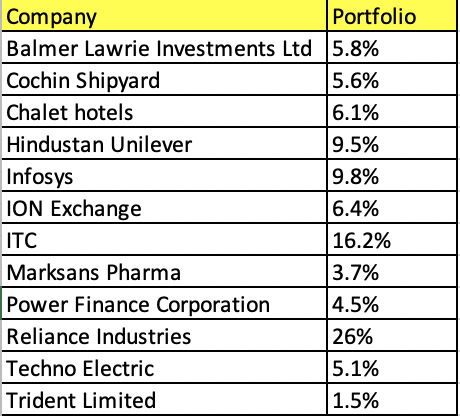 Please let me know what you think about this.
Most picks looks good, pls explain your rationale of investing in each stock for other forum members to provide opinions on.
Thank you for your reply. I am looking to making a long-term portfolio (5 years +) and looking for feedback on whether and how I need to re-allocate my portfolio and add/remove from it.
A few details about the reasons behind picking these stocks:
ITC, PFC, Balmer lawrie are purely for dividend and stability.
Reliance - I unfortunately bought it at a very high price and have been trying to average out the price during dips.
Techno electric, Marksans Pharma - Value picks
Infosys - Picked up during dips. Part of diversification.
HUL - Picked for stability and FMCG trend.
Chalet, Cochin Shipyard, ION exchange - Based on future prospects.
Hi Kdasani
Good day.
if you look to invest in portfolio for 5-10 Years then i think few stocks listed in your portfolio may need to revisit same.
Example :Balmer lawrie investment last 5 year no where went in returns side .Its look like holding company .
Cochin shipyard ,chalet hotel ,power finance corp are all look similar fate. if you like to invest for a 5 year to decade time, you may need to consider stock who are leader in sector (be mid cap or large cap or small cap) but they should be dominant player and need to add in portfolio who able to expanded sales growth last few years and have earning visibility at least in coming decade else we may need to know when to enter and exit stocks which is really difficult

HUL,Reliance,ITC,Infosys are stocks like in your portfolio & dominant player .
Ranjith
I dont know why you are betting on Trident ? there are better textile players who can give better return.
Also you have much higher percentage for ITC. Due to Cig specific duties, Hotel, Packaging businesses , ITC hasnt generated similar returns as Tata Consumer or Godrej consumer or Nestle or Dmart ( if you consider that in same boat)
you should do a what if scenario and compare when u bought ITC --> what if you had bought Dmart or Tata Consumer or Nestle
@Ranjith and @chintap Thanks for the inputs, I have actually sold my stake in chalet, balmer Lawrie and trident since the last update. I was actually thinking of adding Tata consumer. I am seriously considering rebalancing my portfolio by removing some of ITC and reliance (stuck at the moment because I entered at the wrong time).
Tata consumer company good pick. If this deal through,bigbasket -tata deal merger then it looks like it wont happen under this company. So this will be pure consumer oriented selling company(star bucks +Tata products ).How much they can grow. Need to have more patience as valuation ran a lot.
Updated portfolio look like this: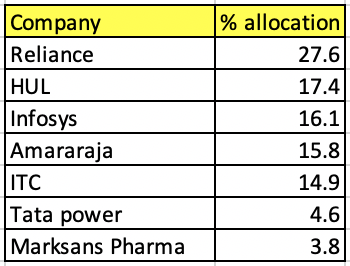 The idea here was to re-allocate the funds more evenly between the bluechips and remove certain funds based on research and feedback. I have reduced some stake in Reliance and distributed those funds to Infosys, HUL and Amararaja.