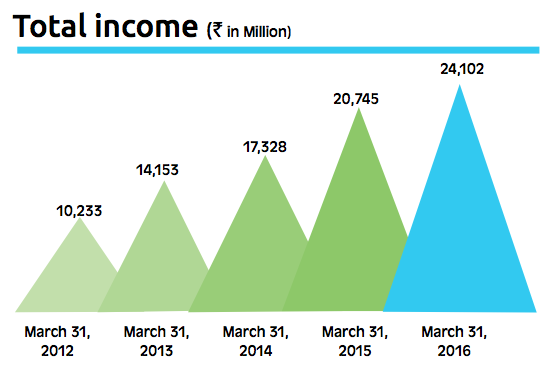 The reason of diminishing bottomline has been rentals of tier2 and tier3 cities. The rapid expansiton to tier 2 cities has affected their bottomline but sales from those have not yet come in, so we are due from some growth in those areas soon.

I don't expect topline to grow at 35-40% like their first decade but if 50% of revenue are to come from tier 2/tier3 cities within next 5 years overall topline growth will be between 15-20%

I am bullish on sectors where salaries and benefits are a significant percent of revenue. These are sectors to be benefited most from automation. Here it's almost 25% of the revenue. With automation coming in these can become significantly less in 5 years. I am not expection pizza delivery by drones anytime soon but fully automated kitchen is not that far.

I am not bullish on metros but bullish on tier2 cities. The growth has slowed down but prices have gone back 5 years.But In 5 years it has grown topline by 150% and bottom line by 40% . So even though growth is not there it looks cheap at current level provided they can turn around.

The reason they should focus on Tier2 cities is becuase they are facing stiff competetion in metros from food delivery startups. In Tier2 cities where there arent enough quality restaurants to aggregate and they can beat the food delivery startups.

Jubilant Foodworks is not a hot stock any more had good research on decrease in realization.
Disc:
Not Invested