Incorporated in 2006, JSW Infrastructure Limited provides maritime-related services including, cargo handling, storage solutions and logistics services. The company develop and operates ports and port terminals under Port Concessions.
JSW Infrastructure is the 2nd largest commercial port operator in the country in terms of cargo handling capacity in Fiscal 2022.
The company currently handle various types of cargo, including dry bulk, break bulk, liquid bulk, gases and containers. The company currently handling cargo also include thermal coal, coal (other than thermal coal), iron ore, sugar, urea, steel products, rock phosphate, molasses, gypsum, barites, laterites, edible oil, LNG, LPG, and containers.
JSW Infrastructure ports and port terminals typically have long concession periods ranging between 30 to 50 years, providing the company with long-term visibility of revenue streams.
The company has a presence across India with Non-Major Ports located in Maharashtra and port terminals located at Major Ports across the industrial regions of Goa and Karnataka on the west coast, and Odisha and Tamil Nadu on the east coast.
JSW Infrastructure's international presence includes 2 terminals at Fujairah and Dibba in the UAE.
JSW Infrastructure Limited operates nine Port Concessions in India with an installed cargo handling capacity of 158.43 MTPA as of June 30, 2023. The company's installed cargo handling capacity in India has grown at a CAGR of 15.27% from March 31, 2021 to March 31, 2023.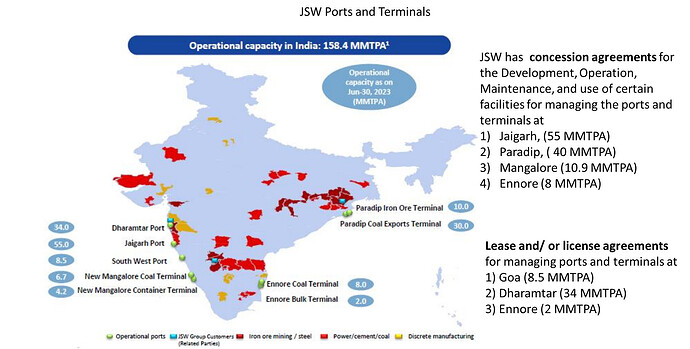 JSW infra relies on concession and license agreements from government and quasi-governmental organizations. Any breach of the terms could lead to termination and could severely impact its operations.
65% of the total volume handled comprises of coal and iron ore. A significant reduction or the elimination of such cargo could adversely affect the business.
63% of business comes from JSW group customers. Any default or decline in demand could impact the business
3rd Party customers has grown by 47.5% from FY21 to FY23

Capacity utilization rose by 60% from FY 21 to FY23.
Its Port Concessions are strategically located in close proximity to JSW Group Customers (Related Parties) and are well connected to cargo origination and consumption points. ~65% of business is coming from these sticky customer base.
~25 years of Concession period for its port. (Recovery of Investment period)
Post IPO company is Net Debt Free.
This enables JIL to serve the industrial hinterlands of Maharashtra, Goa, Karnataka, Tamil Nadu, Andhra Pradesh, and Telangana, and mineral-rich belts of Chhattisgarh, Jharkhand, and Odisha (Source: CRISIL Report), making its ports a preferred option for customers.
In addition, it benefits from strong evacuation infrastructure at ports and port terminals that comprise multi-modal evacuation techniques, such as
Coastal movement through a dedicated fleet of mini-bulk carriers,
Rail Network
Road network
Conveyor systems
Disc: Not invested