J K PAPER
Market Cap ~ Rs. 1900 Crores
Market price per share Rs.112/-
Equity capital : Rs.163.39 Crores
As of 22nd September 2017
Two manufacturing units: In Odisha- JKPM (2,95,000 tonnes) and Gujarat -CPM (1,60,000 tonnes)
Combined capacity: 4,55,000 tonnes
Dealers: 4000, Wholesalers: 191, Depots: 14
Review of Annual report 2016-17:
JK Paper's annual report for the year gone by gives a lot of insight of the transformation that took place in the company besides ringside view of the global paper industry and Indian paper industry. It also contains accounts.
Global paper industry:
What is the size of the global paper industry and what could be its growth?
"Global paper consumption at ~407.5 million tonnes, roughly equal to the amount of paper produced. China remained the largest paper and paperboard consumer in the world (<100 million metric tonnes) followed by United States (>71 million metric tonnes). Global demand for paper and paperboard is forecast to grow to 482 million tonnes by 2030. Although the demand for newsprint has been shrinking, tissue paper, container boards and carton boards continue to see a surge in demand." (page 54)
What distinguishes Indian paper company from a world company?
"Most Indian paper manufacturers sourced their entire raw material produce from a radius of around 600kms compared to competitive global manufacturers accessing most of their raw material requirements from within 100kms." (page 9)
Indian Industry:
What is the size of Indian industry and what are its contours?
"Despite having a capacity to produce ~ 13 million tonnes per annum and a turnover of ~ Rs.50,000 crores, the Indian paper industry accounts for a mere 3% of the global aggregate. ……The Indian paper industry is highly fragmented with over 750 paper mills. However, only 50 of these mills have a capacity of 50,000 metric tonnes per annum or more." (Page 54)
"In the last five years, between Rs.20,000 Crore to Rs.25,000 Crore was invested in the Indian paper sector towards capacity enhancement and technology upgradation. This capacity expansion is already being absorbed due to the rising demand for paper in India. Nonetheless, there is room for a million tonnes of integrated pulp, paper and paperboard capacity to be created every year to meet the growing demand." (Pages 54 & 55)
"Higher cost of raw material, fuel, logistics and capital increased India's dependence on imports, causing existing capacities to remain under-utilised. During the past five years, imports rose at a CAGR of 11.4% in value terms (from Rs.7,152 Crore in 2010-11 to Rs.12,284 core in 2015-16) and 7.9% in volume terms (from 1.8 million tonnes to 2.6 million tonnes over the same period). Import duties on paper and paperboard from ASEAN reduced from a base rate of 10% to nil (with effect from 1st Jan 2014)……" (Page 55)
While macro level numbers look like Indian industry is lost to ASEAN, it appears that the future of the industry is very bright. Here are the excerpts:
"the Indian paper sector has arrived at a sweet spot" (page 11)
While,
"The packaging board market encountered a substantial increase in capacity by more than 50 per cent in the short space of 18 months." (Page 19)
going forward,
"where we do not foresee large capacity increments across the next three years." (page 10)
"…even as India accounts for nearly 17 per cent of the global population, it accounts for a mere 4 per cent of the world's paper consumption, a gap that we believe will narrow. This 'narrowing' is not something that may happen at some nebulous point in the future; we believe that it is already transpiring; India is the fastest growing large paper-consuming nation in the world as measured by annual percentage accretion" (page 11)
"….we foresee a growing consumption curve in the boards segment, catalysed by an increase in e-commerce and organised retail sectors." (page 11)
"Packaging boards: Growth in India's retail, consumer and e-commerce segments catalysed the demand for packaging boards. The result was that the nation's high-end packaging segment reported growth of 13.7% per annum in 2016-17." (page 56)
What is the constraint of the sector?
"In the paper industry, capacity increase is restricted by resource availability" (page 17)
The company
What is the aim of the company
" graduate the company from manufacturing-centric to distribution-driven, widen the company' coverage across wider business segments; evolve the product mix within each segment towards value-added products; generate profits from enhanced business productivity rather than a simplistic increase in paper prices." (Page 9)
and the net result
"This passion-driven approach has culturally transformed JK paper in the last few years. We believe that this is not just a fleeting improvement this transformation, we believe, represents the start of a multi-year phase of JK paper evolving into a competitive organisation." (page 10)
"The organisation began to gravitate from a longstanding need to be the biggest to a fierce desire to be the best." (page 9)
how was this achieved?
"The legacy-command driven structure was replaced by a larger grassroots involvement in target-setting . Business silos made way for information free-flow." (page 9)
Raw material front:
"Our thrust on plantation activities around 200km of our mill area continued to reap positive results, as the landed cost for raw material was reduced by about 10-11%. Sourcing a higher volume of raw materials from local markets enabled us to reduce our cost of material consumed to 46.2% from about 61% 4-5 years ago." (Page 3: Harsh Pati Singhania)
"At the unit CPM in Gujarat, self-sufficiency was achieved in terms of raw material sourcing from within a 200 kilometre-radius. These measures gained added relevance in the aftermath of coal linkage costs spiralling during the past few years. However, assured availability from Coal India collieries throughout the year reduced JK paper's dependence on third parties and resulted in savings." (page 56)
"The new clones used have reported enhanced yields per tree and hectare and are being corresponded by a decline in resource procurement distances." (page 10)
Power front:
"More importantly, the company embarked on making a substantial increase in its consumption of fuel from renewable sources." (Page 16)
"The company moderated its power consumption per ton paper and board production to Rs. 1058 in 2016-17 from Rs.1106 in 2015-16, an improvement of 4.3%…" (page 14)
Marketing front:
"…company's vision and effort helped grow its packaging board business to 20 per cent of revenues in 2016-17; the company emerged among the three largest virgin fibre packaging board players in India." (page 21)
"the coated paper business accounted for 20 per cent of JK paper's revenues in 2016-17." (page 21)
"Copier and office papers: ………increasing its marketshare to 24%." (page 56)
"During 2016-17, our market intelligence indicted an emerging opportunity; the supply of premium bond paper would be interrupted; existing product supply lines would be affected.
When the longstanding supply line was indeed interrupted, JK paper was at the right place at the right time.
The result: JK Excel Bond carved out a market-leading presence in next to no time." (page 20)
The net result:
"Besides higher sales realisation of finished products and product mix helped us improve our operating margin during the year". (Page 3: Harsh Pati Singhania)
"In doing so, the company strengthened EBIDTA margin from 16.6% per cent in 2015-16 to 20.7 per cent in 2016-17, return on capital employed increased from 7.4 per cent to 11 per cent." (page 9)
The future:
"We intend to progressively repay debt (including FCCB conversion), moderate interest outflow, strengthen profits, graduate our credit rating and build a stronger Balance Sheet capable of shouldering large business throughput." (page 10)
Statistics: 2016-17
Company's sales in quantity: 4.82 lakh tonnes
Capacity utilisation: 103.4%
Power consumption: 1140 Kwh per ton
Water usage: 42 cubic metres per ton
Coal consumption : 860kg per MT of paper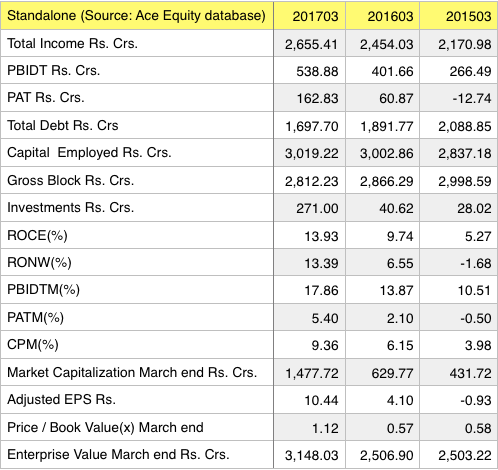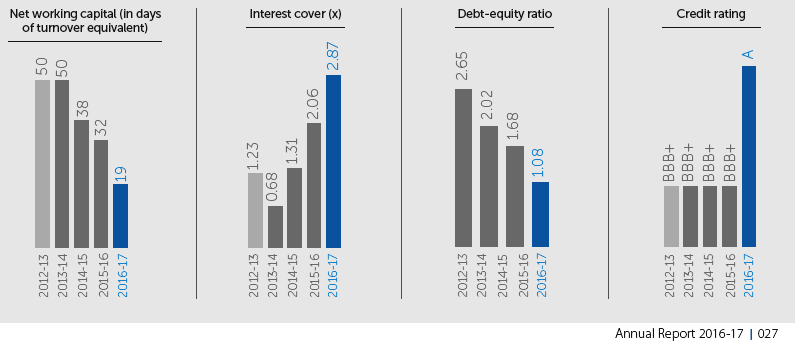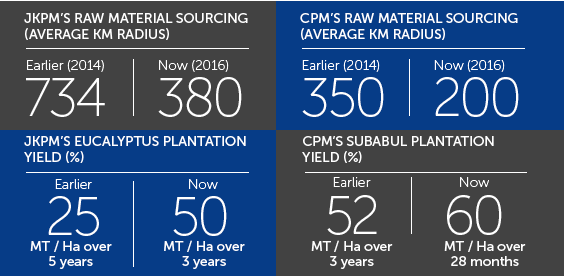 JKPM: JKPaper Mills, Odisha; CPM: Central Pulp Mills, Gujarat
Disclosure: I hold this stock.