Dear All
I am initiating this thread to put my perspective on Indian Paper Industry and JK Paper.
INDIAN PAPER INDUSTRY - OVERVIEW
India has approx. 21.5mn tonnes total capacity and capacity utilization is 17mn tonnes, which is almost 80% utilization. There are a total of 750-800 paper mills in India which as estimated turnover of INR 50,000 crore (USD 8 billion) approximately
Indian paper industry is highly fragmented: the top 3 players account for only 9% market share unlike 68% in USA, 72% in Indonesia and 21% in China
Production Country wise
• USA: 70mn tonnes
• China: 109mn tonnes
• India: 17mn tonnes [out of this only 1.53mn tonnes is dominated by top 3 players]
Only 50 mills possessing a capacity greater than 50,000 tonnes per annum. Approximately 72% of the total installed capacity in India is concentrated in Andhra Pradesh, Gujarat, Odisha, Karnataka, Maharashtra and West Bengal. Printing and writing paper demand was estimated at about 4.6 million tonnes, growing at about 5% per annum. Packaging board is in high demand with an average annual growth rate of 13-15% from growing end-use industries including pharmacy, food, garments, and consumer goods. Containerboard is the most fragmented category, with the top 10 producers representing only 35% of total capacity. Tissue accounts for less than 1% of the total paper production in India compared to about 8.2% globally.
The per capita paper consumption in India at a little over 13 kg, is way behind the global average of 57 kg. India share in world production is only 3% in FY18.

Geographical location of paper mills in India
Demand of various grades of paper and paper products

The domestic market / consumption of paper is over 17 million tonnes per annum (TPA), with over 2 million TPA being imported. By 2024-25, under the baseline scenario, domestic consumption is projected to rise to 23.50 million TPA (in the optimistic scenario, consumption is expected to rise to 36.90 million TPA by 2024-25).
RAW MATERIAL


With diminishing forest resources and limitations on enlarging man-made forests, there is scarcity of raw material for paper mills. Due to the domestic scarcity of wood, the wood based companies have increasingly resorted to import of wood chips and also invested in the social forestry initiatives for supply of wood.
Companies are importing 50% of waste paper pulp because of poor process of collection of waste paper in India.
SUPPLY and PRICES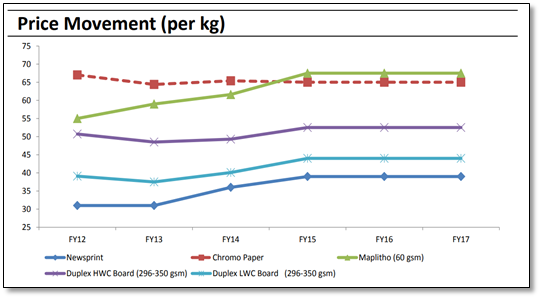 Annual Average price per kg, Source: CMIE
CHANGING TREND IN PAPER INDUSTRY
There is no capacity addition done by any paper company in last 5 years.
Only few players have capex planned for the next 5 years
Many paper mills have been closed due the to stressed balance sheet and huge losses. This gave an opportunity to big players to acquire small plants.
Recent acquisition by JK Paper
JK Paper takes over Sirpur Paper Mills - The Hindu BusinessLine
Having advantage to source wood at competitive rates as compared to global counterparts
India has emerged as the fastest growing market when it comes to consumption, posting 10.6% growth in per capita consumption of paper in 2017-18. This trend is expected to continue
Possibility of having 10% custom duty imposed on paperboard import from ASEAN Countries.
Impose 10 pct customs duty on paper imports from ASEAN: Assocham | The Financial Express
WHAT HAPPENED TO PAPER INDUSTRY IN 2010-2011?
JK Paper numbers snapshot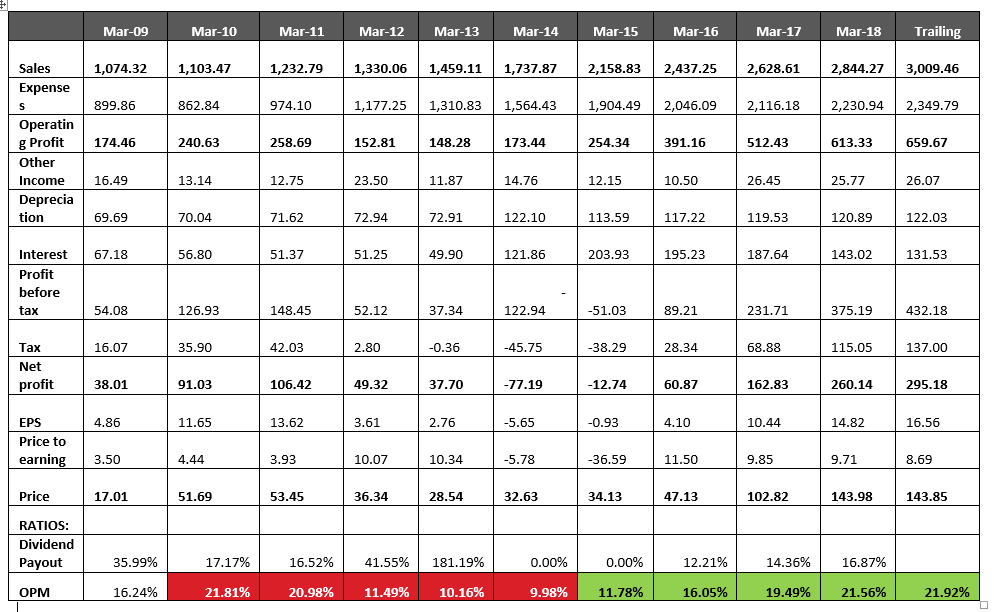 International Paper APPM numbers snapshot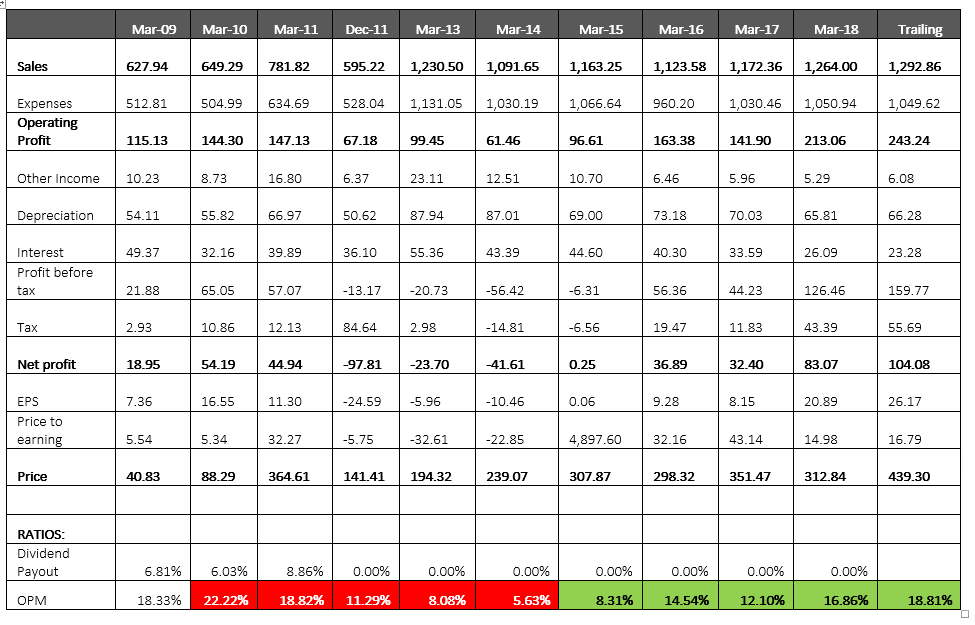 Margins of both major paper companies have declined between 2011 to 2014
On account of demand supply mismatch in year 2010, various Indian paper companies started expanding capacities aggressively. The total expansion was 1.6mn Tonne which was 15% of total production at that time.
During same time the wood pulp prices increased which is the main raw material for printing and writing paper. This is evident from increased operations costs in books of various paper companies.
Added capacity expansion lead to build-up of inventories and with pricing pressures due to high RM Cost led to stress on profit margins for most players during this period. The companies were unable to pass on the higher prices to consumers and at the same time also faced stiff competition from cheap imports from China and other ASEAN countries. Profits were severely impacted, especially for leveraged companies.
TRIGGERS FOR JK PAPER
Expansion at Right Time
JK Paper plans to increase its capacity to achieve meaningful volume growth. It announced brownfield investment of Rs 1,450 crore for setting up additional capacity of 200,000 tonne per annum of packaging board and pulping facility of up to 160,000 TPA. It will come online in 18-24 months.
Recent Results
-JK Paper revenue grew by 25.8% yoy in Q1FY19 due higher sales volumes (+21%) & improved realization of +3.9%. Generally, Q1 is considered as a seasonally weak quarter and Q4 as a seasonally strong quarter for paper industry due to start of new school season in April-May. On a sequential basis, the company witnessed 5.7% growth in sales whereas as most domestic paper manufacturers have reported almost flat sales revenue (as they are operating at almost full capacity).
-The Company repaid debt of Rs 460 crore in FY18, moderated the cost of debt which led to a decline in interest costs from 6.9% of net sales in 2016-17 to 5.1% in 2017-18, strengthening cash flows
-Receivables are reduced to 14 days
-Share of raw materials procured from within a 200-kilometre-radius of the Company's plants (%) has increased from 41% in FY16 to 71% in FY18 which has reduced the logistics cos drastically and helped in immediate sourcing.
-JK Paper has very strong cash flow. There has been a huge increase in last 3 years
-In last 3 years there have been strong improvement in numbers of JK Paper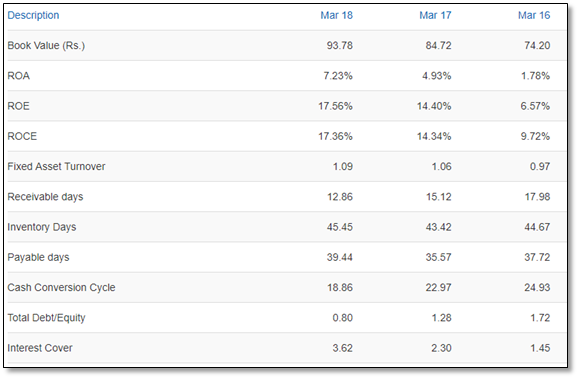 Ban on waste paper import by China [The Biggest Trigger]
China has stopped imports of several grades of waste paper as a part of campaign against foreign garbage, which has created shortage of raw material and impacted the paper production. Further capacities close to 3 lakh tonnes per annum are shut down due to lack of environmental compliance. As a result, packaging paper prices, for instance, have shot up by 40 per cent to over 5,500 yuan per tonne since August.
The Chinese Government's decision to ban waste paper imports has caused a drop in global waste paper prices. As a result, the price of recycled paper in China, used for packaging material, has increased due to short supply of WP. Indian manufacturers using waste paper stand to benefit on account of lower global waste paper prices (on excess supply) and higher realization for recycled paper.
http://www.therecyclingassociation.com/latest-news/china-announces-ban-on-unsorted-papers
-There is a sharp drop in Old Corrugated container (OCC)
https://www.bloomberg.com/professional/blog/china-sinks-old-corrugated-container-prices-now/
Aforesaid ban announced last year July'17 however, was effective from 1st Jan' 18 only. Now, due to this ongoing ban 2 major changes are happening.
-Due to reduced production price of all types of papers are going up and are very firm.
-Existing capacities in China started using fresh wood pulp for producing paper which again increased the demand of wood pulp and price of which is also increased.
Now, two kind of companies will be able to take the advantage of above situation:
Companies which manufacture paper from "waste paper". As china being a largest importer of waste paper, stopped waste paper import, world over price of waste paper will fall. Thus, waste paper companies will be able to increase their margins.
Companies, which have captive forestry to produce wood pulp will get the benefit. As prices of end products will get increased hence boosting their bottom‐line
Note: Aforementioned situation will be negative for company which import wood pulp. As prices of wood pulp world over rose steeply and INR got depreciated steeply too.
Strong Distribution Network
JK Paper has robust distribution backbone comprising over 208 wholesalers and over 4000 dealers coupled with 16 depots, resulting in a virtual anytime anywhere availability of products pan-India. The Company penetrated deeper across markets with the proportion of non-metro wholesalers at 70%
They have increased the number of pan-India warehouses from 7 to 16 in the last four years with the objective of minimizing the turnaround time in addressing downstream customer needs
Increase in Capacity and Other Benefits
-JKP has an installed capacities of pulp (276,000 TPA), P&W paper (346,000 TPA), paperboard (90,000 TPA) and power (77 MW) at two locations: Songadh, Gujarat and Rayagadh, Odisha. Also, they recently acquired Sirpur Paper from NCLT in Aug'18 by paying RS 371 Cr, that plant has capacity of 138300 TPA. Sirpur Deal consists of cash payment of INR 166 crore to financial creditors/employees, issuance of equity shares of INR 43 crore and issuance of 0.01% preference share of INR 162 crore (which is payable after 20 years)
-JK Paper is also adding up capacity in packaging division by 200000 TPA which is expected to commercialize in 2021. The company is also adding up pulp capacity of 160000 TPA.
-JK Paper would also benefit in terms of raw material sourcing for the Sirpur Plant. Telengana Government would provide wood at subsidized rate to the company.
-JK Paper will get huge benefits from this deal. See below:

-JK Paper is doing Modernization and Expansion of Existing Paper/Board Manufacturing Plant at JKPL Unit: CPM, Fort Songadh, Dist Tapi, Gujarat
More details at: http://environmentclearance.nic.in/writereaddata/Online/TOR/24_Aug_2018_144439913T8646PMHAnnexure_BriefSummaryofProject.pdf
-Capacity of JK Paper is one of the largest in India. With increased operational leverage they are ready to take the advantage of present shortage scenario. Please note, JK Paper has very strong balance sheet, healthy return ratios and debt to equity position. Over the period they performed well in line with paper industry.
RISKS
Competition from imports Imports accounts for over 20% of the paper consumption in India. The domestic paper manufacturers are less competitive against imports, given superior quality and lower prices of imported paper. As per IPMA, paper from ASEAN countries that is produced from raw wood is available at about USD 40 per tonne, as against USD 110 per tonne in India. Rising imports at low prices from surplus countries like China, has been a major concern for local players in India.
-Water Shortage
-Increasing prices of chemicals used to treat pulp: There are a number of chemicals required to be added, particularly in the pulping and bleaching stage of paper production. Major chemicals used are chlorine, sodium chlorate, caustic soda (flakes prices increased by 32% yoy in December 2017 to reach Rs 50.2 per kg), sodium sulphate, sodium sulphide, chlorine dioxide, oxygen, calcium hypochlorite, ozone and hydrogen peroxide
-Shift to Digital, which would reduce paper consumption.
Given all above facts signifies that good days are ahead for big players in paper sector who uses waste paper as raw material and have fully integrated manufacturing plant.
Disclosure: I have JK Paper as a part of my portfolio.