We have minute holdings in this company for tracking purpose.
Company Profile
Jeevan Scientific Technology Limited, established in the year 1999, is a global management consulting, technology services and outsourcing company located in Hyderabad, India. It's a CRO & active in Clinical Research field.
Services:
• Clinical Operations
• Bioanalytical Services
• Clinical Data Management
• Biostatistics and Statistical Programming
• Medical Writing
• Pharmacovigilance Services
• Regulatory Affairs
• Quality Assurance
• Project Management
Corporate Office:
Plot No. 1&2, Sai Krupa Enclave
Manikonda Jagir, Near Lanco Hills
Golconda Post, Hyderabad 500 008
Telangana., India.
Chairman: Mr. Sreerama Koteswara Rao Surapaneni
Executive Vice Chairman & Managing Director: Mr. Krishna Kishore Kuchipudi
Shareholding Pattern:
Promoter Group: 30.41%
Public Holding: 69.59%
Technical Analysis:
Company's current stock price is 43.80.
Market Cap: 33.88 Cr.
Stock P./E.: 30.80
Book Value: 6.41
Face Value: 10
52 Week High/Low: 56.00 / 24.00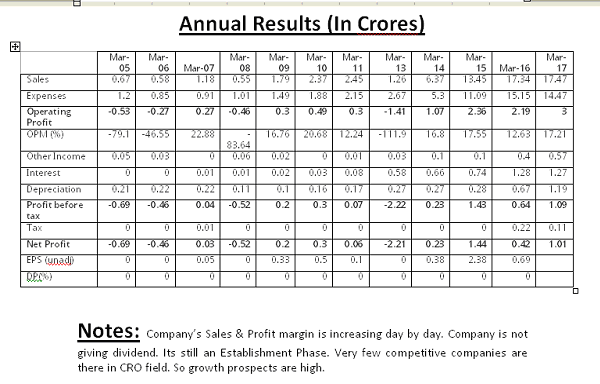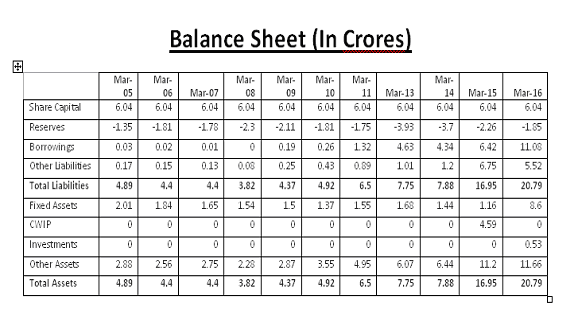 Disadvantages:
Though the company is reporting repeated profits, it is not paying out Dividend
Company has low interest coverage ratio.
Promoter's stake has decreased
Promoter holding is low: 30.41%
Notes:
They are being active in Clinical Research field. Yet there is less competition & hence they can acquire the market with ease. Once they establish their footprints in India, they can also go further with the expansion plans globally. Growth prospects are very high.
Regulatory body is a cause of concern as in recent past they haven't sanctioned many approvals rather delaying the process because of safety concerns.
They have been trained. Hence the Approvals with appropriate projects will be given with due consideration. These projects are very lucrative and hence once the approval is given the Liquidity and the OPM will increase. US FDA has recently approved the facilities after Audit for the Company.
Apart from Regulatory bodies, the procedure to conduct clinical trials was bit stringent. Highly qualified professionals are required to manage such processes.
Trainings are mandatory and should have the teams globally to manage Projects.
Data Management & Other technologies are being used in this process. Hence the Systems should be with strict securities & should be managed by well qualified professionals.