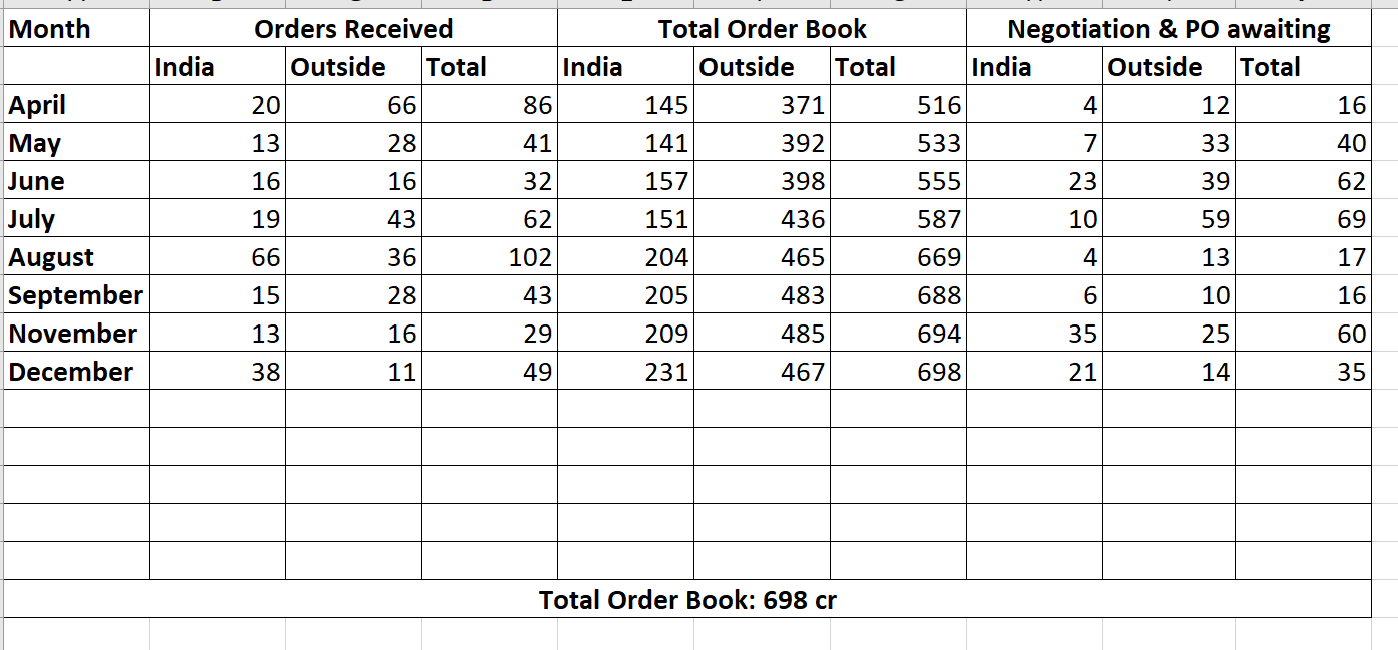 The order book is also increasing every month.
Lot of fluctuations in Negotiation & PO awaiting though.
Jash Engi. Q3 FY23 Result Update:
The Company has an order book of INR720cr as of 3QFY23, which is executable over the next 4-6 quarters. Order pipeline is also strong and ~INR33cr deals are already negotiated till Jan-2023 while another ~INR26cr deals are under negotiation.
Projecting to have 430 cr revenue in FY23. 9M revenue is 230. Seems a little difficult. Q4 is a very strong quarter though.
Want to reach revenue target of INR 750 cr by FY27. Increase PAT margins to 13-14% from 8%.
RM prices volatility is very high. Due to which margins are highly affected.
Jash plans to invest INR20-25cr over FY23/24 for 2 expansions – new SS fabricated facility at unit 2, Indore by Jun-2023 and new facility for process equipment at Shivpad, Chennai by Jan-2024. Jash may also invest INR20cr in new facility for gates and screens at Houston, USA by Mar-2025. Jash makes consistent operating cash flows to fund capex and dividend payout.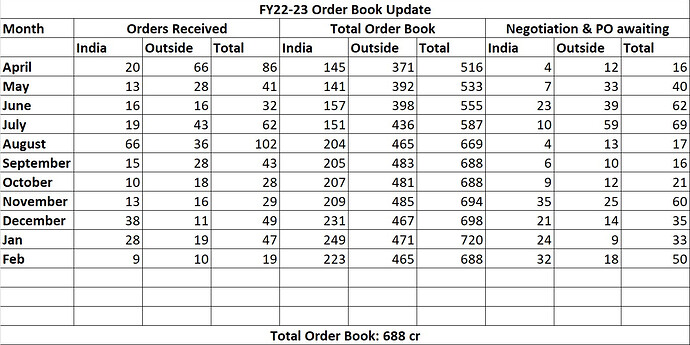 Jash Order Book Update: Provides an increasing except Feb month where they lost a 32 crore order.
To whom did they lose the 32 cr order and why? and what type of product?
This month one order in domestic worth Rs. 16 Cr. has been short closed due to project getting shelved.
They ve only mentioned about 16 cr project being shelved.
Hi @Lajja_Shah can you help explain how the order cycle works?
From what I understand, orders that are under negotiation have a 35% strike rate (management presentation).
Once an order is negotiated and closed, it takes about 2 months for the actual purchase order to come in.
Once the purchase order is received, at that time, that amount is moved from Order pipeline to Consolidated orders book.
Is the above understanding correct?
Secondly,
If you look at the table, the orders received are basically the same in September and October (288), despite receiving 28 orders in October.
Further, the total order book is still 688 Cr at end of Feb - same as it was in Sep.
Does this mean, they have lost some orders and gained some and the net order book is still the same without much progress?
Or does it mean, that since the October 688Cr order book, some of that is already in execution and has been moved from order book towards revenue generated and so it's not actually a sign of lost orders?
Thank you.
Discl- invested with small tracking position
Your first understanding is correct.
In second, it is difficult to determine how much goes to revenue as they do not give any clear indication. Both the possibilities could be there but more likely is the possibility of net order book as if they would have started execution, wont be a part of order book.
Thank you.
Wondering if we can get more clarity on that.
It would be helpful to model out future revenue.
If we know what the monthly run rate for order pipeline is, the strike rate, and the average time to execute an order, and the attrition rate (cancelled order rate) we can at least come up with some approximation of future revenue.
Seems like to increase revenue growth, first they will have to have enough booked orders (which seems like they already have) but they will also have to execute faster if they want to recognize that revenue early.
The 2nd part of that will require investment in resources/infra so some clarity around how they can accelerate that would be helpful from management.
You can refer to this report… might get some idea
Thank you.
It says "The Company has an order book of INR720cr as of 3QFY23,
which is executable over the next 4-6 quarters. "
That's not bad, so majority of the revenue should be recognized by FY 25, or max FY 26.
In that case the revenue for FY 27 should be much higher than 750Cr which the company is aiming for.
Thank you for this, will try and see if I can get some more specific info.