Jagsonpal Pharmaceuticals(NSE: JAGSNPHARM) has been on a tremendous rise compared to other Pharma peers since last year, its price pattern also looks better compared to its peers.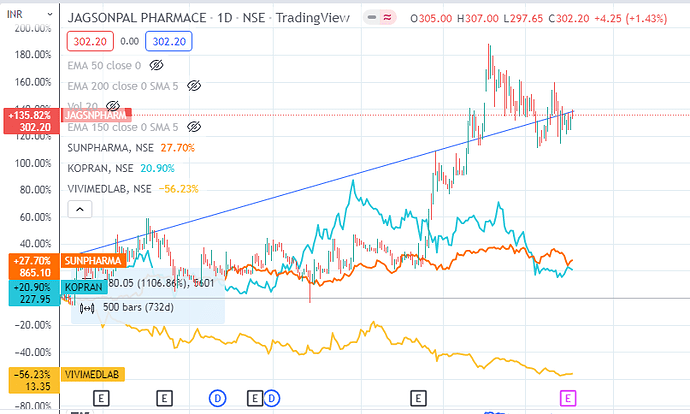 As per company website :
Company specialises in developing and manufacturing bulk drugs and pharmaceutical formulations.The Company has a robust portfolio of drugs focusing on Women Health, Pain and Analgesics and General Medicine.
I am no Pharma investing expert neither have any knowledge about Pharma sector as whole, hence requesting inputs from members. their thoughts on why it is sustain these levels.
Since June 2020 it has given 1108% returns. If we compare since last year, still it has strongest returns of +135% compared to peers like Sun pharma(+27%), Vivimed labs(-56%) and Kopran(+20%). Quarterly growth on YoY basis does not look so enthusiastic:
Q4 YoY growth:
Revenue:+21%
EPS:-97%
Margin:-98%
For Q3,Q2(YoY) : Revenue growth seems flat at -4% and 5% for Q3 and Q2 respectively, EPS growth is flat for Q3(-0.48%) and up 82% for Q2, Margins up 13% for Q3 and up 100% for Q2.
Annual growth trend compared to last year:
Revenue:+20.20%
EPS:+15%
Margin:+3%
For Fy22Q4 YoY growth numbers, can you please explain if and how this line item resulted in bad bottomline growth? and what are the implications of it?

Company update:
Convergent funds have made an open offer to buy 43% stake in the company on Feb 21, 2022:
The offer is at Rs.235, but the current stock price is Rs. 291, what will happen in this case?
Appreciate insights from industry experts and the members who are tracking this company on my above question. Thank you.