Misled on Suzlon along with aammiitt2
I have sold the positions way back in 2018…Did not make any money…no loss/profit situation for me…You would not find me commenting here for over an year…I knew this cannot be revived unless 100% acquisition by PE…
Disc: Not holding > 1 year.
Bankers said Suzlon failed to come up with a debt recast plan by December-end deadline and is heading for bankruptcy courts by next week.
Dilip Shanghvi staring at huge loss as Suzlon Energy heads to bankruptcy
Dilip Shanghvi, the billionaire-promoter of Sun Pharmaceutical Industries, is staring at a huge loss having invested Rs 1,400 crore in picking up 23 per cent stake in Suzlon in 2014 in his personal capacity,
Dear Forum Members,
Am posting this message on behalf of learning and comment/statement are from the old managing director/CEO of suzlon(JP Chalasani)
This is not an investment idea or opportunity to enter - the company is in huge debt with 9,759 crore debt.
Am not invested and i strongly urge the members to not invest unless there is some positive impact - My sincere request
My below comments are from the video - you can have a look
What are the existing problems that the renewable sectors are facing?
Trading Tariff - Bidding War is the problem wherein when you bid for a lower amount/cost the more its acceptable in the market and people intend to use
Wind tariff has gone from 4.5 - 2.85 (Now)
Renewable Energy Challenges
Both sectors are not in a fight against each other as you can see below chart :
South dominates in wind due to coastal lines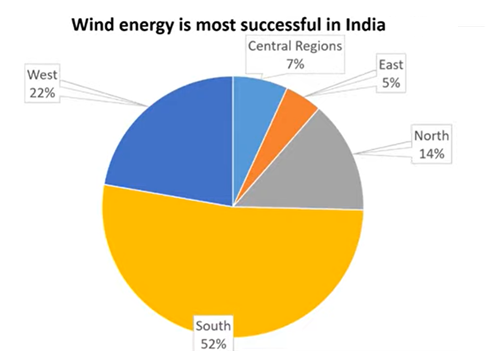 Which renewable sector is popular among all?
Solar

Which energy sector will be the fastest growing sector :
Solar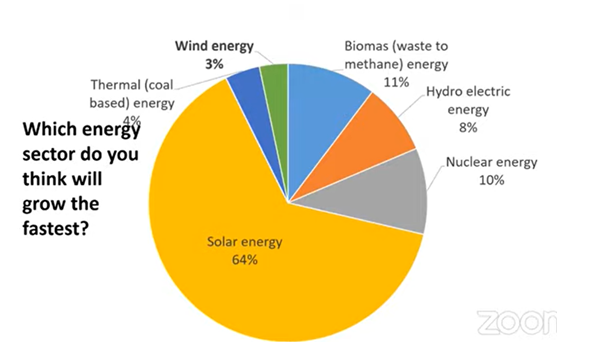 Then why in comparison with Wind when solar takes all advantage?
Solar alone cant/ will not be able to supply power to the entire nation - there are circumstances that wind has to play in.
India is not fond of power but they are more concerned about the pricing affordability rate/tariff - they wont be bothered about solar/wind when it comes to renewable sectors
Conclusion Hybrid is the solution to achieve target of renewable sector for 2022: Wind + Solar (Married together - it cant fight)
Wind is the significant renewable energy
What are the other problems?
Integrating renewable energy & power sector
Decentralize distribution for rural sectors
Integration team :
Minister of power - Power Grid
MNRE (Minister of renewable energy
What are the opportunity growth for renewable sectors?
-Repowering
-OEM
Long consolidation is happening in OEM : Next 8 years globally 3 OEM will have 90% market share
What if the new players will have to make an entry, why will they have a problem?
Cost cutting
Efficiency - They cant survive
What changes in government you think will happen?
Wind Sector makes the criteria of make in India concept (Atmanirbhar Bharat)

Atmanirbhar : Power sector will create huge employment opportunity in India government
can bring in more and more project. Since we are at the lowest point now in terms of
employment - there is only way that is going up

We have 10 GW wind capacity in India

Current capacity utilization 15-20%

India can become hub for exports - even the component manufacturers
Do you think we have to depend on China?
Not for wind sector - as China are more into Solar so there might be chances that if there is less power generated then we may have to tap in other markets for power
Target by government : 2022 - 60 Giga Watt
Today we stand at : 37 GW
Last 3 years - we did less than 3.5 GW anybody's for 2 more years
Your views on Suzlon?
Suzlon has huge potential - It's pioneer in India and has a significant business model
FY 17 was the best year for Suzlon as it generated 1800 MW alone
There is no subsidy in wind - Interstate transmission charges are the benefit due to transmission cost
Land acquisition & roof top solar : Land acquisition are very costly
Commercial viability is problem for roof top : Distribution utility will be a problem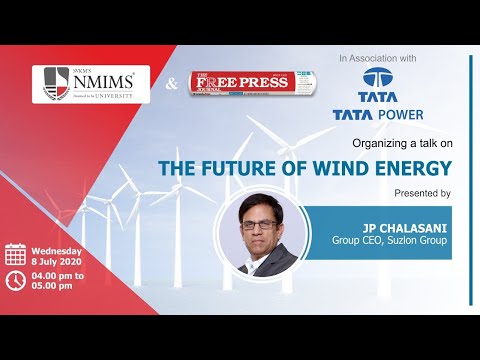 Am sorry if some statements may have interpreted wrongly - as i have noted down to my level of accuracy.
@ayushmit, @hitesh2710 : Sir as we are seeing there is underlying pattern in terms of IDBI / YES BANK/ BSNL / ADANI GREEN : Government is infusing capital to stop China export order.
Given a play of Atmanirbhar Bharat : Along with side of employment opportunity, 2022 renewable sector target & future of EV with current government electric buses to run on - needs power. - Can you give your thoughts in 1-2 statement?
Disclosure : Invested in Adani power ( Am not an SEBI analyst nor this is a stock recommendation, please consult your financial advisor before investing )
Adani - Since due to their presence of solar energy model & currently with tie of government to generate 8 GW. The beneficiary would be adani power - it has raised to delist itself however refrained and the next day it raised capital from shareholder) power sector will have a continuous set of growth however it depends on tariff prices/rates. Suzlon on other hand failed due to high land acquisition cost for wind which have taken them to bigger debt book
Has anyone still got interest in Suzlon? It has moved up quite nicely since the Q results. Breaking out at 6.38 will make this very exciting.
GameStop-like bid on in India. Worry not, it's a hopeless case

via ET Markets App(Download Now):
http://ecoti.in/YIlC9Y
Suzlon is quoted in the above news
Any new views on Suzlon? Debt reduction and showing Net profit last year could be good triggers. What is holding back the stock?
steel prices are a concern on the margins . once commodity cycle stabilises, hopefully there'll be enough cash flow to show breakeven after interest payment. It's a penny stock because operating profit cannot pay the entire interest
24.05.2022: Allotments of securities issued in June 2020:
4.1 lakh OCDs of FV 100,00 converted to 57.14 crore new equity shares > On conversion of total o/s value being 4099 crore
49.85 crore warrants > cancelled
99.71 crore shares > Lock-in Requirements waived off
No impact on current debt levels.
offshore power not commercially viable
Any updates on Suzlon after it's recent upmove??