Business Details: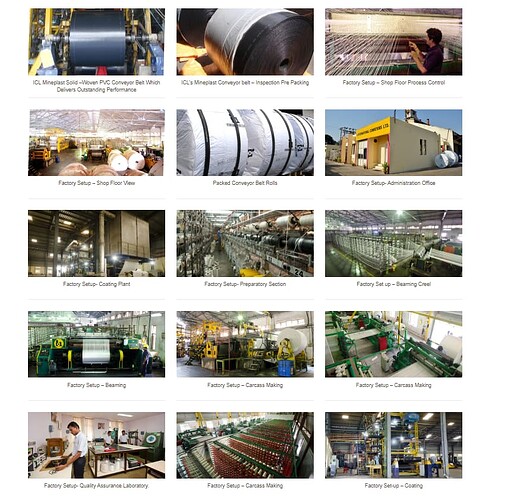 About the company: ICL was founded in 1973 and is engaged in the manufacturing and marketing of solid woven fabric reinforced PVC, which is basically a polyvinyl chloride fire retardant, anti-static belting. ICL conveyor belting was made in accordance with the British underground coal standards through its licensing arrangement with Scandura. ICL had actually a collaboration with Scandura up to 1991-1992 and when Scandura was bought over by our competitor Fenner, this collaboration broke but then ICL grew after that.
Products: The company manufactures the most extensive range of products comprising Type-3 to Type-6 that are most suitable for the domestic market and Type-3 to Type-18 which is more popular in the overseas market. When Companysay about Type-3 or Type-6 or Type-18. It basically talks about the strength of the belt. For Type-3 the strength of the belt is 3000 pounds per inch, whereas Type-18 when Companytalk it is 18,000 pounds per inch.
It's one of the largest manufacturers of solid woven belting in the world and has a complete product range with the ability to make Conveyor Belting up to 3150 kN/m (type 18) in strength and belting widths ranging from 600 mm to 1800 mm. This is the widest product range of Solid Woven belts available from any one Company with a manufacturing capacity of 1 million meters per annum of PVC Solid Woven Conveyor Belting.
Market Share: The company is India's largest listed company having almost 40% market share as far as domestic is concerned.
Approvals: The company is ISO 9001:2015 certified Company meets the international quality benchmark. The company also enjoys several certifications and endorsements from stringent global regulatory bodies. See for example, since this belting is going for underground mining, the Company needs to have approvals from the individual government. For example, if the Company is to supply to the US, if the Company is to supply to Canada, if Company is to supply to Europe, each government has its stringent requirements and the Company Needs to have approval from that and the Company is happy to inform you that Company has almost all the global approvals.
Subsidiaries: The company also has two international subsidiaries, International Conveyors America Limited and International Conveyors Australia Limited, and through our subsidiaries, the Company supplies to America and Australia.
The company is one of the major suppliers of FRAS. FRAS is basically a fire retardant anti-static belting for conveying coal and potash.
The company basically has two manufacturing facilities in India, one is in Aurangabad which is in Maharashtra, and another manufacturing facility which the Company has in West Bengal, the place called Falta which is part of our SEZ.
Clients: Our major export is to the US, Australia, and Canada, and Companyare considered the preferred supplier, the world's largest potash manufacturing companies Companyare also supplying now to the UK, South Africa, and Latin America and our next endeavor is to supply to Europe and Central Asia.
Order Demand: It is a mixture of replacement as well as new demand because each mine has its own blocks and the company also explores the new blocks. So as on date, I think I would expect it to be 50-50.
our main raw material is polyester which the company buys from Reliance, as well as PVC, which The Company buys from Finolex or Chemplast Sanmar.
Indian clients: Companyare supplying to Shivani Colliery, Companyare supplying to Tata Steel, Companyare supplying to Earth Coal.
Treasury business comprises 25% of PBT: It has 225 crores invested in stock, mutual funds, and inter-corporate deposits.
Growth:
Growth opportunity: So, if you talk about growth, yes, the Company has good growth prospects, taking into the infrastructure.
Revenue growth in FY23 vs FY22: 1.60% growth in the topline resulted in 44.5% growth in the bottom line with margin expansion.
Corporate Governance:
Shares Buyback: The company had bought back 41,21,000 equity shares pursuant to the buyback offer by utilizing a sum of ` 2,311.85 lacs which represents 77.84% of the Maximum Buyback Size and it has completed the process of extinguishment of the entire 41,21,000 Equity Shares bought back under the Buyback Process.
Shareholding increase: Increased shareholdings from 48% to 70% in 3 years.
Loans granted to companies:
Industry Tailwind:
Conveyor belting is critical for the bulk transportation of materials like coal, potash salt, etc and no substitute has been found.
• First company to have BIS Certifications • Our team has been involved in such projects.
Cement Industry Outlook:
Strategic Intent:
New products and customers: From 2014 to 2019, the Company diversified into a new customer segment because prior to that Company was just concentrating on the coal industry and then the Company had diversified even to potash. So ICL moved forward in the export market to serve the needs of miners of potash, phosphate, etc. in North America as favorable regulation led to a growth in coal mining in the USA. Company design and development based on the customer's requirement like for example, the requirements of potash or gypsum is slightly different than those of coal. So, Companyhave developed products accordingly and then the company started supplying them.
Customer addition: Penetrate further into Australia's underground coal mining segment to grow in the South African market, start supplies to Europe, which Companyhave already started now, and then start working with Central Asia.
Industry Diversification: This diversifies broader books from multiple industries. Recently, Companyhave also started supplying in the cement industries and other aggregate industries like crusher industries and other peers. So, companies are not just restricting to coal and potash but are now diversifying to other industries. now Company is supplying into gypsum industry, recently company started supplying to the cement industry. waste management industries
Competitive Advantages and Intensity:
Regulatory approval acts as an Entry Barrier: The Company has regulatory approvals with the products using underground mines in India, the US, the UK, Canada, Australia, South Africa, and China.

Use of Wind power : ICL is constantly working on initiatives that focus on sustainability that Companyproduce more green energy than Companyconsume.Companyhave five windmills which are situated basically in Karnataka, Maharashtra, Gujarat and Andhra Pradesh and Companyproduce more green energy than Companyconsume.

Pricing power: So, saying that Companyhave either a monthly or fixed, yearly contract, where Company revise the price. This is the pre-agreed formula of the movement in the price from the international indices.Company at least have around 10-15 raw material which are going into production and what Mr. Udit was saying that Companyhave a contract with all our customers where the price gets either increased or decreased based on the indices movement on a six-month basis. The company should have double-digit EBITDA most of the time assured

FOB stands for "Free on Board". It is a pricing model in which the seller is responsible for getting the goods to a specific location ie. Indian port and rest clients take the responsibility.

No Import Substitution: As far as rubber belting is concerned, you have a 'N' number of layers of the fabric whereas PVC belting is concerned it is a single fabric. So always in the case of rubber belting, you have an issue related to the separation of the different fabric layers which is not there in the PVC belting. Secondly, the advantage of PVC is mainly underground because PVC has the inherent property of fire retardancy which rubber does not have.

ICL design team can undertake full in-house design starting from preliminary design of systems from power and tension calculations all the way through to detailed design • The ICL team has years of experience in solid woven conveyor belting both for underground and above-ground applications.

Inhouse Manufacturing: Complete integrated in-house manufacturing - from yarn preparation, fabric weaving, compound mixing to finishing - to ensure total process and quality control at each step of manufacturing activity.
Risks:
Raw materials: polyester or PVC, all are petroleum base and there was an abnormal increase in the raw material and that is the exact reason why the raw material to sales price has gone up so high.
Related party transaction: The company had an equity even in Elpro International and it amounted to Rs.111 crores and it has been liquidated.
strong text
Financials:

For more such stories, one can visit my page.
Disclosure: Tracking position, for educational purposes.