A few things to understand about the Cinema/multiplex space.
ATP- is the average ticket price
F&B SPH- is the food and beverage spend per head
Occupancy- The number of seats filled per screen
Footfalls- number of people visiting the establishment in a given period. (could be yearly or quarterly)
Lets say you are interested in the business and want to build a multiplex:
Capex required would be 2.75-3 cr per screen (Acc to Inox's management)
ATP is 197, Occupancy is 28%, Number of seats in the screen are 235, F&B SPH is 73 (Current q4fy19 numbers)
So every day you will earn= Occupancy*(ATP+F&B SPH)
So, 28% of 235 is 66 Seats. So your earnings from one show will be= 66 (197+73)=17820.
Every screen plays 4 shows per day. So daily earnings will be 178204=71280.
Along with this the burdensome time we spend watching the vicco vajdradanti and lyra ads during interval and start of the movie, also provides us with additional revenue.
Other sources of revenue would be any ticketing platform use, renting out some space to different vendors, etc.
This would bring our daily average sales to around Rs.85000. So on an average a screen will provide with revenue of 3.10-3.5 Cr per year. With a 8% net profit margin, in our pockets is 27- 30 Lakh.
This is 10% cash generation for the capex.
The footfall generally increases, after a year or two of operations. So in 10 years time, we will own the infrastructure of the screen as well as a free cash flow machine. Due to dealing with customers we get upfront payment and there is no bad debt scenario, giving us a negative working capital.
Before we get too excited by this, lets see the challenge in opening a screen. The regulatory approvals take time. If you're ready to build a multiplex right now, it takes 4-5 years to carry out the plan. Why so? Multiplexes are generally built in a mall. So, the plan needs to be present when the mall is being planned as well. Plus there is usually an exclusivity given to only one multiplex per mall, as multiplex brings a lot of footfall for the mall as well.
INOX LEISURE:
It is a company of the Inox group which consists of a lot of companies in Chemical sector.
This is how Inox's revenue is divided:
Net Box office (60-65%)
Food & Beverage (20-25%)
Advertisement (8-10%)
Others (6%)
This is why single screen lost popularity and how soon they lost it: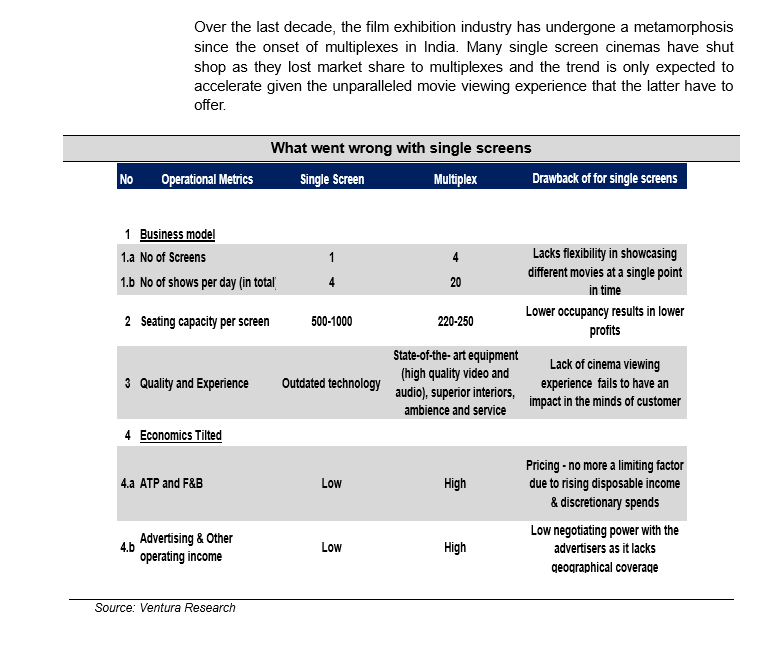 After a screen has matured, nothing other than external content will be able to drive revenues. So, geographical expansion is key to grow.
Inorganic acquisitions are done to boost growth.

The GST point:
Entertainment tax was levied which was of 25%. GST is 18% and hence the 7% difference gave a good margin expansion. They have passed on this benefit to customers, which is why you may see a dip in ATP when GST was rolled out.

F&B had a tax of 12% which got revised to 18%. Company has increased F&B prices.
Following is the growth strategy for Inox:
They are increasing screen presence like never before. They used to have a 3 screen addition per month as their growth. However this year company has grown to opening 17 properties and 85 screens bringing the total number of screens to 583. This is the highest ever new screen opening for the industry in a year. Inox was adding lesser screens in a year than PVR and is one of the reasons why it was trailing PVR's growth.

Inox had 250 seats per screen, which has now been reduced to 235, and they aim to reduce this more. Lesser seats more screen.

Company is net debt free.

Company's screens are divided as:
42% in West
22% in South
21% in North
15% in East

Current Segmental Revenue Breakup:-


Company has also paired up to broadcast Cricket matches and leagues in 8-12 locations to boost revenue.

A fact to note is that movie business do good in recession as it is the cheapest form of entertainment compared to any travel and tourism.
Risk:
Content
There is content risk as company provides a service based on someone else's product. Revenue will differ with onset of blockbusters. In 2018 when Padmavat was banned to be released in certain states, revenue was hampered.

Government:
Government in the past have promoted the multiplex sector by providing subsidies, cheap land and electricity etc. Govt may take all of this away and impose more restrictions. Regulations such as allowance to bring your own food can be bad for the company.

Valuation:
Stock has recently touched its all time high. It is not the cheapest valuation and that needs to be taken in consideration.
With the entry of Insignia, Inox IMAX, and the aggressive expansion with no net debt seems like a good opportunity.
This is my first post on ValuePickr and I have gained a lot of knowledge here. Do let me know if I have made any mistakes or breached any community guidelines.
Disclosure:- Not invested but interested.