Just for learning…
Normally any consumer facing companies will try to backward integrate to cut cost and take control of vertical business line. Jio becoming a giant in telecom and gaining huge market share.
Will there be a situation where Jio would try to install its own towers and eliminate tower companies?
What would stop them from doing so?
They sold their tower assets two years back, why would they come back into the sector?
This is an Airtel strategy . Tower,Fiber and Small cells are the main story as carriers roll out 5G from here on. Millimeter wavelength does requires incremental macro and micro passive infra for coverage . The more say you have on Tower company the better you can plan your network rollout . specially only 2 large size Telecom player left out in India. Infra co-location factor is getting down (For Indus at around 1.8) day by day ,tower business is becoming very less attractive in India. Simple fact , in US and Europe tower companies enjoys good escalation (mid single digit) on rent. In india its mostly flat with Govt trying to bailout industry rent escalation creeping up at couple of %. Airtel is increasing its stake in Indus on every opportunity. Story is different in Europe , Telecom companies hiving tower asset to spend fund on 5G rollout and becoming more nimble in operation.
Any view on the results. Profits were down 40+% due to voda provision
have exited this post the result. More provisions , poor tower count growth, uncertainity on recievables … Looking for a better direct play on 5G infra demand which is exploding… like vindhya telelinks (optical fiber manufacturer)…Salasar (tower manufacturer) etc
Disclosure: exited
Indus Towers Ltd Q2 FY23 Result Update!!
Issues regarding collections & provision for debt. Expecting 5G rollout to be a good revenue generator in the future.
Lets see for a few quarters how does this pan out!!!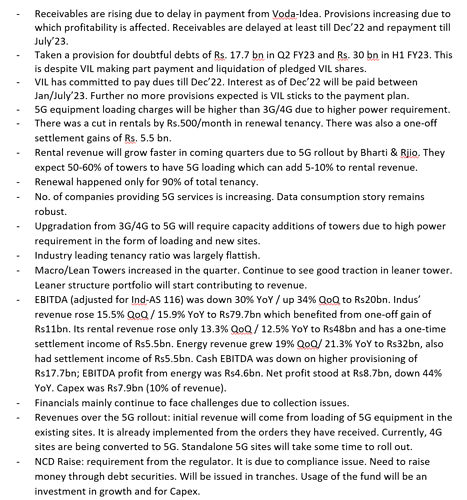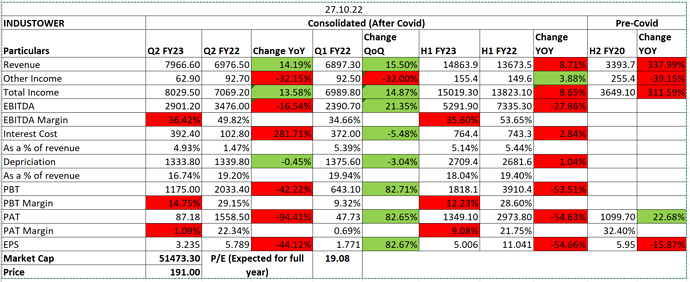 I think everything is nicely poised for Indus, viz. 5G, recent actions of Govt, and the indispensable nature of the telecom services in our lives , etc. except for the concerns around Vodafone's possible bankruptcy, of course a very big issue, Voda being a big customer. Hence if we can have clear numbers on what exactly the impact of it on both top\bottom lines of Indus, then we can easily decide on if it's a good investment bet\avoid. I tried to get some clues on this front by browsing through con call transcripts but in vain…any inputs on this front would be of great help in evaluating it further.
Still pending dues from VIL until DEC'22 are 6800 cr. So if VIL pays that, Indus Tower should be able to do better. So can wait for another quarter.
Qus:
6800Cr has been already provisioned in P&L or not?
Airtel Q2FY23 Conference call: 5G rollout by airtel is unlikely to create demand for new towers in the medium term which is 2 to 3 years.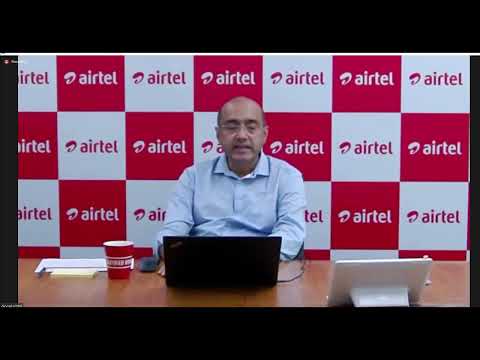 Trying to understand, why the Debt on the balance sheet has increased to almost 20k cr in last 2-3 yrs.
Disc - Not invested.
could be because of merger, i.e. debt of combined entity
I think it is because of accounting norms, where Lease Rental agreements have to be classified as Debt of Balance sheet…
Looking at the Vodafone repayment issue. What would be the worst case scenario for Indus towers, if vodaidea default the payment or indus disconnect the service to them?
How badly it would affect indus towers?, Any views
As mentioned above in my post on November, 2022.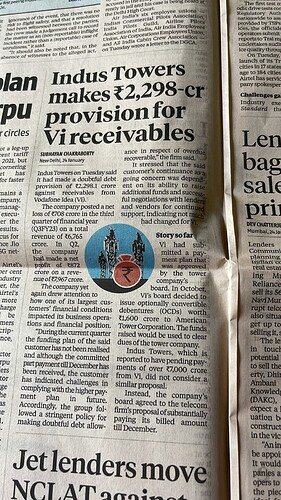 In Oct, 2022, the total payment due was around 6800 crore. For which VI had submitted a payment plan and were suppose to make some payment in Dec, 2022. They payment has been made in Dec 2022 (amount not mentioned in article). But still VI is suggesting that there will be delays in payments in further months so due to Indus Tower's stringent policy of making provisions, thy have made an extra provision of 2298 crores.
More details will be avaliable in the concall but need to wait for that.
Thanks, @Lajja_Shah for providing this interesting excel. I don't think the market will give a company like Indus tower a P/E of 57 considering the issue of Vodafone which is a big overhang on the stock with no visibility.
Moreover, it's signing the contract with Airtel at a lower rate in comparison to last year, and Airtel not showing a growth of towers in the medium term, which can be quite negative for the stock.
I understand that bankruptcy of VI will tantamount to bad debts + decreased revenue for Indus since their significant customer is out of business. Eventually when subscribers move to Airtel / Jio, wont these two companies pay higher rentals to Indus to take increased load and hence revenue coming back to Indus in the long run?
Wont this make Indus a good buy once the stock bottoms out?