Could not get a thread on Bharti Infratel, hence started it.
I. About Bharti Infratel (as mentioned in their website)

A leading provider of tower and related infrastructure. One of the largest tower infrastructure providers in India with more than 39000+ Towers, based on the number of towers that Bharti Infratel owns and operates and the number of towers owned or operated by Indus, that are represented by Bharti Infratel's 42% equity interest in Indus.
They are also pioneers in the concept of environment friendly Towers or 'GreenTowers' and energy efficient methods for maintenance of these towers.
II. Services : Establishing, operating and maintaining mobile towers.


a) Tower Infra Solutions
b) Tower Operations Center : Managing Day to day operations of Towers.
c) Infratel Enterprise Suite : Online ERP platform, where the user can raise and manage their respective business requests on an end-to-end basis. The entire process of requesting a new cell site or a cabinet expansion can now be administered through this smooth, transparent and efficient mechanism.
III. Key Differentiators
Undisputed benefits of scale and experience – leading to cost and operational efficiencies
Proven O&M, and uptime capabilities for large scale operations
State-of-the-art fully automated Tower Operations Center – to monitor alarms and SLA delivery - leading to superior customer satisfaction
Business Performance centric processes, technologies and IT systems – including Customer Portal and CIT
Commitment to Green energy and energy efficient technologies – we have the largest Tower Infrastructure installation of solar powered Towers in the world
IV. Financials :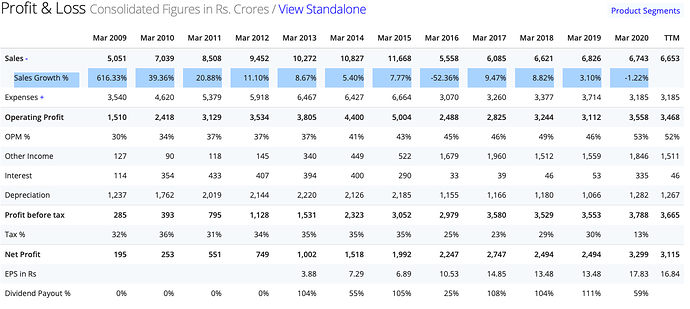 -ve Stagnating sales growth. As highlighted in the screenshot.
+ve Increasing OPM.
Taken from (Screener): https://www.screener.in/company/INFRATEL/consolidated/
V. FY 19-20 annual report can be seen : https://www.bseindia.com/bseplus/AnnualReport/534816/5348160320.pdf
Went through the complete annual report, some interesting insights which I would like to highlight.
Profile of Board members looks extensive & quite top notch. (Page 24)
Through out they have shown images of employees working, what is more interesting is the CSR details. Where they have shown images of ppl benefiting (Page 60 onwards) & testimonials from ppl (page 65 & 68).
Though the sales has taken a dip of around 1.2%, their travelling expense has taken a much more dip. Which is in fact good. From Rs 160 million (FY 18-19) to Rs 140 million (FY 19-20). (Page 207)
Being in to corporate travel, I always take it as +ve. (Any growing company should have a growing travel spend & vice versa).
Few red flags :
I fail to understand why their Debt has increased, as visible on Screener as well. Highlighted in Blue.


Dependence is on Airtel & Vodafone, both of them are not in good financial shape. AGR dues would literally kill them.

Deferment in merger with Indus Tower.

Dues from Vodafone Idea
Would like to have thoughts coming from fellow members.
Disc : Not Invested.