Without wasting time will directly jump into numbers: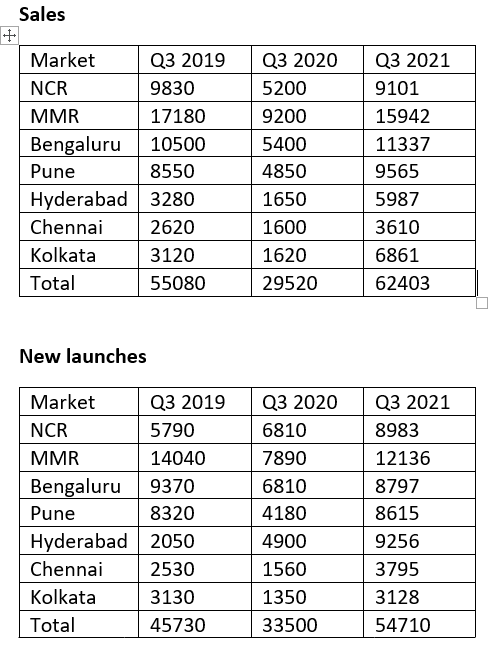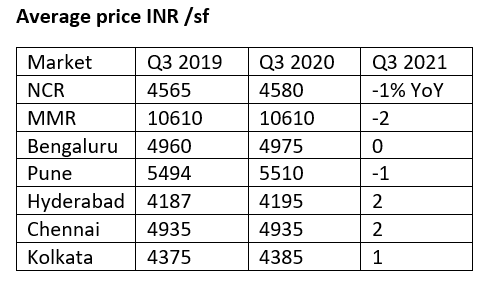 Ref:
Q3 2019 PAN India Residential Market Viewpoints (anarock.com)
Q3 2020 PAN India Residential Market Viewpoints.pdf (anarock.com)
india-real-estate-residential-and-office-july-september-2021-8454.pdf (knightfrank.com)
AR-2021 / Management commentary:
DLF: "The Residential business has shown strong resilience since October 2020. There has been an upswing in demand across all segments from affordable and mid income to the Luxury and Super luxury end of the market. In view of positive market conditions, your Company has lined up a very strong pipeline of new product offerings across the next few quarters. Our initial launches of Independent Floors in Gurugram have met with great success. Sales of existing inventory has also gathered traction in all our geographies. Our marquee project, The Camellias has emerged as India's finest residential address and has been witnessing very strong demand by discerning customers.
The Rental Business faced some short-term challenges due to the pandemic. While our Office business remains stable, our retail Malls were affected by the lock down but now are showing encouraging signs of recovery since the restrictions started easing. We continue our Capex Buildout cycle with the construction of two state-of-the-art Office complexes namely Downtown Gurugram and Downtown Chennai. You will be glad to know that the preleasing in both these locations is encouraging. Your Company is also developing a ~ 0.28 million square meter (msm) [3.0 million square feet (msf)] office complex in Gurugram in partnership with ADIA & Hines. In addition to this, we are also constructing a large data centre in Noida for one of Singapore's largest Telecom companies"
Godrej properties: "Overall, we should expect a pretty strong year we think. The first quarter was certainly very weak as we already discussed and that was largely April and May. June was more than two-thirds of the sales in the quarter. So, I think already what we are seeing in July and June is quite encouraging. We have a large number of launches, not just in the later part of the year, but even in the current quarter. So, we think we would be back to kind of the second half of last year momentum even this quarter. And of course, we will hope we continue to build on that. We had guided at the start of the year that we were quite hopeful of at least exceeding last year's number. We have been given the hit that the second wave has introduced, and we remain pretty confident on delivering that and hopefully we can have some good growth as well, but I think that will depend a little bit on launch approvals and so on. But I think as a base case, we should look at some growth over last year"
"Despite the significant challenges the pandemic posed to our operations in FY 2020-21, your Company registered several important accomplishments. There were four different areas where Godrej Properties ranked #1. The first of these was that for the first time, your Company was India's largest developer by the value and volume of sales it achieved. The second was that the Global Real Estate Sustainability Benchmark (GRESB) ranked GPL as the #1 global leader amongst listed residential developers in terms of its governance and sustainability practices. The third was that your Company was for the first time ranked #1 in India amongst more than 10,000 developers in India by Track2Realty in an exhaustive study comprising of feedback from more than 10,000 participants in the sector. The fourth was that our Qualified Institutional Placement (QIP) in March ranked #1 ever by a real estate developer or REIT in India in terms of the quantum of capital it raised"
Oberoi Realty: "While the first half of FY21 was subdued because of the lockdown constraints, however the initiatives taken by Central and State governments, RBI and other regulatory authorities offered great support which ensured that the second half made up for the whole year. I would also like to thank all my shareholders, customers, and partners for their confidence in the brand and continuous support. It was very encouraging and helped us to continue our fight against the pandemic during these demanding situations. The pandemic also led to a paradigm shift in consumer preferences and buying behaviour. It made people realise the importance of owning a home that takes care of all the needs and safety of every family member. This realisation shifted consumer preferences towards spacious homes and integrated residential developments having an ecosystem of amenities, social infrastructure, workspaces, shopping, dining and entertainment destinations. Furthermore, developers with high brand equity, financial prudence, proven track record of construction quality and delivery saw a consolidation of demand in their favour. The convergence of these changing consumer preferences, consolidation in the sector and low home loan interest rates ensured a stupendous sales performance in FY21 for the company. Customer's comfort to deal with developers who have the financial stability will ensure that the market share for established players like us will continue to increase further. FY21 has been a year where we strengthened our position and focused on execution, growth and expanding horizons. Even during the pandemic all our residential projects received robust interest from across the globe. The new launches, at Goregaon and Borivali received remarkable response from homebuyers. We leveraged consumer insights to identify the emerging trends in buying behaviour post pandemic and accordingly designed spacious homes. We also added a multipurpose room that can be set up as a dedicated Work From Home area. This additional space was created to meet the new requirement of the homebuyers "
Prestige Estates: "RESILIENT PERFORMANCE AMID EVOLVING CUSTOMER PREFERENCES Despite the new launches being affected during the first quarter owing to the nationwide lockdown, we reported our best-ever sales and collections. This demonstrates the strength of the Prestige brand and the attractiveness of our products, enabling us to outperform the overall market. That said, the residential real estate sector across the country, especially in Mumbai, Bengaluru and Hyderabad recorded unprecedented sales between September 2020 and March 2021, driven by the increased preference for owning over rented accommodation, and the need to upgrade to bigger homes. Further, increased affordability due to a persistent low interest environment and reduction in registration cost for residential units in some states provided a significant boost to demand"