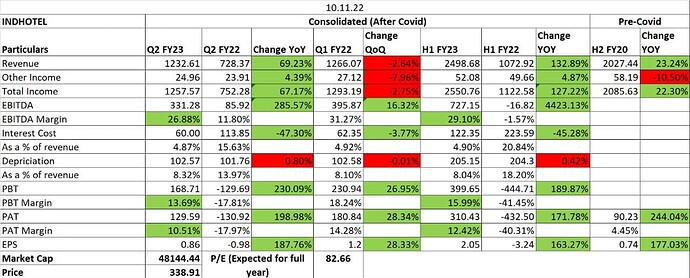 Future Quarter Commentary by Management:
H2 EBITDA Margins will be above 30%.
Q3 will be a strong quarter. Q4 will be the second strongest quarter. 40-45% of the revenues come in H1. So 5500 crs revenue can be expected for FY23.
Corporate overheads will go down from 8% to 6%.
Fixed costs will also go down from 46% to 38% and should go lower.
Newly positioned Ginger Brand has already done 39% EBITDA margins which are still likely to increase.
Usually only go into businesses with an EBITDA Margin of 35% or they don't enter into those businesses.
Occupancy saw a rise from 68% to 70% and will continue to rise.
Room Rates can still see an upside in the luxury segment.
https://twitter.com/CNBCTV18News/status/1590942217325015040?s=20&t=VKwlsZXSGpLBqSdsJ3UPQA
https://twitter.com/CNBCTV18News/status/1590942259398049794?s=20&t=VKwlsZXSGpLBqSdsJ3UPQA