See regulatory filings on IDFCB website
I'm no banking stock expert,
have done some approximate NPA forecasts,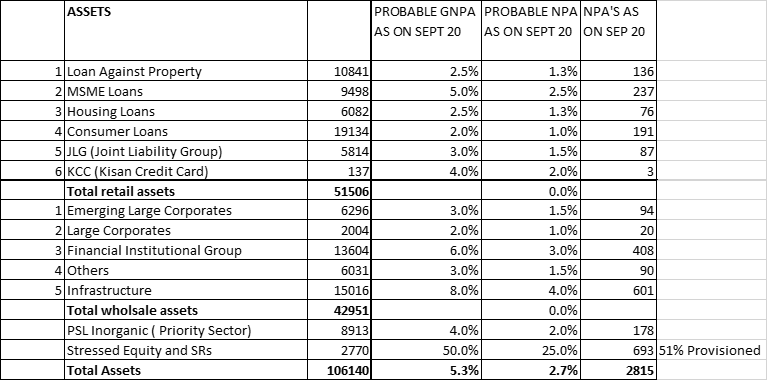 Is it too aggressive?
CAR is 13.28%
I think bank can manage this crisis.
Need to check repayment schedule for FY21 & 22 against liabilities.
Experts please correct me if anything seems wrong.
Disc : Invested at higher levels
Thanks @Puch , I found the document.
I had another question, What is the difference between Provisions for GNPL = 1,440Cr for Dec19 Q3 and Provisions in P&L Account 2305Cr for Dec19 Q3?
Popular startup CRED partners with IDFC FIRST Bank to start lending through its platform.
Seems like a good partnership to expand retail lending to high credit score salaried individuals.
Source? Sorry could not find this.
@Rushil
"Cred's latest lending product— CRED Stash—will offer a low-interest instant credit line, through a pilot with IDFC First Bank"

Looks like IDFC First Bank along with Kotak and Federal Bank has booked part profit in Yes Bank within a few days after allotment at Rs10.
Raising new funds by way of issue of equity shares
Does this indicate they have interest from Certain investors who want to invest in the company?
Their 1 lakh crore book is now split 60/40 between retail/wholesale. They have made provisions of ~1500 cr for Vodafone and another ~1500 crore towards stressed infrastructure assets. Subtracting that leaves us with a loan book of 97k crore
Assuming 20% of retail loans and 40% of wholesale loans from the remaining book opt for moratorium, this comes up to 27000 cr. 10% mandatory provisioning for that is 2700 cr. Adding 700-900 crore for other slippages brings provisions up to 3400-3600 crore.
The bank has raised 300 cr recently via CDs and recovered between 80-320 cr from the yes bank stake sale. News indicates that they are going for a 2000-3000 cr preference equity raise. I think the bank will survive. Please let me know if I am on the right track here.
Preferential shares are part of tier 2 capital. Hence there is no increase in equity or no. Of shares i think
It's preferential allotment of equity shares not preference shares
2000 crores @ 23.19. Investors are - IDFC Holding, ICICI Pru Life, HDFC Life, Warburg Pincus and Bajaj Allianz
CET 1 improves to 15.3%. Book value diluted from 31.82 to 30.4
Any views on the caliber of the insurance companies which are investing into the bank?
Are they any better at judging a bank's books and future potential than all of us here?
Good thing is that this is long term capital.
Good set of investors and I have a feeling after this the bank might go ahead with the Tier 2 bonds that have been rated AA by CRISIL to raise another 2000cr to increase ratios to 18% and be well capitalized for the next few years.
Huge equity dilution may lead to even lower book value and lower multiple,
Risk of NPA increase is quite high in such environment.
This quarter result may be good but better to track next quarter results before jumping in.
DISC: Holding reduced significantly in pull back and having a tracking position
Expecting huge covid provision in this quarter result. And it will be interesting to watch stressed assets in corporate and infra book. will see real retail defaults in Q2,Q3 result after moratorium and 180 days IBC bankruptcy relaxation period
Already highlighted about this. more capital infusion through fresh equity route. this will dilute EPS and book value.