Following are extracts from AR 2022-23
Trusted partner to telecom service providers using end-to-end 5G deployment solutions
Spearheading smart metering solutuons
Smart city solutions
*Energy-efficient lighting and switchgear products reduces carbon footprints.
*Charging solutions for electrical vehicals
*** Fiscal Year 2023**
The fiscal year 2023 served as a pivotal inflection point for us. Beyond merely achieving commendable financial metrics, we witnessed exponential growth in our metering domain, celebrated our inaugural
5G electric product order and launched groundbreaking products across distinct categories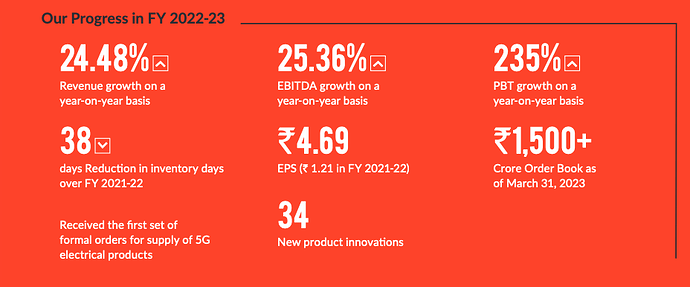 Certifications : NABL accreditation complies with ISO/IEC 17025:2005 standards.
Snippets from Chairman's message
The EBITDA margin stood at 12.43%, compared to 12.34% in the previous year
For the Indian electrical industry, flagship initiatives like the Revamped Distribution Sector Scheme (RDSS),National Smart Grid Mission (NSGM) and Integrated Power Development Scheme (IPDS), which aim to modernise and fortify the power distribution infrastructure, offer substantial potential
to stimulate demand. The government's commitment to 'Housing for All', 'Power for All', digitalisation of the economy, and the promotion of indigenous manufacturing are also expected to
create a positive climate for industry growth.
. Our reported profit after tax witnessed exceptional growth, surging by 287% to
reach ` 30 Crore.
Notably, we reduced our inventory days by 38 days, demonstrating our efficient inventory management and diligent monitoring of accounts receivable.
We closed the year with a strong order book of ` 1,500+ Crore,which ensures revenue visibility for the short and medium term.The metering and systems segment constitutes 82% of this
order book, reflecting a substantial surge in demand due to the implementation of government schemes.
Notably, more than 75% of the current meter order book comprises smart meters,
a positive indicator as these attract higher realisations and contribute to improved profitability
Additionally, we secured our first formal orders for the supply of 5G electric products to
leading telecom companies.