How to identify great companies:
Warning: It's next to impossible to exactly pinpoint great companies. It's easy to do so in hindsight. Said so that should not prevent us to study what makes companies great. This is a work in progress.
Source from the book: Great by Choice by Jim Collins (Also other books Good to Great by the same author).
In the book, the author defined great companies or 10x companies as outliers vs competitors in the same industries for the same period. Then they studied 10x and competitors and identified characters of 10 x companies.
Characters of 10 x companies:
Have fanatic discipline, productive paranoia and creativity. 20 Mile March (consistently go 20 Miles daily), Fire bullets then cannonballs (Start small before going big), Leading above death line (manage risk and Leader Five), Smac (Specific, Methodical and Consistent) and Luck (10x are not luckier but more prepared).
If we study in a similar line for the Indian contest, 10x co is defined as significantly higher in Revenue, Profit and Market Cap with a history of 10-15 years Vs their close competitor.
As per my opinion, we have the following 10x companies.
Divis, L & T, Bajaj Finance, Titan, Indigo airlines and HDFC.
This may be a small list. If we go deeper, in sub-segment, then we can find more. You may suggest along with numbers.
Those companies are at least 4-5 times higher in terms of Revenue, Profit or Market Cap than their nearby competitors.
Famous companies like HDFC Bank or TCS may not be eligible as they are less than 2x of their nearby competitors like ICICI Bank and Infosys respectively.
Other which don't qualify 10x are Asian paints (its sales is less than 3 times than nearby competitors), Pidilite is an FMCG chemical company, not a typical chemical company. And last Reliance being conglomerate as it's difficult to understand.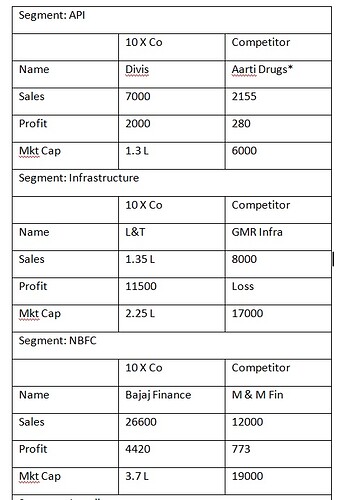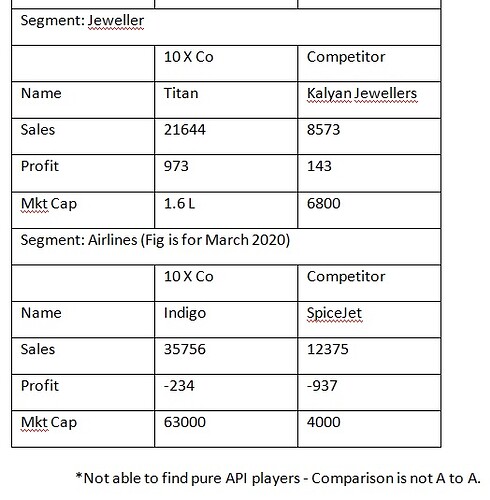 I tried to studies those companies and try to find common characteristics.
Divis
Stands for: Trust, vision and Hardworking
When Dr. Divi move out from Dr reddy's Lab, some 100+ people also resigned and joined him. He didn't enter into a formulation as he values trust more and doesn't want to compete with innovators.
Much detail is not available for Dr Divis. He falls into the leader 5 category.
Source: Forbes India - Murali Divi: The Accidental Chemist
L & T
L&T can be divided before and on Mr. A Naik. L&T since its inception was a great company on construction and turnkey projects. Bahai or lotus temple is made by L&T many years ago. Also, Mr. A Naik wants to work for L&T after his engineering.
Mr. Naik - Hard working and passionate. 18 hours work no off on weekend. He took his first holiday 22 years after joining the company

Bajaj Finance
Over 100 data scientists and analysts have been hired by Bajaj Finance to analyse customer data generated from millions of customers that the company gives loans to every year.
We would give money not to the one who desperately needs it but to those who currently didn't want it.
8 cr client data
30 second approval time
How do you balance the fact that you don't take a large enough risk that will shut the company down, but you take a lot of small and medium risks because otherwise, you're never pushing the boundaries of what is ordinary, to do something extraordinary.
Bajaj says he is personally involved in HR.
Indigo airlines
Staff at the check-in counters, aircrew and sales and marketing staff are hired only after Bhatia meets each of them individually.
Turnaround time of less than 30 minutes. Obviously less time on the ground means more time in the air spend more than 11 hours a day in the sky, compared to the industry average of eight or 10 hours. Buys only one type of aircraft and keeps operational costs as low as possible along with an emphasis on punctuality market share of 43.2%, focuses on three pillars – offering low fares, being on-time and delivering a hassle-free experience.
For example, the airline stocks no hot food on board and has no loyalty program (only adds to costs, he insists). Not to launch with old, leased planes. But we didn't want to cut any corners on quality The Company not only had to pay a down payment of just 4%, but also received a 40% discount on list price for placing an order for 100 aircraft.
IndiGo saves fuel by using different ways. First, they use software to optimize flight planning for minimum fuel burning routes and altitudes, and also use latest fuel saving technology. Second, Indigo has inducted Airbus A320neo family to their fleet, which claims to deliver 15% less fuel consumption and 8% lower operating costs. The company is also involved in Fuel hedging after the government allowed it in 2007.
And IndiGo also has the aircraft taxi to the terminal with one engine, shutting down the second engine to save fuel. This moderates the aeroplane's speed in the air and saves fuel.
Titan
Titan entered 11 European markets—opening offices in London and Paris—with steel quartz watches. It hired European designers and roped in a London advertising agency, leading to a huge debt pileup. "We had no idea that the 'Made in India' tag would be such a negative," says Bhat. "Since then, we've always done a pilot before large-scale rollouts.
every month we have to generate cash and not just brand image," he says. "We have to buy less and sell more. Keep less inventory."
HDFC
About Deepak Parekh, One thing that best explains his outsized stature in the world of business, it would have to be his penchant for doing things right, which is why Parekh is the go-to man for policy makers and the government. He is instrumental for UTI and Satyam revival.
He has the habit of gifting miniature yellow signboards to colleagues and business associates. The little yellow signboard has compliance written on it, with a sketch of a slippery slope below it.
Even at 70, he can cram 48 hours in a single day.
Others in list: Apollo Hospital
Conclusion: All those companies have incredible managers (CEO). Hence to date story of companies is equivalent to the story of CEO.
Common characters of CEO of 10x co: Hard working, Innovative, People's manager and Consistent.
This is a work in progress. You may join, comment, suggest…