Gujarati doctor turns value investor after reading Buffett, Lynch; makes a killing
Patel claims to have generated up to 45 times return on select stocks over the past few years.
Rahul Oberoi, ETMarkets.com
Last Updated: Jan 02, 2018, 07.20 PM IST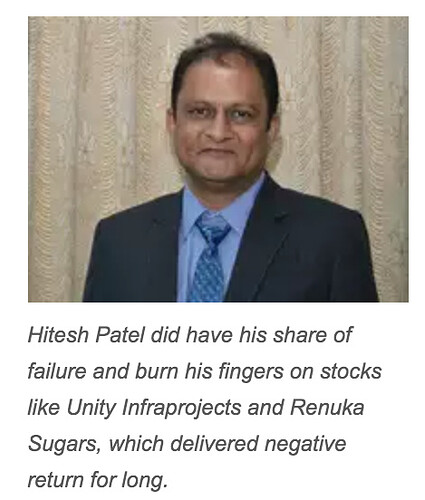 Medicine and value investing are at best strange bed fellows. But this Baroda-based doctor can prove you wrong.
A dermatologist by profession, Dr Hitesh Patel (50) is as fluent with Peter Lynch as he is with his scalpels and forceps.
He loves to be called a value investor and has a claim to this label after having managed to spot quite a few stocks at their early stages of growth.
Patel claims to have generated up to 45 times return on select stocks over the past few years.
Hitesh is an astute investor among the value-investing community in India, says Donald Francis, a value investor, and founder of ValuePickr.com.
"He has remained my main sounding board before major investment decisions since 2010 when we first met. I was much impressed with his clarity of thought and ability to cut through the clutter and simplify things for us," says Francis.
Patel loves interacting with "like-minded investors," who he says can change your thought process. He is also an avid reader and follows Peter Lynch and global investment guru Warren Buffett religiously.
"They have played a crucial role in moulding my investing journey from ordinary to extraordinary," claims Patel.
Patel has a knack for spotting midcap and smallcap stocks with outstanding growth potential at their infancy.
He says pharma multibagger Ajanta Pharma was part of his portfolio from 2010 to 2015 and it gave him 45 times, or 4,500 per cent, return during that period.
Among other big gainers, Kaveri Seed Company gave him five-times return between 2012 and 2014; VST Tillers swelled four times during 2013-14, PI Industries climbed six times between 2013 and 2015 and CanFin Homes multiplied his wealth by over 12 times between 2013 and 2016.
He is not holding these stocks at present.
ETMarkets.com could not independently verify Patel's holdings at present or back then.
Two other stocks Patel had in his portfolio – Bajaj Finance and DCM Shriram – surged over 200 per cent and 60 per cent, respectively, in last two years. He still holds them.
Patel is very knowledgeable on smallcap and midcap businesses in India and dedicates a lot of time handholding and mentoring young investors, says Francis of valuepickr.com.
He was one of the most loved and admired personality on the website's forum with over 22,000 registered members.
By birth a Gujarati, a community that can possibly claim the largest population in India's financial markets, Patel says Peter Lynch's classic One up On Wall Street turned him into a serious investor way back in 2008.
He also mentioned Buffett's biography The Snowball, for making him believe that it is possible to create enormous wealth through focused investing.
Patel says he follows a bottom-up approach to pick quality names from the universe of India's more than 5,000 listed companies.
"I try to look at the business quality, valuation, management quality, balance sheet, opportunity versus size and enterprise value of a business and then start working on it," he said.
Patel has a good knowledge of technical analysis, which he often uses to identify the right entry point in a particular stock.
"Once a company passes my fundamental filters, I look at the charts and apply my basic knowledge of technical analysis to discover good entry points. Sometimes, chart patterns lead to good companies, which have got great potential in terms of fundamentals. Combining fundamental analysis with technical analysis has worked very well for me," he says.
Hitesh Patel did have his share of failure and burn his fingers on stocks like Unity Infraprojects and Renuka Sugars, which delivered negative return for long.
"I bought Unity and Renuka on hopes of turnaround, which did not happen. One dictum I follow strictly is to get rid of losers as early as possible, irrespective of the percentage loss. That helps restrict losses and maintain focus," says Patel.
And like every other investor, haste to book profits on the bets where he got it right has been Patel's biggest regret.
"Exiting potential winners with early harvest, without waiting to fully reap the benefits has been the biggest mistake of my life," he says candidly.
Patel has a piece of advice for new equity investors: Make sure you know why you are investing in a particular company. You should be able a write up of 1-2 pages explaining your their investment thesis before picking a stock, says he.
He says people with interest in the market should try and refine their investing skills constantly, and that would eventually help them achieve big success in the market. Having a sound temperament is of paramount importance for success in stock investing, he says.
"I started investing in stocks without much knowledge and lost a lot of money between 2003 and 2008," Patel confesses.
"But after reading some investment books and coming in contact with like-minded investors on various platforms, I developed the confidence to go full throttle into stock investing," he said.
Patel keenly follows value investors such Donald Francis and his peers back home such as Ayush Mittal, Abhishek Basumallick, Anant Jain, Dhwanil Desai and Nirav Parikh.
However, he makes it a point to stick to his investing style and refused to clone others blindly.
With the domestic equity indices ruling at lifetime highs, Patel is currently focusing on quality midcaps in software and commodity space and is looking for turnaround stories.
Patel looks content with what he has achieved thus far: It has been a rewarding journey in terms of the love and respect of fellow investors and the financial returns, says he.