It has a good market presence
Market leader
May be because of brand value it enjoys the premium
Interesting development in Q3 SHP
FII / FPIs have consolidated their holding by increasing 2.14% (24.36% in Q3 to 22.22% in Q2)
They grabbed
1.05% from insurance companies including 0.97% from LIC
0.46% from retailers
0.22% from Mutual Funds
Retailers : Approx 9K retailers moved out i.e. reduction of 6.5% in absolute numbers
Above movement resulted in decrease of 0.46% in share holding (4.93% in Q3 to 5.394% in Q2)
Unbelievable results on the back of festive demand, better reach, supply chain efficiencies, gains from unorganised sector…and own prodn & pre-buying in case of ACs.
Rgds
RR
I am particularly happy seeing the turnaround of Lloyd. Hope its not one off on the back of festive & pent-up demand only.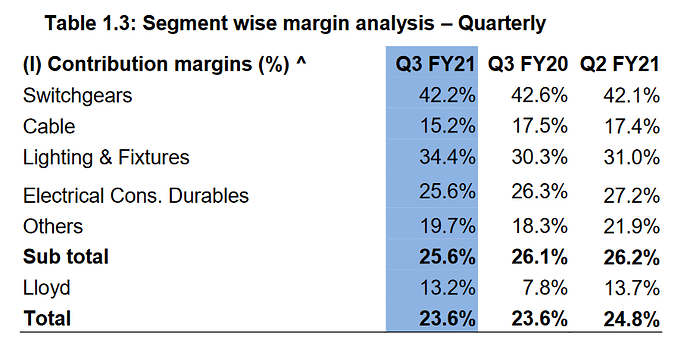 Havells concall summary
"Festive Demand, Make in India drive and unorganized to organized shift, everything has positively contributed to demand."
Here are the key highlights of the call
Price increase vary from product to product. Copper related product saw price increase of around 15%.
That has happened over the quarter.

If demand continues to be strong then stock will come back to normal levels.

There was some pre-buying in last quarter.

There is no major increase in cost. They are at normalized levels.

There might have been some shift from unorganized to organized sector

Lloyd has started giving benefits in last 1-1.5 years. Only in last few days of quarter there was some stocking.

There are some structural changes as there was good demand in consumer segment. Make is India is becoming a fashionable thing. Earlier people use to ask why some products are even made in India by the company for example lights. But now the perception of people have changed.

Depending on the raw material prices, company intends to maintain the margins.

Travel cost and advertising cost will come back progressively.

Air conditioner capacity came at the right time, there will be more capacity coming up.

There is a huge global market available for Air conditions as well.

Government has pushed Made in India theme in last few years.

Cash utilization: Right now Havells existing portfolio is good. Company is always hopeful for acquisition but it should be backed up with some strategy. Cash will be reinvested in capacity expansion.

Once a market share changes then it becomes sticky. Post covid consumers preference has also changed. It was not only because of supply chain disruption.

Over long time all the segments will have good opportunity for growth.

Domestic appliance segment had growth as during the past Quarter there was festive demand.

Fans segment has done really well. There might have been some pre buying due to anticipation of increase in prices.

Pli scheme promotes domestic production and also for Improving exports.

On large appliance company has complete range in consumer category but in other large appliance company will be expanding the range as and when there is volume demand.

Overall there were positive outlook in economy, demand in markets continues to be good.

There were huge fluctuation in raw material prices.

Price increase in raw material of consumer durable ranges between 5-13%. It is all underway.

When organized players take away the share of unorganized market then it is always better for the existing players. It takes away competitiveness of unorganized players…
Havells AR Notes!
(Disclaimer: Invested)
Havells Q1 Results!
(Disclaimer: Invested)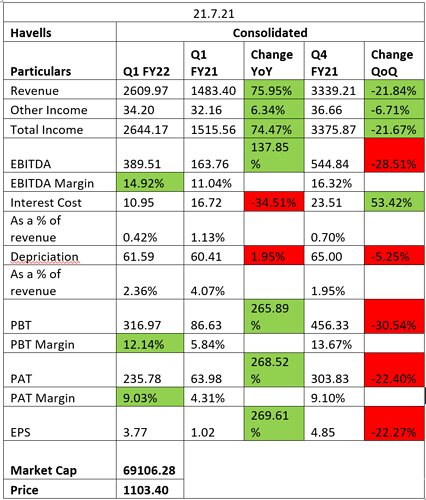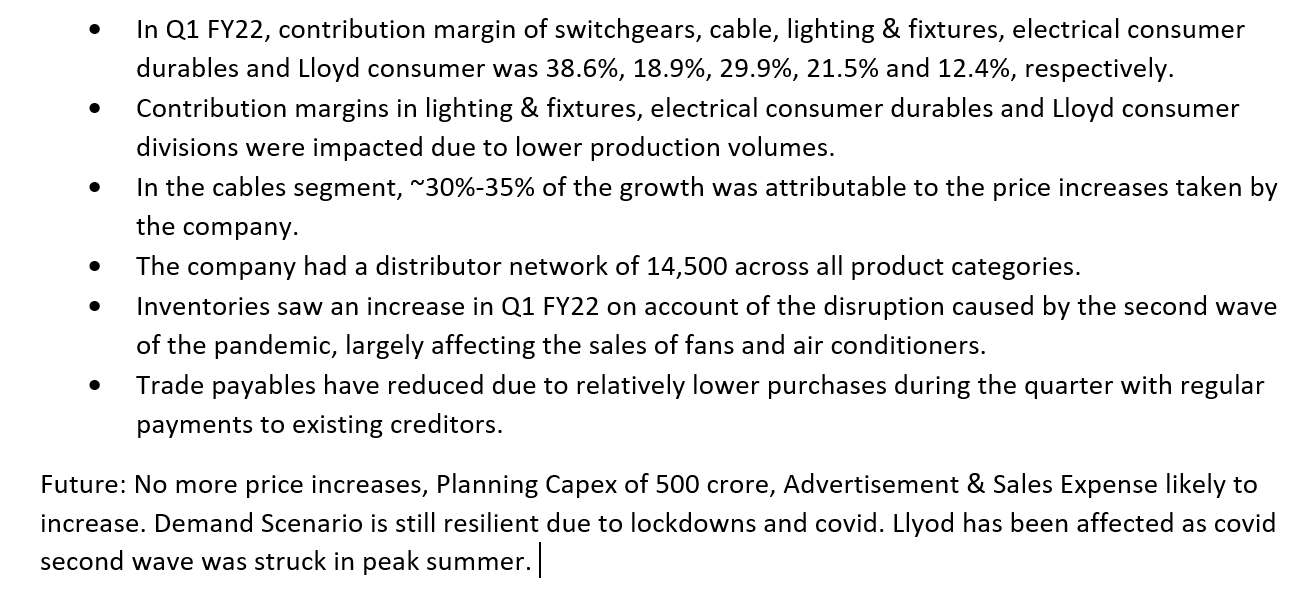 Need to focus on Llyod Consumer Business and see how it turns out! (not a high contributing margin to revenue)
Management commentary and Brokerage report on Havells :
ICICI Securities :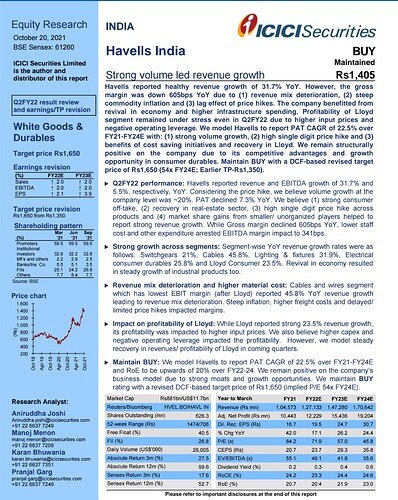 HDFC Securities :
Management Commentary :
hi…Saw your earlier posts on Havells…Quite an Indepth analysis. I have observed that From last few years, Havells has not performed well, business wise as well as stock performance also not good. After Llyod aquisition, its graph has been on downward trajectory. If i can give analogy, its more like Britannia…Earlier past has been glorious but recent past is nothing to feel good about. So how you look at next 5 years for Havells,? I am in the process of adding Havells and Polycab in my core portfolio…But after reading your posts, Confidence about Havells is shaking. Polycab business performance is superior to Havells. Its sales are good, Profits are good and stock performance has been very nice. So confused between the two, which one is better? Also polycab is at very high valuations, almost double at its average 5 years PE, while Havells is at lower than its 5 years Average PE…This is adding more confusion…Please guide…
Thanks for the article. after he sold Overseas business, to focus on Indian Market, as said by him in the above interview, still there is no growth in domestics sales as well as profitability. Many hicupps can be seen in sales as well as Margins too. It is a big brand but not having secular growth. What is your opinion, can it be a secular multibagger in next 5 to 8 years, given that its cable market has a strong competitor like Polycab? Also please throw some light on current valuations too if possible?
Hi…Thanks for your feedback. Just a bit curious…Did you drop tracking it anymore, because its thesis got punctured? or You were skeptical about it from the start, being not a secular play in the long run? kindly guide.
Havells India has transformed from being an industrial product driven business to consumer driven business. They are improving market share across product segments through new product launches & increasing penetration in tier II & tier III cities. They plan to spend Rs. 700- 800 crore in FY23 to expand manufacturing capacities of air conditioner, washing machines and wire & cables. The softening of raw material prices & launch of premium products will result in strong EBITDA margin recovery from H2FY23 onwards.
Good writeup of comparison between #Havells and #Polycab