Gujarat NRE coke is a met coke producer with an installed capacity of 1.5 MTPA.
For more introductory info on the company here is the website link
Company data from screener
Market Cap - 585 cr
CMP - 3.55
Book value - 6.10
Debt to Equity - 2.90
Listed on both NSE and BSE
Company Management
Company is headed by company chairman & managing director, Mr Arun Kumar Jagatramka.
Mr Arun Kumar Jagatramka is the Chairman and Managing Director of Gujarat NRE Coke Limited. He is a Chartered Accountant with an all India 1st rank and gold medal.
He is a member of the India-Australia CEO's forum from the Indian side nominated by the Honourable Prime Minister of India. Mr. Jagatramka had earlier served as the Honorary NSW 'Sydney Ambassador' to India, appointed by the Government of New South Wales, Australia. He is also an active member of prominent industry associations like CII, ASSOCHAM, FICCI and is a sought after speaker in various national and international platforms on a wide range of subjects like economy and industry, steel, coking coal and met coke as well as on ethics and integrity
Mr S Murari, Director
Mr S Murari, is a B.E (Mechanical) passed in 1st class in 1965. He has a vast experience in the iron and steel industry, having worked in Durgapur Steel Plant (from 1965 to 1973), ACC Vicekers Babcock Ltd, Durgapur (from 1973 to 1978) and Kudremukh Iron Ore Company Limited (from 1978). Mr Murari was promoted from Asst. General Manager (Production) to Director (Production & Projects) in 1995 and further to Director–in-charge in 1997 at KIOCL. Further, in 1997 he took over as Chairman and Managing Director of Kudremukh Iron Ore Company Limited. He has also served as a director of Coal India Ltd. He has undergone extensive training programmes in management, orientation, planning, maintenance management, mineral resources exploration, through various management programmes in India, USA, Canada and Australia.
What is Met Coke?
Coke is made by destructive distillation of a blend of selected Bituminous coals (called Coking coal or Metallurgical coal) in special high temperature ovens in the absence of oxygen until a greater part of the volatile matter is driven off. The resulting product, COKE, consists principally of Carbon.
Where is it used?
Coke is the main source of heat and is also the reducing agent required to facilitate the conversion of metallurgical ores into metal during the smelting process.
In other words, it is used by steel mills for manufacturing of steel.
Negatives -
The business is a highly debt ridden one. Balance sheet is a complete disaster.
Met coke is a commodity. Hence fortunes of the company depend on the commodity cycle.
Positives -
Met coke cycle has turned up. Met coke prices have almost tripled in the last few months.
Company has attempted debt reduction recently by converting some debt into equity to lenders,
According to chairman, production has gone up almost 3x recently.
Indian govt. has imposed anti dumping duty on Chinese and Australian met coke imports (25.2% and 16.29% respectively) for next 5 years.
Stock seems to be forming a rounding bottom pattern on weekly charts. (The pattern isn't complete yet)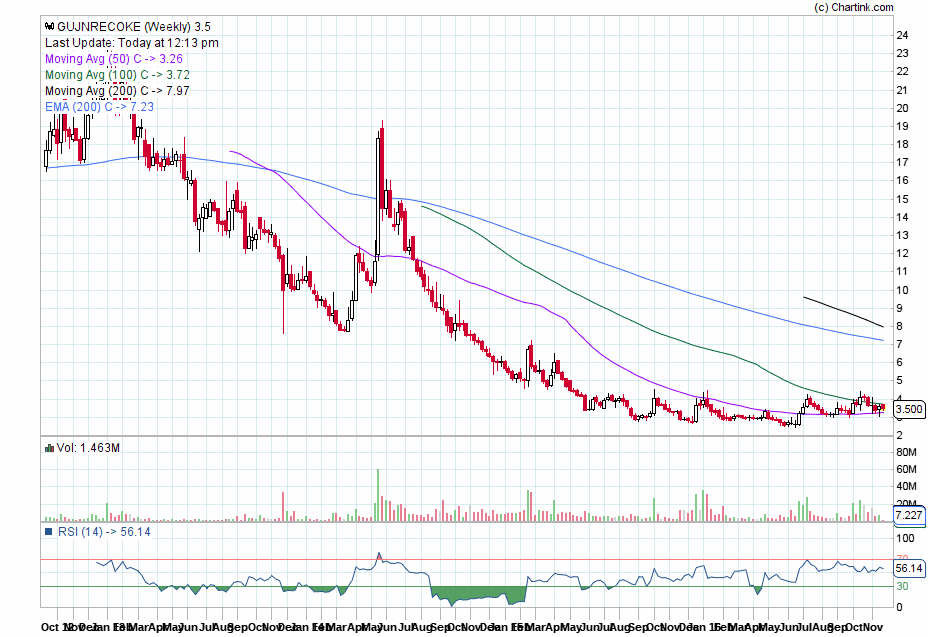 Disclosure : - I have taken an opportunistic position in this business, which is a high risk scenario. This is not a recommendation to buy or sell this business. Please do your homework before trading the stock.