Gujarat Ambuja Exports Limited (CMP – 151; market capitalization – Rs.1,728 crore)
Brief Introduction
Gujarat Ambuja Exports Limited (GAEL) based out of Ahmedabad has three major division:
Maize processing through corn wet milling for manufacturing of starch and other downstream derivatives (revenue contribution – 51.64% contribution and PBIT contribution – 73.39% in FY20)
Agro processing through solvent extraction and refining of oil (majorly soya; revenue contribution – 43.67% and PBIT contribution – 29.78% in FY20)
Cotton yarn manufacturing (revenue contribution – 4.44% contribution and PBIT contribution - -5.77% in FY20)
The company was promoted by Late Mr. Vijay Gupta and now his son, Mr. Manish Gupta (after exit of Mr. Manish Gupta's brother, Mr. Mohit Gupta) is the main promoter. Mr. Manish Gupta has been involved in the company for more than 2 decades now. The most attractive segment amongst the three segments is maize processing where GAEL is the largest player in India with market share of more than 20%.
Maize Processing segment
GAEL is the largest and most efficient maize processing company in India with installed capacity of 3,000 tonnes per day (TPD). Over the years, in the maize processing segment, the company has grown its revenues from Rs.123 crore during FY07 to Rs.1971 crore in FY20. The company has far left behind other competitors like Sukhjit Starch (one of the oldest maize processors in the company with history of 75 years), Roquette Riddhi Siddhi Pvt. Ltd (the second largest player in the industry) and Gulshan Polyols Ltd. The company manufactures starch and its various derivatives like liquid glucose, sorbitol, dextrose anhydrous, dextrose monohydrate, maltodextrin and high fructose corn syrup.

The major uses and competitors in the starch and its derivatives segment is tabulated below: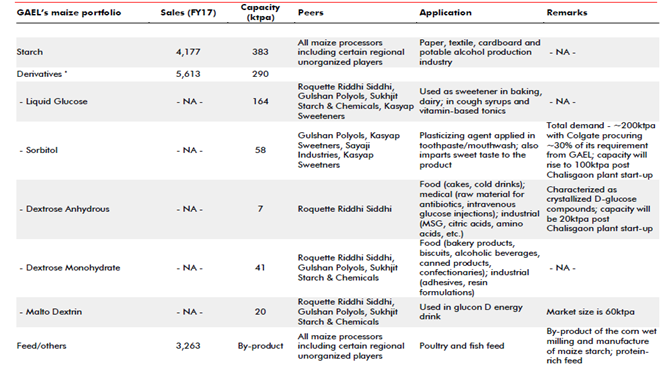 (source: Ambit Report)
Starch and liquid glucose are commodity products while other value added derivatives higher profitability margins and some entry barriers. The company has clients like Heinz India Pvt Ltd, Asian Paints, Nestle, Colgate, Mondelez (Cadburys), Dabur India, Patanjali etc as its customers.
The company has deployed most of its cash flows generated by it in expanding the capacities of Maize processing plant only as the other two segments have volatile margins and low returns. The company has four plants located at Himmatnagar (500 tpd) in Gujarat, Sitarganj (750 tpd) in Uttarakhand, Hubli (750 tpd) in Karnataka and Chalisgaon (1,000 tpd) in Maharashtra. The commercialisation of Chalisgaon plant happened only in Q4FY18. The same has resulted in company's revenue growing from Rs.1350 crore in FY18 to Rs.1971 crore in FY20. Furthermore, the phase II expansion for Chalisgaon is value added derivatives was completed in FY20 only. Furthermore, the company is also setting up its 5th maize processing plant at Malta, West Bengal with total capacity of 1,000 tpd and cost of Rs.300 crore. The new plant is expected to cater to the eastern markets along with export opportunities in south east Asia. The plant is expected to be completed by second half of FY22. The timelines and cost of various plants is given below:

Key Competitors
Some details of the key competitors, size and key products is tabulated below:
Apart from the companies mentioned in the table, other players with smaller capacities in maize processing include Cargill India, Sayaji Industries, HL Agro. Unorganized players still control 30 – 40% of the market.
What are the entry barriers or competitive advantage in maize processing operations of GAEL?
Approval from large FMCG customers : Approval from large FMCG companies especially MNCs takes years and acts as a major entry barrier since many of the value added derivatives are used in manufacturing of food products. They have stringent requirements for the operations of the plants.
Location of plant near to major maize growing areas: GAEL has 4 plants currently located across west, north, south and central India. All the states where GAEL has its plants are major maize growing areas. Furthermore, with announcement of the new greenfield plant at Malda, West Bengal, GAEL will also expand its presence in eastern India.
Largest player in the industry with some bargaining power against suppliers and customers: GAEL is the largest procurer of maize in India. Because of its size, company does have some bargaining power against its suppliers. Difference of even Rs.1 per kg in cost of procurement can make huge difference in the profitability of the company. Furthermore, being the largest player it becomes the go to supplier for many of the customers. In addition, many of the customers approach GAEL in case of development of a new product. For eg. Coke and Pepsi had approached GAEL for starting a pilot plant for manufacturing of high fructose corn syrup (HFCS) which is a replacement of sugar and is widely used by Coke/Pepsi across the world.
Efficient operations and hand on management: The company has highest profitability and efficiency parameters in the maize processing industry in India. Mr. Manish Gupta has good reputation in the industry and is himself involved in procurement of maize which is one of the most important functions of the business. The cost at which the company sets a new plant is much lower than other companies in the industry.
Low penetration of corn based products in India: Per-capita consumption of corn based products in India is much lower compared to global averages and there are just 40 starch based derivatives being manufactured in India as compared to ~800 globally. With increasing penetration of packaged/fast food, the demand of starch and its derivatives should increase. The overall industry should grow at the rate of growth of GDP in India.
Key Risks
Expansion in capacities by many players in the Industry : Many players in the industry including Sukhjit and Cargil are expanding capacities. Increasing capacities can put pressure on the industry as a whole.
Exposure to volatility in the maize prices : Maize prices, although have lower volatility compared to other crops, are still exposed to vagaries of monsoon and sowing of it. Furthermore, starch and its derivatives prices might not move in tandem with maize prices. In addition, the local prices of maize do not follow the trend of international prices due to import restrictions by Government. Maize imports are only allowed in cases where processors export the same quantity of imported products.
Performance of maize division over the years

FY20 performance was impacted by significant increases in prices of maize which touched Rs.22 per kg as compared to last decade's average prices of Rs.12 – 15 per kg. The prices increased on account of pest attack of army worm which impacted the acreage of maize in FY20. The same led to decadal low margins of 8.65% in PBIT for maize segment. The maize prices have now come back to Rs.12 – 13 per kg currently.
Other agro processing segment
GAEL has the second largest soybean crushing capacity in India with six plants located across Gujarat, Madhya Pradesh and Maharashtra with combined capacity of 4,600 tpd. It also has an edible oil refineries and plants with capacity of 1200 tpd and also has some capacity for wheat milling. The solvent extraction and refining activity complement each other. For 100 tons of soybean crush, ~82 tons of de-oiled cake (DOC) and ~18 tons of crude oil is extracted. The crude oil is used as an input in refineries. The segment has highly volatile margins on account of various local and global factors including sowing of soybean, prices of DOC in export markets (as its primarily exported), duties between India and other countries and local and global oil prices.
The company has not made any major capex in the segment since FY10 as it is operating at low capacity utilisation and has high volatility. Solvent extraction plant has operated at 25% capacity utilization while refinery plant has operated at 20% capacity utilisation. The segment reported losses/low margins during FY15 and FY16 on account of crash in prices of DOC in global markets. However, the segment has shown some improvement in the margins from FY17 onwards. Management has clearly stated that they will not work for losses in the segment over the medium to long term.
Performance of the agro processing segment over the years

Cotton yarn segment
The company has one plant located at Himmatnagar, Gujarat for its cotton yarn segment. The company has capacity of 65,520 spindles for cotton yarn segment. The company is not focussed on the segment and has been operating the plant only to take care of the employees working in the unit. Apart from Rs.60 crore capex that the company spent during FY15 – FY17 for modernization of the cotton yarn plant, it hasn't spent much on the segment. The segment has volatile margins and the company has even incurred losses at PBIT level in the segment.
Performance of the agro processing segment over the years:
Working capital management
Company's working capital cycle has remained around 70 – 80 days over the past few years. Most of the working capital is stuck in inventory while receivables days are under control.
What attracts us to the company?
Maize processing sector has moderate barriers to entry – GAEL is the largest and most efficient player in the industry. Furthermore, its proportion in the revenues and profitability of the company is consistently increasing. Maize business has RoCEs of around 18 – 20% except for FY20 due to lower than normalized profits.
Promoter quality and diligent capital allocation: Mr. Manish Gupta has a pretty good track record. Despite being in an industry where speculation is the name of the game (KS Oils, Ruchi Soya and others), he has stayed away from it. Furthermore, the company has deployed most of the cash flows generated from the operations into the maize processing segment over the past 7 – 8 years (except for one buy back of Rs.225 crore which was done by the company to give an exit to the brother of Mr. Manish Gupta; despite the buyback, promoters hold 63.77% stake in the company) which has better return ratios and growth prospects. In addition, despite expanding capacities regularly, the company has negligible long term debt on its book (except for TUFs loan taken for modernization of yarn plant). The debt on the books of the company is working capital debt.
Excellent Cash Flows and balance sheet: Despite being a semi commodity business (maize while agro processing and yarn are pure commodity), company has generated healthy cash flows over the years and maintained balance sheet. In an industry, where many players, especially unorganized companies, are facing liquidity challenges, company has the balance sheet which gives it an ability of tide over the crisis and come out stronger and grab market share.
Valuations
The company is trading at 11.85 times P/E and 6 times EV/EBITDA based on trailing twelve months earnings. However, the company's profitability margins in the maize segment are lowest in past decade .
Key Risks
Inherent volatility in the business: One would have to take a long term call on the business as quarterly results might fluctuate.
Profit and loss

Balance Sheet