GTPL , CMP : 68 , MCap : 760 Cr , IPO Price in 2017 : 170
GTPL was established in 2006 by Mr Anirudhsinh Jadeja as Gujarat Telelink Pvt Ltd. The company got its present name after Hathway Cable bought 50% stake in it in fiscal 2008. The company got listed on BSE and NSE in July 2017 . It provides services such as analogue cable TV, digital cable TV, and broadband internet in states such as Gujarat, West Bengal and Maharashtra. Company claims to have 67% market share in Gujrat , 24% in West Bengal and is expanding into different geographies (Assam , Bihar , AP , Rajasthan , Goa). They recently Launched GPON FTTH high speed services in Ahmedabad. They recently won order from Gujrat Government for providing free Wifi at public places and providing Internet services to around 1500 Police Stations.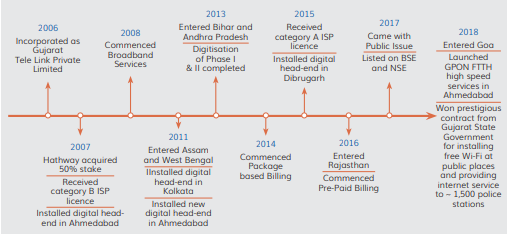 Promoter holdings are around 74% and they have bought heavily from Open Market in last 3 Months and recently at prices of around Rs 90. The group adopted an inorganic growth model to increase its regional presence, and has either formed JVs with local cable operators (LCOs) or acquired stake in other big multiple-system operators .
Financials :
5 Yr Sales Growth : 20% , 5 Yr Profit Growth : 11% , ROCE : 14% (Despite highly capital intensive)
The profit growth is slow as compared to the Sales as the business is capital intensive and needs regular Capex and thus high depreciation costs nominally impact the Bottom Line as seen in all the past numbers The company is paying around 20% dividend payout ratio from last 2 years.
Company's Annual Report has lot of detailed description about their business and Crisil has also highlighted the strength and weakness of the business in its report.

https://www.crisil.com/mnt/winshare/Ratings/RatingList/RatingDocs/GTPL_Hathway_Limited_June_29_2018_RR.html
Other Findings :
There were some small penalties levied for Non compliance in past years (AR 2018 page 52-55). The Company has corrected those things. Many of those mistakes were possibly due to low awareness.
One of the promoter Amit Shah (He is not related to BJP
) was too fined earlier :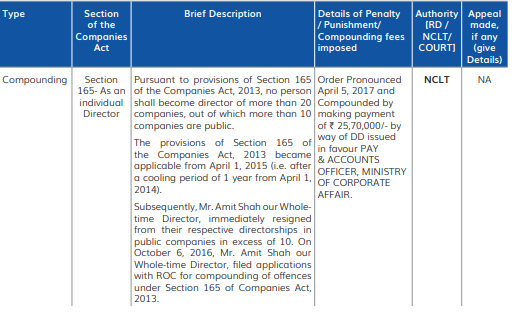 Company has around 79 JVs and 41 Subsidiaries. The main auditors did not audit accounts of around 70 Entities which corresponds to total assets of 800 Cr (Around 66%) and total revenue of around 480 Cr (Around 44% of total revenue). I am writing to the company for a complete audit of all the accounts by a single Company for bringing in more transparency.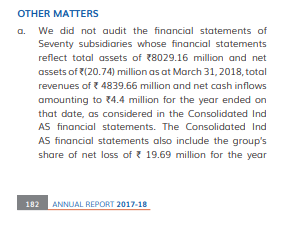 Company Auditor: Khimji Kunverji & Co., Chartered Accountant. It looks like a well established Firm but i am unable to find any other company which they audit.
Source: Crisil Rating
Overall it looks a company growing at a decent phase. It has reduced some debt through IPO money and is expanding into many geographies. The nature of business is capital intensive but some of it is hedged by negative working capital as customers pay in advance for the services. Have interacted with some people who uses their services and they are satisfied with the services. Members from Gujarat , West Bengal and Maharasthra can be better able to tell more about their services.
Disc: Have a tracking position as i feel most of the negatives are already priced in at CMP !
This is not a recommendation.