Hi friends,
Long time lurker here, finally found the time to put my portfolio for suggestions by this awesome community.
Objective:
1. Gain further insight into my portfolio through comments by experienced members here e.g. better allocations, glaring errors etc.
2. Structure the portfolio to smaller number of companies >10 hopefully
Background: I started my stock investment journey in Jan 2020 and my first scrip to buy was PNB (Sold at a loss much later). Since then I have spend time reading forums, books with the aim to enhance my knowledge and learn from experience. I intend to hold most EV/Green energy stocks to next 2 decades (if it continue to keep to my original thesis)
Investment thinking: my Pre-2020 allocation was Real Estate <60% and Banks FDs <40%. Below represents approx 10-20% of my net worth. I am keenly aware that i got lucky given the timing of my entry hence i want to spend time learning while continue to invest into Index funds to minimize opportunity cost.
Current Portfolio (100% Equity Allocation)
India - 49% (Direct Equity), 6% (Mutual Fund) - 55% Total
Singapore - 32% (ETF, Direct Equity) - 32% Total
Unites States - 8% (Direct Equity), 11% ETF - 13% Total
India Portfolio.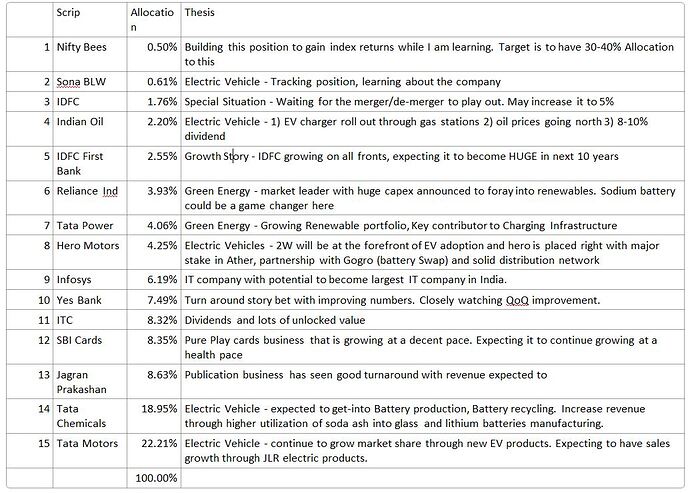 Appreciate everyone's help to provide guidance.