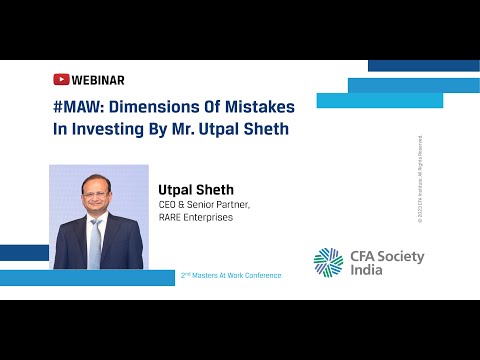 Dimensions of Mistakes in Investing by Utpal Sheth, CEO & Senior Partner, RARE Enterprises
Story of world war: When American planes came back from engagements over Europe, they were covered in bullet holes. But the damage wasn't uniformly distributed across the aircraft. There were more bullet holes in the fuselage, not so many in the engines.
Hence conclusion was to have more protection to wings and tail part of aircraft. In reality, the reason planes were coming back with fewer hits to the engine is that planes that got hit in the engine weren't coming back.
Jeff bezos reversible and unreversible decisions: Some decisions are consequential and irreversible or nearly irreversible – one-way doors – and these decisions must be made methodically, carefully, slowly, with great deliberation and consultation. But most decisions aren't like that – they are changeable, reversible – they're two-way doors. If you've made a suboptimal Type 2 decision, you don't have to live with the consequences for that long.
Investing is like type 2 decision (Not reversible) hence to be taken carefully. Decision making in function of Reversibility, Impact and Duration. Buffet says in lifetime we need 20 investing decisions – hence proceed carefully.
Types of Mistakes:
Type 1 Error: False positive / error of omission
Type 2 Error: False negative / error of commission
Type 1.5 Error: Inadequate – positive
Bill Miller: Kept outperforming S&P for 20 years. 21st year, 1 yr mistake brought him back to level where his performance equals S&P. Balance is must for long term PF.
PMS bazzar measure performance every year – out performance comes who performance in balance way not occasionally No 1 position.
Gorilla Investing: They are rare, out-sized, not challenged by monkey (Have moats) and double life span than monkey (Longevity)
Take away: bet on right jungle (Megatrends) and right gorillas (Leadership).
Keep 1-2 stocks of your PF which are gorillas, keep them till hypothesis perserves and thinks for others like monkey in your PF.
Mistakes of Rare ent:
Bajaj Finance (Type 1); A2z Infra (Type 2), Bilcare (Type 1 in selling); Crisil (Type 1.5), Praj (Type 1.5 in selling), Relaxo (Type 2 Selling).
Conclusion:
Don't have obsession of avoiding mistake as that will make us avoid opportunities.
Calibrate exposure and risk management
Do Deep introspect of mistakes
See mistake in context of losses, opportunity cost
Have right learning from mistakes
Note: Want to study more of A2z & Bilcare if one suggest me indepth article or video etc if available @Worldlywiseinvestors @arjunbadola