Goodyear India (https://www.goodyear.co.in/)
Company Overview
Goodyear India is in the business of manufacturing and trading in tires, tubes and flaps. The company is a market leader in the Tractor Tires segment, with a ~30% market share (~22% in front tires and ~36% in rear tires). The company also manufactures CV tyres and some offroad tires. Along with this, they also trade in Goodyear branded PV tyres (Interestingly the company also imports and sells very few quantities of tires for airplanes).
Business Overview
The business is fairly straightforward. The major raw material is natural rubber. The products are produced out of the Ballabgarh plant. The trading business of PV tyres is done on behalf of Goodyear South Asia Tyres Private Limited in Aurangadabad (So very low margin, decent volume business).
In the farm segment (Which is its major breadwinner), the company supplies to almost every major OEM. They regularly win awards from being the preferred supplier. However, what with their tires being on the slightly premium side, they are not very big on the replacement market.
Currently, the company is venturing into the PV segment (i.e. Goodyear India itself), starting with SUV tires. In fact, the company launched 2 new tyres for the PV segment very recently. There are also plans to come up with tires specifically for EVs in India (This is not new for the parent at least. For instance, Goodyear Eagle Touring/TO tyres are already being marketed for EVs elsewhere).
Here's the management's latest interview discussing the business:
Industry Overview
There is no need to justify the importance of farming in India. However, most of India's agricultural land employs physical labor. The farm mechanization rates leave a lot to be desired: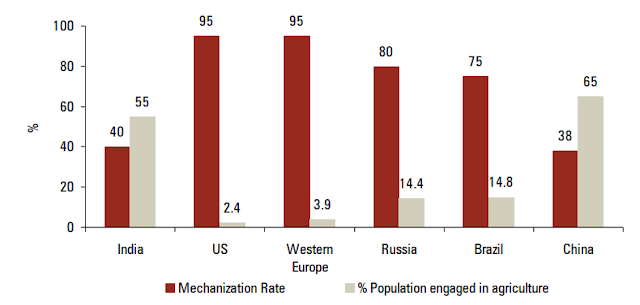 (Source)
If you're wondering whether large, costly machines are actually a drag on the costs to farmers, they are not:


(Source)
There's a proven direct relationship between farm power availability and farming yields. The savings are pegged at 15-20% for Seeds, 15-20% for Fertilizers and 5-20% for Cropping Intensity.
There are several uses in Tractors, but majorly in:
Converting waste land into cultivable land
Decreased workload on women
Ensuring farm safety
Encouraging young people to get into farming, increasing productivity
GOI has also, time and again, established the importance of its support to the farming community. The government's various schemes on agricultural credit has been useful. In fact, a more recent move is the Sub-Mission on Agricultural Mechanization. NABARD even came out with a detailed paper on why they feel this is important.
Business Analysis - SWOT
Strengths
GIL is backed by a strong global parent and work culture, which means a conservative financial outlook and a very long term view
Infact, all Goodyear tire-related R&D and technological innovation is done at Innovation centers in Akron, USA and Luxembourg, EU. In effect, what this means is that the subsidiaries/arms do not spend a dime on R&D, but get the full benefits of it (Or at the very least, incur very low expense on R&D since it is centralized)
Strong relationship with their OEM clients. In fact, in the farm segment last year they won 'Best Supplier' award from M&M and TAFE, while receiving 'Best Delivery' award from Escorts and an 'Excellence' award from John Deere. Many of these awards have been won in succession for several years, or at the least with only a few gap years.
Strong production management. The management team has insisted that they manage Supply-Demand very well and have had no problems with Working Capital. This shows, because the company has been operating at very low or negative Working Capital levels for the entire last decade.
As with most seasoned auto players, Goodyear India has a vast network of suppliers across India.
Weaknesses
Being an auto part manufacturer, they are linked directly to the auto cycle. Although the farm segment is not as cyclical as the PV or CV segment (Unless the downcycle is caused due to drying up of credit, which is what's happening in part right now)
Rubber is the major raw material and any sudden spurts in price can hit the Margins. Even when the management insists that they manage their Margins well, the numbers tell a different picture. Rest assured, rubber prices do impact the bottomline in a meaningful way.
As already mentioned, Goodyear India farm tires are on the premium side and do not sell well on the replacement market
Opportunities
GOI's push to double farm income and increase farm mechanization rates directly translates to commensurate business for the company
The latest venture into the CV space has been a long time coming and is definitely a good opportunity in front of the company today. But at this point, it is too early to judge just how big it is.
The focus on EV tires is a long pipe dream. But it could be a good optionality.
Threats
The single biggest threat facing the tires industry in India is China. Sadly, the import restrictions on tires is not big at all and cheap Chinese tires flood India every year. At least as far as GIL is concerned, this only further impacts their replacement business, because their OEM partners wouldn't even dream about partnering with a knock-off tire manufacturer from China.
Any of the big tire players deciding to enter the farm tires market is always a possible threat (The entry barrier would not apply to them since they have their own networks)
Red Flags / Risks
Goodyear India, being backed by a well-known and clean global management, inherits many those good qualities too. There is nothing fishy going on anywhere in the company and I invite you to challenge my view.
That being said, GIL does remit some of its Sales to Goodyear Orient (Parent) as Trademark Fees and Regional Service Charges. The figure has been quite stable over the years and has even come down over the last half a decade:
Financials
Source: https://www.ratestar.in/company/goodyear/500168/Goodyear-India-Ltd-100168
In a short summary, I would say Goodyear India is extremely conservative when it comes to financing and growth. The liquid cash on their books is about ~25-30% of the Market Cap and has always been that way in the past. So if you're looking for a high growth firm, this is not it. What it is, is a cash guzzler with a sizable market opportunity and good dividends to boot.
Valuation
I have not re-valued the company since I purchased it. I bought it at some discount to the CMP a few years back. So in my opinion, at CMP (Rs. 921) the stock is probably slightly undervalued. If I ever re-value the company, I will be sure to update this section.
Disclosure
Goodyear India is one of the largest positions (~15%) in my portfolio. My views may be biased.
Important References
Goodyear India Investor Relations
SMAM - Operational Guidelines
NABARD Paper on Farm Mechanization
ICICI Thematic Report on Farm Mechanization
A Brief History of Goodyear India