Market Cap as on 22/11/217: Rs. 875 Crores
About the company
The Company was incorporated in the State of West Bengal, India on 14th June 1977 as a public limited company under the provisions of the Companies Act 1956 (Act). Its main objects per Memorandum & Articles of Association are, amongst other things, to grow, cultivate, manufacture, treat, blend, process, buy, sell and deal in tea in various forms, to carry on the business as planters in all its branches, to manufacture, buy, sell and deal in machinery for processing tea and in connection therewith or acquire by amalgamation, purchase, take-over or otherwise the whole or part of the assets, liabilities and undertaking in India or elsewhere of any other company, body corporate, firm, association of person.
The Company was granted a certificate of entitlement to commence business under the provisions of the Act by the Registrar of Companies, on 27th June 1977.
All the 17 existing tea gardens of Goodricke Group Ltd. were owned by eight Sterling Tea Companies . They had established tea gardens progressively in late 1800s and were carrying on business in tea in India. The sterling companies together owned 17 tea estates in India. 12 estates are in the district of Jalpaiguri and 3 in Darjeeling in the State of West Bengal and 2 in Darrang district in the State of Assam.
The sterling companies are
The Assam-Dooars Tea Co. Ltd
The Chulsa Tea Co. Ltd.
Hope Tea Co. Ltd.
The Leesh River Tea Co. Ltd.
The Lebong Tea Co. Ltd.
The Danguajhar Tea Co. Ltd.
The British Darjeeling Tea Co. Ltd.
The Meenglas Tea Co. Ltd.
Pursuant to Section 29(2)(a) of the Foreign Exchange Regulation Act, 1973 ("the FERA"), Reserve Bank of India agreed to grant permission to carry on business to the Sterling companies subject to takeover of the Gardens by an Indian Company to be formed.
Accordingly based on schemes of merger and with the sanction of Calcutta High Court, the 8 Sterling Companies were amalgamated with Goodricke Group Ltd effective 1st January 1978.
Companies Tea Estate (with tea factory) Location
Amgoorie India Ltd. 2 Darjeeling
Stewart Holl (India) Ltd. 4 Assam
Amgoorie India Ltd. 2 Assam
Koomber Tea Co. Pvt. Ltd. 2 Assam
The Company´s core business is the cultivation and production of tea and it is among the top three producers in India.
The Company strives to produce teas of top quality, which are acceptable to the discerning world market. This particularly applies to production from the Darjeeling and Assam gardens.
Likewise, the Company endeavours to care for all its employees by providing medical, educational and welfare facilities way beyond the basic requirements.
The Company´s overall philosophy is excellence in all spheres of its operations.
Products
1.Bulk Teas
CTC and Orthodox teas from the Dooars, Darjeeling and Assam gardens are sold in bulk form packed in paper sacks, jute bags or tea chests.
The quality and popularity of teas from the Group are reflected in the prices realized which rank amongst the top in the Industry.
The marketing channels used for bulk teas include the Public auction System, private and consignment sales, Exports and Direct Sales either in original or blended form.
Darjeeling
The flavoury romance of Darjeeling is best exemplified in the quality that is produced by Group Gardens like Castleton, Margaret's Hope, Thurbo and Barnesbeg, while the Green Teas of Badamtam are also greatly sought after. Quality buyers from Japan, Europe and the USA keenly compete for these teas.
Assam
Manufacturing expertise coupled with select planting material have ensured that the Groups gardens are amongst the top quality producers. Orthodox teas from gardens like Dejoo, Harmutty and Orangajuli among others, have built up international reputations and are very popular with quality buyers from Germany, UK and the Middle East markets.
Similarly, the finest CTCs are produced in gardens like Amgoorie and Borbam who are renowned for their gutty, bright liquors and attract buyers of premium tea in India and abroad.
Dooars
Group gardens in the Dooars have created a niche for themselves with their full bodied CTC liquors and are strongly competed for. There are not many quality blends that will not have teas from Group gardens like Danguajhar, Leesh River or Jiti, among others, all of whom are extremely popular gardens marks.
Instant Teas
Instant Teas-available hot or cold and ready to drink
The Goodricke Group developed the concept of instant tea from green leaf at its R &D centre for 4 years before setting up the world's first integrated Instant Tea Plant at Aibheel Tea Garden in the Dooars. This is a state of the art, computerised automated plant and its establishment in 1994 as an Export Oriented Unit marks a major development in the Indian Tea Industry.
Our Instant tea, available both in Hot Water Soluble and Cold Water Soluble form, is playing an increasingly important role in the world beverage scene and is a source of supply to leading manufacturers of ready to drink products world wide. There is now also an emerging trend for the usage of tea products in the food, confectionery and personal care industries as well.
Our Instant Tea products can be designed to the customers' specification using raw material ranging from black tea to green leaf from any region. The Plants proximity to the finest quality raw material available in the area itself is a major factor. It was certified and awarded Quality Management Systems on 18th September 2000 and has presently been upgraded to ISO 22000:2005 adhering to the Food Safety Management Systems. A COC or a Chain of Custody system is in place to comply to manufacture of Rainforest Alliance certified products.
INSTANT BLACK TEA
DARJEELING INSTANT TEA
INSTANT GREEN TEA
INSTANT OOLONG TEA
The Instant Tea Plant produces Hot Water Soluble (HWS) and Cold Water Soluble (CWS) teas at its state of the art facility in Aibheel, North Bengal. It is an 100% EOU facility approved by the Falta Export Processing Zone authority under Ministry of Commerce, Govt. of India.
The HWS teas are registered with Patent authorities in India, UK, USA, Kenya & Sri Lanka. The CWS teas are registered with Patent authority in India
Brands
To satisfy diverse palates and match the expectations of the most discerning consumers, we offer a wide array of consistent, quality teas. These are either Single Estate teas [sourced from a specific Garden] like our Darjeeling range or exclusively blended to enhance every aspect an outstanding cup of tea.
Darjeeling Tea
Castleton Premium: Blue Caddy
Exclusive Second flush Mucatel produced in limited quantities from May to Mid July. Castleton garden has an unique environment to produce Muscatel tea which is rare in any other garden of Darjeeling. It is a heavy full bodied tea with a musky fruity taste. Because of its uniqueness it is priced at a higher range booked by importers in advance every year.
---
Castleton Vintage: Black caddy
Exclusive blended whole leaf teas from Castleton gardens. These are teas from 1st and 2nd flush and have a distinct chinary character and flavour.
---
Barnesbeg-Leaf and Teabags
A 100% organic- cultivated green tea produced without using pesticides and harmful fertilizers.Gardens are Rain Forest Alliance certified and is responsible for maintaining the good health of environment and people who work at the plantations.
Pure Darjeeling Tea- hence flavour is sweeter than other green teas. It has a mellow and light taste and very rich in antioxidants. This pure quality green tea is high on anti oxidants which reduces cell damage, helps to reduce weight and signs of aging. Good for heart and reduces risk of cancer.
---
Roasted
Unique Darjeeling blend that cannot be mistaken for any other tea. It has a touch of fire and malty taste, can be enjoyed both with milk and without. The liquor is full of aroma and strength and has a deep reddish gloden tint. Roasted is undoubtedly Kolkata's favourite- Largest selling Darjeeling Tea Brand.
---
Thurbo
Whole leaf Darjeeling Tea from THURBO, the world famous garden of Mirik Valley. This premium tea is full of flavour and aroma.
---
Premium Darjeeling
A perfect combination of strength and flavour. It is a Grade of tea- fannings / Golden orange fannings GOF.
Black (CTC) Tea
This is black tea made through the Crush – Tear – Curl [CTC] process invented by Goodricke in 1943, at its flagship garden – Amgoorie. CTC tea has a strong flavour and infuses quickly to give you a brighter, fuller cup of tea.
Khaass
An exclusive Assam black tea created by Goodricke, the world leader in Assam Orthodox Tea production, Khaass is specially blended with 15% Long Leaves and Golden Buds. These Golden Buds give the tea its unparalled aroma and distinct flavour – which you can experience only with a sip of Khaass!
---
Goodricke Chai
This tea is blended with 8 Special High Quality Clones that enhance the tea quality ensuring MORE CUPS of tea from every pack. These select leaves give outstanding aroma, good strength and an absolutely wonderful tea drinking experience. Available in Leaf & Dust variants.
---
Zabardast
A strong tea that stimulates you every morning, Zabardast is the obvious choice when looking for a robust & bright cup of tea, brimming with energy! Available in Leaf & Dust variants.
Gift Packs
Badamtam leaf tea
Known across the world for its first flush teas. It is a great gifting idea for those who want to gift the best of Darjeeling Teas.
---
Season's 3 in 1
Exclusive quality tea packed according to the harvesting season in Darjeeling. Tea is harvested in Darjeeling in 3 seasons- Spring- 1st flush, Summer- 2 nd Flush and Autumn- 3rd Flush. Each season having its own characteristic in the tea. Ideal gift set for those who want to enjoy all the seasons of Darjeeling.
Latest Developments
The company resumed the operations in Nov 2017 in Darjeeling which was closed because of strikes since July 2017
It entered into an agreement with Godfrey Phillips India Ltd. for acquisition of their brands : Tea City, SC Gold, Symphony, Samovar, SC Premium, Super Cup, Rangoli & Utsav for 20 Crores in Oct 2017
GOODRICKE CAFES
After the successful operation of the Teapot in the DB Mall , for the last 7 years, Goodricke has decided to open another outlet on Bhopal's own picturesque Boat Club Road ON 27.02.2017.
The cafe is decorated to give a patron the feeling of relaxation and rejuvenation. The beverage menu provides a customer with a plethora of tea options to choose from, from all across the country- while the food and snacks work as the perfect pair for an interesting conversation over a cup of tea. The cafe has been envisaged as a chain of stores
Kolkata
Bhopal
Tea Prices at all time High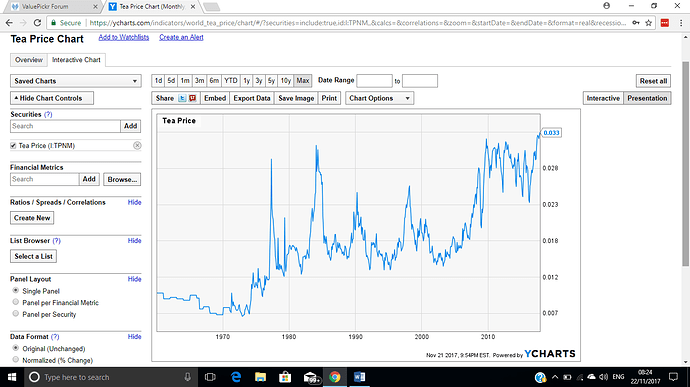 Some articles worth going through to understand the price dynamics going forward
http://www.thehindubusinessline.com/economy/agri-business/copyofbl11-agri-glotea/article9953477.ece
"SOME MORE POSITIVES"
Promoter holding is decent at 74%
It is a zero debt company
Some extracts from the latest annual report:
Branded Tea business was the single largest contributor to the over all profits of the Company in the year
and currently the Goodricke brand holds the largest market share in Madhya Pradesh. In the Darjeeling tea
segment the Company's brands have the largest market share in Kolkata urban market. This is seen as a
prime growth area for the company, with a presence in all three growing regions of North India, the
company has a large bouquet of Tea to be offered to the consuming public
Branded Tea of the company continued to improve upon its excellent results and managed to post much
improved financials in spite of the stiff competition in the packaged tea market and an aggressive pricing
strategy by Major Packeteer(s) of the country. In the premium category of Darjeeling packaged tea, the
Goodricke Brands possess more than 54% of market share in Kolkata Metro that consumes maximum
Darjeeling tea in the country. Company continues to be the preferred supplier of teas to major institutions
like Air India, Indian Army and other Airlines.
High end tea bags have been introduced to the luxury hotels and other premium outlets of the country to
target the discerning consumers who seek quality teas. The efforts on retail expansion continue with
distribution drive in various parts of the country and Modern Trade Channels too are being used to increase
availability of our brands across the markets
The Company posted a healthy increase in profit driven by improved production levels and better margin
in Branded Tea. Export Sales of Bulk Tea and Instant Tea continued to contribute to the growth in the
company's business
Markets for Orthodox teas though remained comparatively more buoyant on account of export queries and
commitments. Your garden in Mangaldai, Assam recorded hither to unattained levels of Orthodox production
resultant of which the profit levels of these gardens witnessed sharp rise.