Company had done international acquisitions which was partly funded by debt.
Must note that The Godrej Protekt Sanitizer is an alcohol free hand sanitizer and naturally derived. Accordingly, it is not something in line with WHO recommendations to prevent coronavirus. Though, given the shortage, it may gain anyways.
Right… but when it come to sanitizer, Himalaya, streillium, lifebuoy etc are predominantly available in pharmacy and supermarkets, I've seen very very less or no Godrej Protekt hand sanitizer both online and offline.
But there's a huge campaign for washing hands is on the move, which will be very much positive for Godrej Protekt, Dettol, lifebuoy etc.
Thread on why the soap works better than hand sanitizers:
GCPL Q4:
Volumes down 15% in India business.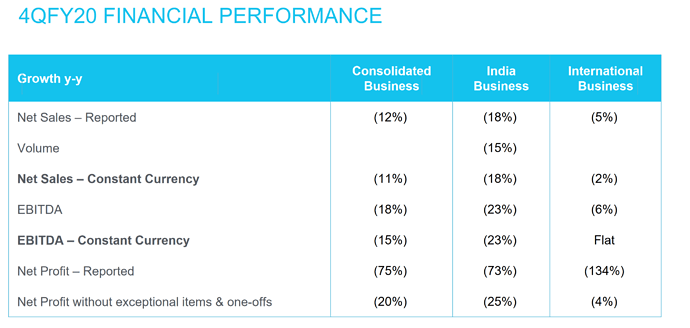 The results are not good. None of the categories, not even soaps, show a decent resilience. Media says profits down 75% but actually it is down around 43% because in Q1 last year there was deferred tax gain of approx 500 cr. Still it is decently down.
I am not impressed by the availability of their products, specially Protekt range and Soaps. When hand Washing and sanitising is at its peak, they are unable to make a difference in sales is pathetic.
Also, it is never clear what their strategy is, except of course global expansion.
I like the innovation in insecticides though. This will rebound eventually. Except that, not sure if any Magic innovation in hand washing is of any help to anybody for that matter.
Rightfully, this stock is battered badly from top. Almost 50% down from all time highs. I think now they need a very clear strategy and capital allocation going ahead. Not sure if any dividend is declared this Q.
Agree on the point about unavailability of hand sanitizers. They actually had a better product(spray sanitizer) but squandered this great opportunity, exposing their not so strong supply chain(unlike HUL).
On the positive side, launch of "Protekt Health Soap" and Goodness.Me look interesting as well as promising.
Disclosure: Invested
Not only HUL, some much smaller FMCG firms have shown great agility recently. GCPL failed in most of my observations. I clicked on the goodness link you mentioned but it seems something unrelated to GCPL. Can you pls confirm what is this new launch? Thanks
Disc: GCPL is part of my core portfolio. I am thinking if it really deserves to remain in core.
I've corrected the link. I'm also facing same conundrum as GCPL along with Godrej Industries are in my core portfolio. But judging them for one bad quarter in these circumstances might be a bit harsh. Even ITC with their legendary supply chain and reach struggled badly in these last 2 months with product unavailability across online and offline channels.
It'll be important to see how they adapt from hereon. They have some excellent products launched recently and also in pipeline(Cinthol's multipurpose grooming range with lower price-points could, baby care segment). If they could work on fixing the supply chain issues, decent 10-15% growth is very much achievable.
Disc: Invested and adding Godrej Industries
Posting the latest interview of Mr Vivek Gambhir.
The Mkts seem to have recieved it well.
Hope this helps.
Hi…
Just an update wrt GCPL.
Did some ground work on Godrej Protekt ( Mr Magic ). Spoke to 4 different Kirana shop owners about its sale volumes. ( all of them within a 3 Km radius in Mohali )
The answer was unanimous - It is selling like hot cakes.
Reason- Disruptive pricing and a descent product.
About Protekt liquid hand wash - sluggish sales, but not bad either.
However - I could not locate any of the Protekt brands in any of the organised retail stores like- More, Easy day.
Disc: invested. Not a core holding.
Protekt is available in Dmart delivery in Mumbai and it is cheaper than Dmart's own brand. So margin could be low
That may be true.
But the positive thing is that Hand Wash is a large and growing market. GCPL may just have a winner up its sleeve.
Fingers Crossed !!!
With growth Challenges in traditional Soap and Hair Colour business, this was badly required.
Another positive is the limited impact of Covid in Indonesia and GCPL's strong performance there.
Lets see what the future has in store for the company.
Regards,
Ranvir Dehal
Spoke to 2 more kirana store owners today.
Results- Similar. They said- The sales of Mr Magic handwash are at par with Lifeboy handwash ( volume wise ) …primarily because of disruptive pricing.
It was music to my ears.
Disc: Invested. Views may be biased.
I somehow feel that GCPL has a natural advantage than many of the soap makers in India. They may be able to get Palm Oil, a major ingredient of soaps, at a lesser price from its group company Godrej Agrovet, which is the largest Palm oil producer in India. And, this could be the reason that they can offer their soaps and handwashes at cheaper prices without diluting margins.
Since I am from red zone, buying essentials only on grofers and big basket. Protekt is available without any issues and also reasonably priced. But in the current market ppl are buying more than needed. If not lifebouy, they will go for anything else. Sales of sunfeast is excellent because Britannia is out of stock. Same with yipee. So it's a wait and watch. But yes protekt is available
"After 11 fulfilling and wonderful years with Godrej, it is time for me to move on to chart the next phase of my journey. For the past many years, I have been living away from my family and seeing them only on weekends. Recently, I had some health problems that made me think more deeply about my lifestyle. Thankfully, I have fully recovered. I would now like to be able to spend more time with my family," said Gambhir.
One reason for this to happen when the CEO feels he can do much better with his career, but the current PF is not giving him enough scope.
Moreover, listening to Ms.Nisaba it appears as though she is not a seasoned business-person. The vision and the experience it takes is still lacking.