Hello everyone, I joined this forum last year & until now have been a silent spectator and was trying to learn from all the valued contributors & improving my learning curve.
This is my first post on this great forum. I hope further to improve my knowledge & would be able to contribute to this forum.
A little introduction about me
I Am HR professional and who off late had been an avid believer in mutual funds. My investing journey started in 2005 but that was only limited to NSC & FDs. It was then year 2013 when one of my friends suggested investing in MFs; and started investing based on his suggestions.
It was year 2015 while headhunting a candidate for a senior position as my prospective candidate for GM position shared about his ESOP holding. He was interested in a job change but was looking for his ESOP compensation. This intrigued me to learn more about ESOP and eventually diverted towards stocks & thus started my equity investment journey.
My philosophy of Investment
This may look like a stupid idea to most people in the group coz being in HR I understand people very well. For me, the success of a company depends on it people & people practise which are reflection of the company's culture. Hence developed a belief that invest in companies that have strong & stable Human Resource function, rational being – Strong HR function would be only possible when companies are:
Religiously follow the Vision & Mission of their company
Companies that are Ethically Strong hence are Compliant, have Enterprise Management & are Responsible.
Companies that focus on employee development hence better organisational performance & Innovation.
Companies that have Transparent Management hence attain Leadership & become market leader.
Otherwise, in most companies, HR is just an administrative function.
With this belief system, I started my investment journey which was further drilled down to:
The tenure of their HR heads.

Employee Engagement Scores

LinkedIn profile of the key personnel's – Qualification & Experience.
So based on my belief system I first invested in HUL, HDFC, ITC & ICICI Bank all in very small quantities at the same time being super cautious also.
I would not take much more time to explain this but in short, this has been my investing philosophy.
My portfolio which has been built over the last 5+ years is based on the above premise. Further, I have divided my portfolio into 4 parts. While constructing this portfolio I might have bought some shares based on family & friends' advice but largely it is built on my belief system.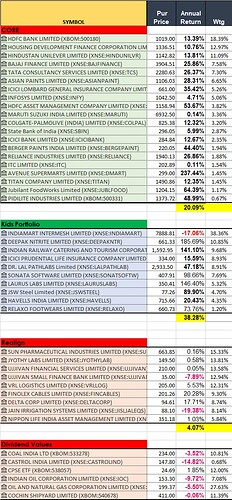 Core portfolio – For Retirement
Satellite portfolio – For Kids
Dividend Folio – Building corpus through reinvesting.
Requires Realignment
I generally buy and keep; I do not trade coz I do not understand when to exit.
I am sharing my current portfolio for review and critical feedback from all stalwarts of the group. Any kind of suggestions on my belief system & portfolio are welcome. I do not have competence like most of the board members here, but I have built it on the above premise and somehow this has yielded me good results.
I am open to learning (especially the numbers and balance sheets) to realign my portfolio.
Please feel free to comment, criticize my thought process, blind spots. It will help me greatly improve myself.
Thank you.