Company Introduction (Taken from their site)
Company has emerged as one of the leading PET- recycled RPSF manufacturers in India. We pioneered the manufacture of Recycled Polyester Staple Fibre (RPSF) and Recycled Polyester Spun Yarn (RPSY) from pre and post consumer PET Bottle scrap.
Having its manufacturing units at Kanpur (Uttar Pradesh), Rudrapur (Uttarakhand), and Bilaspur (Uttar Pradesh) Ganesha has a cumulative capacity of 97800 Tonnes per annum(87,600 TPA of RPSF and 7200 TPA of RPSY and 3000 TPA of Dyed and Texturised/ Twisted Filament Yarn) of RPSF and yarn.
Our products find application in the manufacture of textiles (T-Shirts, body warmers etc.), functional textiles (non-woven air filter fabric, geo textiles, carpets, car upholstery) and fillings (for pillows, duvets, toys).
Company Annual report and Research Report highlights
The growth of our topline and bottomline by 4.15% and 20.43% . EBITDA rose by 8.27% on account of improved capacity utilisation, PAT margin improved by 60 bps. Long-term debt-equity ratio of 0.32 and recorded a ROCE of 16.05%.
27% CAGR growth in revenue in last 10 years.Revenues, EBITDA, PAT grew at an average 17%, 16% 6%, respectively, in 2011-16
Financials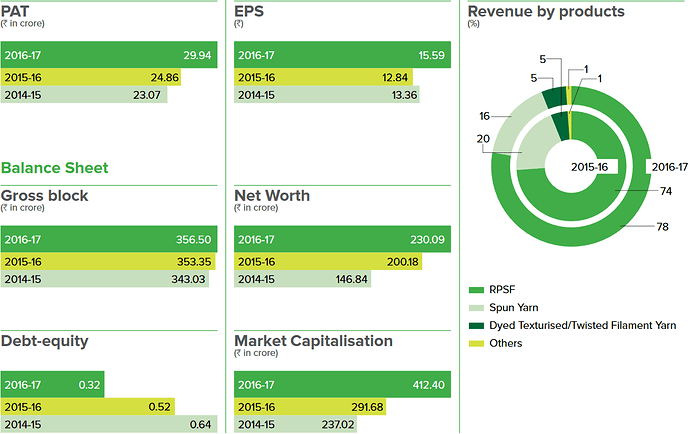 Below are links to Latest Annual report and ICICI direct research report
ICICI Direct report of 2016 Dec
Reason of my interest
Recycling will get more importance in days to come from Government and is need of time. So company will not have issues with Raw material.

The products created by company Textile and Non Textile are evergreen segments. The increasing use of Synthetic materials is on rise.So no issues on end product market

It has major presence in North India and have scope of growth in other parts of country

Only listed player in this Niche (as per my finding but I may be wrong). The input raw material collection needs channel so new entrant will face problems competing with this company

SBI Mutual Fund has stake in it. It is still a small cap company so have room to grow.
Key Risks
Promoters have pledged 26.20% of their holding. The Promoter stake has decreased also with time. These two points have hold me to go forward with this company.
The end product of company is used in Textile Industry mainly. So the fortune of company is tied with growth in Textile Industry . Also there are many providers of Synthetic fabrics (yarn) to textile industry.
The Synthetic yarn has market share of around 50% but is very competitive as well (refer the research report for market share). This may hamper or make growth of company difficult in future.
Inviting VP friends to have a look and find loop holes in this one so that we can weigh in pros and cons of this company.
Disclosure - Tracking it and not invested. Planning to buy stakes in small size