Hi All
This is my first post here in the forum. I would dearly love to hear from you about my portfolio and review if there are any changes needed. I must confess that these stocks were picked from borrowed conviction by reading through this forum and there was no detailed study involved.
However, from the past 2 months, I have gone through and studied the stocks and removed a few from the stock list.
Below are the buying price and the current holding numbers.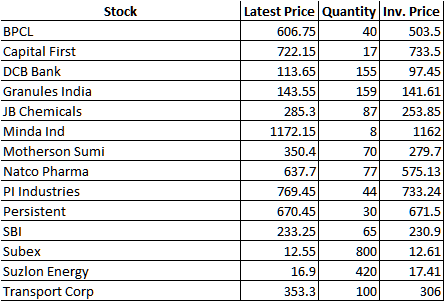 I earlier had Alstom T&D at 373, which I sold at a partial loss at 369 which was an informed decision after looking at the prospects of the company. Same is the case with AVTNPL which I sold at purchase price.
I am fairly confident about the above stocks and expect it to perform well over long term. Subex and Suzlon are long term bets trusting the turn around story.
I am considering swapping SBI for CAPF, your thoughts on the same will be helpful.
PS. I am a new investor and I will add on to the above shares as and when I have the funds.
Regards
G1