Hi,
Objective & Concept.
I am summarising a concept Fundamental Analysis & Valuation Matrix. This matrix can be applied on laundry list of stocks, a pre screened list of stocks or a live portfolio etc. The objective is to find out a weighted average rank of lets say 20 stocks in a portfolio. The investor may decide to exit the bottom 30% and reinvest in top 70%. As a result will achieve a concentrated portfolio of 14 stocks which are better than rest.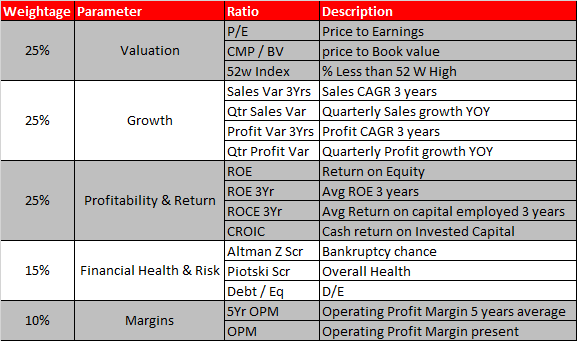 Points of -1,0,1 may be given for Poor, Neutral, Strong outcome against each ratio which is left to standards or thumb rules like---- less than 12%, 12 to 25% , greater than 25%. Once points are put against each of 16 ratios, weightages can be applied to find parameter wise rank or overall rank. If one wishes can have any no of parameters, ratios or rating scale- a minimum basic of which is depicted.
Request feedback & suggestions on the concept. Kindly let know if this exercise will help in " separating the wheat from the chaff" at least at a historical performance level.