Franklin Templeton has shut six of it's scheme namely -
1. Franklin Templeton Credit Risk Fund
2. Franklin Templeton India Low Duration Fund
3. Franklin Templeton India Dynamic Accrual Fund
4. Franklin India Short Term Income Fund
5. Franklin India Ultra Short Term Fund
6. Franklin India Income Opportunities Fund

Total invested amount in these funds according to different sources is around 26k - 30k cr.
Shutting down fund means there will be no investment or redemption in the funds. The AMC and/with trustees will try to sell the assets of the funds and return the money to investors.
Now I have three questions in my mind, one I have a part answer to, remaining two remains unanswered.
Question 1 - What is the effect of this default on money supply in market?
Answer 1 - Assuming fund size to be 30k cr and money multiplier at 6. Amount of money out of system can be 1.8L cr.
Question 2 - What assets these funds hold?
Answer 2 -
  Credit Risk Fund - Full Portfolio.
  India Low Duration - Full Portfolio
  India Dynamic Accrual Fund - Full Portfolio
  India Short Term Income Plan - Full Portfolio
  India Ultra Short Term Fund - Full Portfolio
  India income opportunities fund - Full Portfolio
---
Question 3 - Who are the owners of these funds? Which companies will be loosing money in this? (Un-answered)
---
Let's look at Credit Risk Fund in detail, it is segregated into three parts
 Main Portfolio
 8.25% Vodafone Idea - 10Jul20
 10.9% Vodafone Idea - 02Sep23 partially convertible 03Sep21
Leaving Vodafone aside let's analyse Main Portfolio -
Total fund size as of 31-Mar-20 is 4,900 cr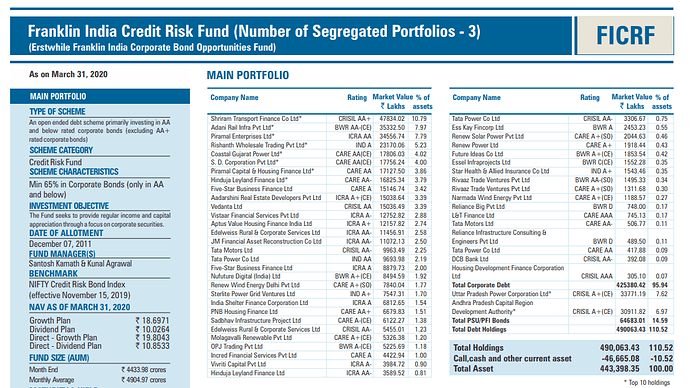 Out of the listed companies unknown/doubtful companies are -
Rishanth Wholesale Trading (RWTPL) - 2,300cr
  owns VMMPL. VMMPL grants franchise rights for Vishal Mega Mart.
Coastal Gujarat Power - 1,8k
  wholly owned subsidiary of Tata Power.
SD Corporation - 1,800
  is Shapoorji Pallonji group company
Five-Star Business - 1,500
  Finance start-up backed by TPG Capital, Matrix partners, Morgan Stanley, Sequoia Capital etc.
Aadarshini Real Estate Developers - 1,500
  Wholly owned subsidiary of DLF Home Developers
Vistaar Financials Services - 1,300
  Incorporated in 1991, MD - Ramakrishna Nishtala, Bangalore (Explore)
Aptus Value housing - 1,200
  Raised 800cr from WestBridge, Steadview & Sequoia
Nufuture Digital - 850
  No website, Incorporated-2007, Mumbai (Explore)
India Shelter Finance - 680
 erthwhile Satyaprakash Housing Finance (Explore)
Molagavalli Renewable - 530
  Incorporated-2017 (Explore)
OPJ Trading - 520
 Jindal Steel promoter OPJ Trading raises fund from Centrum Credit
Incred Financial - 440
 Invested by Rajan Pai (Manipal) etc.
Vivriti Capital - 390
  Had series A & B round of funding.
Ess Kay Fincorp - 240
  TPG growth, Norwest Venture & Evolvence India are investor
Furture Ideas - 190
 (Explore)
Rivaaz Trade Ventures - 280
 Invest in leasing retail space and renting to retail business.
Narmada Wind Energy - 120
  Something to do we renew power (Explore)
Reliance Big - 748cr
  ADAG group
Reliance Infra consulting - 50.6
  Rating document