Incorporated in 2002, Fine Organic Industries Limited is a company engaged in manufacturing of oleochemical-based additives (Oleochemicals are chemicals derived from plant and animal fats. They are analogous to petrochemicals derived from petroleum). The company produces a wide range of specialty plant derived oleochemicals-based additives used in the food, plastic, cosmetics, paint, ink, coatings and other specialty application in various industries sold under the 'Fine Organics' brand.
FOIL is the largest manufacturer of oleochemicals-based additives in India and a strong player globally in this industry. It has 631 direct customers and 127 distributors from 69 countries. The company has a well-diversified and reputed customer base. In the petrochemical segment, FOIL caters to companies like Reliance Industries Limited, GAIL, Haldia Petrochemicals Limited, SABIC (Saudi Arabia), Petronas (Malaysia), Braskem (Brazil), Petkim (Turkey), Quapco (Qatar), Exxon Mobil, Dow Chemicals, etc. Further, in the foods segment, the company supplies its products to companies like HUL, Mondelez, Coca Cola, Britannia, Parle, etc. No customer accounts for more than 5% of the overall sales.
Specialised products and business model:
Manufacturing additives from base oleochemicals is a highly complex process as it involves technical know-how and R&D for product innovationwhich makes specialty and formulated products difficult to replicate. This provides it with a significant advantage over new entrants, as they would need to invest a great deal of resources to gain a foothold in the markets.
Industry is largely Oligopolistic in nature:
Presence of Multiple entry-barriers such as product formulations, process technology and customer stickiness to established players. All the established players are enjoying their first-mover advantages. For an entry into this industry, new players won't be able to procure product formulations and process technology from established players, which are reluctant to share their technology and other intellectual properties.
Strong R&D capability with a focus on innovation:
FOIL has created new additives and downstream products, such as Acetem, Datem, and Lactem. It is in the process of developing a downstream product called Citrem, which is a hydrophilic (attracted to water molecules and water-soluble) emulsifier used in the confectionary industry. R&D efforts are driven by customer needs, in terms of meeting specific needs that its direct customers communicate to the company prior to us manufacturing its products. Since 2014, contribution of new products developed through R&D was 0.02%, 0.13%, 0.74% and 1.13% of sales respectively.
Strong Financial Track Record with continued improvement in operating performance:
| Rs.Crs | FY13 | FY14 | FY15 | FY16 | FY17 | 9MFY18 | CAGR |
| --- | --- | --- | --- | --- | --- | --- | --- |
| Revenues | 496 | 568 | 616 | 658 | 786 | 585 | 9.5% |
| EBITDA | 52 | 116 | 118 | 155 | 150 | 116 | 24.5% |
| EBITDA margins | 10.4% | 20.4% | 19.1% | 23.5% | 19.1% | 19.8% | |
| EBIT | 40 | 105 | 95 | 125 | 126 | 101 | 27.3% |
| EBIT margins | 8.1% | 18.5% | 15.4% | 18.9% | 16.0% | 17.3% | |
| CFO | 49 | 3 | 79 | 113 | 52 | 69 | 13.5% |
| PAT | 21 | 63 | 59 | 77 | 79 | 63 | 31.9% |
| EPS | 7 | 22 | 20 | 25 | 26 | 27 | 38.0% |
| Rs.Cr | FY13 | FY14 | FY15 | FY16 | FY17 | 9MFY18 |
| --- | --- | --- | --- | --- | --- | --- |
| Net debt | 93.5 | 98.3 | 92.9 | 55.4 | 26.0 | 9.5 |
| Capital Employed | 165.4 | 248.1 | 251.9 | 310.1 | 314.4 | 372.9 |
| ROCE | 24.4% | 42.4% | 37.8% | 40.2% | 40.1% | 36.2% |
Operating performance reported by the company has been robust driven by the successful commissioning of its new manufacturing lines coupled with healthy demand indicators for its products in the domestic and export markets. Further, debt has reduced consistently over the last few years and a large part of the company's current debt includes unsecured promoter loans. With efficient supply chain management, FOIL consistently has exhibited a good ROCE level since past many years.
Expansion of production facilities and strategic JV tie-ups to augur next phase of growth:
FOIL currently has three production facilities: one in Ambernath (Maharashtra/ Plant 1); one in Badlapur (Maharashtra); and one in Dombivli (Maharashtra). The company also manufactures some of its products on contract basis through its group companies at its second facility in Ambernath (to be taken over by FY18 end).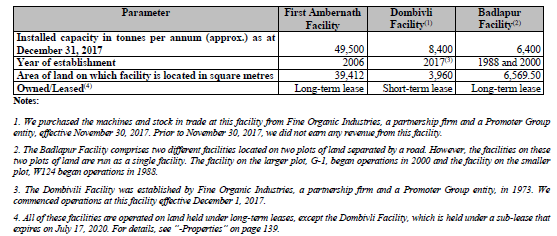 a) FOIL is currently planning to set up an additional production facility in Ambernath (plant 3) with a planned installed capacity of 32,000 tonnes per annum funding through 2.3:1 Debt/Equity mix.

b) Patalganga and Ambernath Plant 4 – Preliminary Stages of Planning:
i) The Patalganga Facility will have a planned initial installed capacity of 10,000 tonnes per annum for additive products. FOIL has not yet decided on a date of commencement of operation for this facility. The estimated cost of setting up the Patalganga Facility is Rs. 50crs .
ii) In December 2013, FOIL paid Rs.24.2crs for a plot of land on which it plans to build its Fourth Ambernath Facility. This will be capable of manufacturing additives for food, plastic, cosmetics and other specialty additives. (Capacity details currently not decided).
C) Fine Zeelandia Facility:
Fine Zeelandia Private Limited is a 50:50 joint-venture between FOIL and Zeelandia International Holdings B.V.'s, a Dutch company which distributes range of premixes for bakery and confectionary products and pan release agents in India, Sri Lanka, Bangladesh and Nepal, but does not currently manufacture these products. The Fine Zeelandia Facility will produce premixes for bakery and confectionary products and pan release agents. The Fine Zeelandia Facility's initial installed production capacity will be 10,000 tonnes per annum the estimated cost of the Fine Zeelandia Facility is Rs.60 crs to be funded in debt-equity ratio of 1.7:1 (FOIL's equity share being Rs.11.3crs and rest investments by Zeelandia).
D) Fineadd Facility:
FineAdd is JV with Adcotec, to own and operate plant in in Leipzig, Germany. FOIL plans to manufacture specialty food emulsifiers and other food additives at the German Facility to be sold to direct customers and distributors in Europe. FOIL expects the German Facility to commence operation by the third quarter of Fiscal 2020 and it has a planned initial installed capacity of 10,000 tonnes per annum. The financing arrangements for the German Facility have not been finalized yet.
Experienced management team with technical know-how:
FOIL is led by Prakash Damodar Kamat, the co-founder and Chairman, who has more than 4 decades' experience in the oleochemical-based additives sector. Further academic credentials from UICT Mumbai also give comfort in promoters who are technocrats and have the know-how in the oldeochemicals industry.
Key Risk:
a) Largely fixed nature of contracts (albeit LT in nature) exposing companies to volatility in RM prices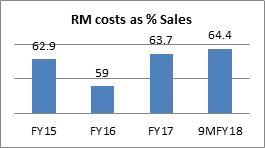 Primary raw materials are derived from vegetable oils, including rapeseed oil, palm oil, palm kernel oil, sunflower oil, castor oil, soybean oil, rice bran oil. The company enters into ST contract arrangements with its suppliers (<6 months) which exposes it to RM volatility risks. Further, most of the contracts FOIL has with its customers are LT in nature but are albeit fixed in nature (ie. Lumpsum contracts and without any minimum offtake arrangement). They also contain a meet or release' provision, i.e., a provision pursuant to which a purchaser may terminate the agreement if FOIL does not agree to meet any lower offers that the purchaser receives from other suppliers which could also result in cash flow volatility.
b) Supplier concentration risks:
Heavy reliance on few suppliers which can indicate stringent payment terms and limited bargaining power also prone to risks of steady supply of procurements.
VALUATIONS:
The company claims to be amongst the few suppliers for its products globally.

At current multiples of ~ 17x stock is neither expensive nor too cheap. However with growing applications for FOIL products and with new capacities coming on stream in next few years expecting valuations to improve.
Additional references:
Oleochemicals.pdf (155.9 KB) (Source: Broker Reports)
Investor-Presentation-30-Jul-17.pdf (537.5 KB) (Source: Investor Presentation Fairchem Speciality Chemicals)
Views Invited
Disclaimer: Invested. These are purely my investment strategies and not a general recommendation of buy or sell. Please do your research before investing. All company references taken from DRHP.