"I am just a Common Man who is true to his beliefs" – John Wooden
I hereby share my investment journey, strategy and portfolio, i.e., "A Common Man's Portfolio" to this esteemed forum and welcome any advice to enhance the investment portfolio.
Like all I am a Common Man with common thoughts and nothing special, but keen to invest in Mr. Market. Life is very busy, daily wake up at 6, work 8 to 5, TV, family, sleep etc. as a result no time or very little time to daily review stocks or to be in touch with Mr. Market.
Hence, have no other choice to keep the portfolio simple and less risky; with keeping a long-term view.
Investment Journey:
5 years after starting earning I realized that my money sitting in the bank is growing too slow (just accumulating interest) and needs some boosters to grow faster, so I end up investing in real estate. Just like a typical Indian mentality believed in low-risk investment and without any doubt real estate is one of the best option for low-risk investment. But before entering the world of investing I had other priorities to fulfill (like all has); got married and had a child. Consequently, my savings got reduced in completing those priorities, but didn't stop my habit of saving money. So all you can say I started my investment journey a bit late at the age of 30 (I guess it's not that late too).
My investments in real estate happened in early 2016 and it was a good time to invest in Hyderabad, as many global companies geared up to venture into the city (E.g.: Like in 2015, Telangana signed an MoU with Google to set up an over-7-acre campus in Hyderabad, which is the second-largest campus outside of the US). As of today, my investment in real estate grew up by 3.5x times; on the other hand, while seeing my investment growing in real estate my greed increased too. So in mid-Dec 2017, I turn around to Mr. Market, and straight away without gaining any prior knowledge I opened a trading account in Jan 2018, thinking of making a big fortune through trading.
As a newbie, I had no idea about Mr. Market and how it works, I started following tips from the relationship manager or money control or news channels, etc.; traded junk and penny stocks looking for returns on daily basis, monthly, or quarterly. By this approach, I kept draining my money behind the tips, news, junk stocks, penny stocks, and gaining nothing from Mr. Market. At this moment, I realized that the stock market is not as easy as a real estate investment and I hold my greed took the seat back, and thought for a while 'why not I spend after office time studying Mr. Market and good companies'.
After spending almost one and half year studying the market, understanding the companies (business models), reading the books, balance sheets, annual reports, learning the fundamentals, going through technical charts, and watching videos on investments in YouTube (good content) there I understood trading in the Stock Market is not everyone's cup of tea and not at all for a working (8 am-5 pm Job) Common Man.
One day I watched a 10 min video of Peter Lynch on YouTube that gave me an excellent insight and his quote struck me, i.e. 'Know what you own, and know why you own it,' he also stressed to keep things simple and invest for long term. This made me rethink what was I doing initially in the Stock Market, I wasn't following my own low-risk investment philosophy. So I end up selecting less risky stocks that I can study, track, and aware of. From early 2019 started serious investing and selectively created a low beta portfolio.
My investment Strategy
The strategy is to keep things simple, invest in what you know, avoid trading and invest for the long term (i.e. above 5 years) by creating a low volatile and low-risk portfolio. Invest in low beta-quality blue-chip stocks, mutual funds, and ETFs, allocating a decent portion to mid, small or micro caps.
I agree with the fact that entirely investing in low beta stocks generates less returns. In order to create some alpha in the portfolio, a pinch of quality midcaps, small and microcaps has been added.
What is Low Beta Stocks?
A beta value that is less than 1.0 means that the security is theoretically less volatile than the market.
Investment Portfolio: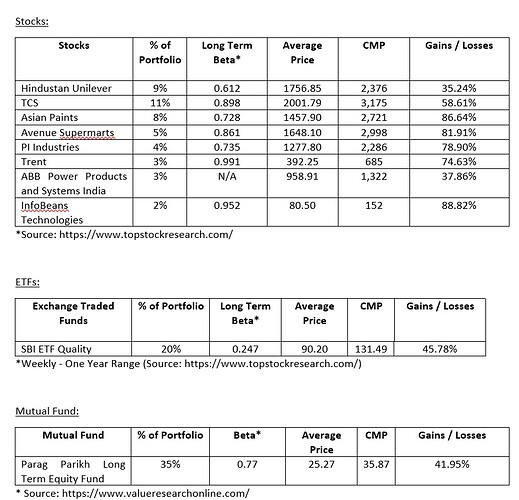 Notes:
In 2020, I have added ABB Power Products to the portfolio, so the long term beta value is not available. However, I invested in this stock to bet on India's future development in power infrastructure and not to forget about their flash charging technology.
All the other investments were made in early 2019 and remain invested to date.
In the recent market crash, I haven't totally exited from any of my investments. However, added more during the fall.