Introduction: The Company is engaged in manufacturing of Chemicals, Pharma intermediates and Environmental products. Chemicals comprising of Industrial and Specialty chemicals and Pesticides Intermediates. Environmental products comprising of Soil Enricher, Bio-Pesticides and other Bio-products. The Company is also engaged in manufacturing activity on behalf of third parties.
Company is having 70 years of experience in specialty chemicals field. Management wants to widen the product portfolio to include a range of Agrochemical Intermediates, Pharmaceutical Intermediates,Polymer Input Materials and, Specialty and Performance Chemicals.
Company manufacturing units located at ROHA, Lote(Chemical Operations) and Ahmadabad (Environment Biotech and API operations).
Promoter Background:
A.C.Shroff is the Chairman and Managing Director of the company. He is currently a Co-chairman of CII – Agri Biotech Committee and member of FICCI – Environment Committee and FICCI – Chemical Committee. He is also a member of Research Council of National Institute for Interdisciplinary Science and Technology (NIIST), Thiruvananthapuram. He was recently conferred with the Life Time Achievement Award for the year 2012 by Indian Chemical Council (ICC), Mumbai.
Speciality Chemical Division
This Chemical division product portfolio covers phosphorous derivatives Chlorpyriphos, Minig chemicals, several Agrochemical intermediates,and Specialty chemicals such as PEEB and RELD etc. Their products will be used in industries such as Agricultural Chemicals, Lubricant Oil Additives, Mineral
Beneficiation additives, Dyes and Intermediates, Polymer manufacturing and processing and Pharmaceuticals. The end user industries consuming these intermediates have been growing steadily and confirming the uptick in sales.
Currently more than 50% revenues contribution is happening from Agrochemicals segment.
Company had lot of competition from China imports and yet it is able to report better earnings quarter on quarter and year on year. Company dependence on Yellow Phosphorous from China was erratic but developed alternate sources to stay competitive in agrochemical and Phosphonates markets, shows management capability on their business.
Decline trend in Prices of Petrochemical inputs, Ethanol and Acetic Acid and solvents will add profitability to the company.
Environment and Biotech Division
Excel Environment and Biotech division is focused on converting organic waste to energy. The segment covers from Organic Waste in household to Municipalities. In fact Ahmadabad Municipal Organic Waste Conversion (OWC) conversion is done by Excel Industries since 2000.
More than 20 processing plants established in India for centralized waste treatment with municipal solid waste processing range from 100-500 tons per day. Similarly more than 500 decentralized Organic Waste Converter (OWC) units established in India, Bangladesh and Myanmar.
Products:
Excel OWC (Organic Waste Convertor) is an easy to use Decentralized Waste Management System to turn large amounts of organic waste such as kitchen waste, garden waste, food processing waste etc. into compost. The system is designed to eliminate odor and also to remove the problem of irritants such as flies and rats.
The Excel OWC is a bio-mechanical Composting System which consists of the OWC machine, Curing System and a number of optional accessories for specific waste challenges. Targeted users are big apartments to medium societies.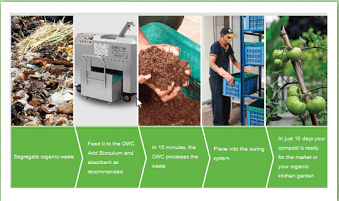 Excel OWC Project : when organic waste output is on a large scale i.e. greater than 2 tons per day then we need a system designed to handle bigger volumes. Excel's Large Scale OWC Systems are tailor made solutions to waste challenge at large scales and successfully deployed across several parts of the country.
Excel Bioneer: Feed in your waste into Bioneer and extract compost in just 24 hours. Bioneer's efficient conversion and ease of use makes it possible for millions to make the environmentally and socially responsible choice of composting.
Pioneering the Waste Management Life-cycle, Excel introduced 2 products from in-house research i.e Sanitreat and Bioculum.
Sanitreat is a herbal and mineral mixture that is a non toxic and environmentally safe way to sanitization. It is highly effective over both segregated and desegregated organic waste. Sanitreat is available in 5 Kg and 25 kg packs. The shelf life of the product is 18 months from manufacture when stored in a cool and dry place.
Bioculum is a mixture of micro organism cultures that accelerate the aerobic composting of bio degradable organic waste. It also treats the waste and makes it free from pathogens, foul smells and weed seeds. Bioculum is a key input in the OWC process and consists of cultures of naturally occurring bacteria, fungi and actinomycitis along with enzymes. It is free from any toxic or hazardous components. It preserves the vital nutrients and organic matter in the waste.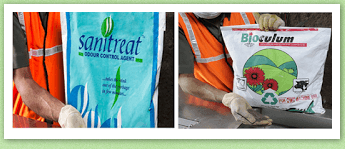 Excel Pharmaceuticals (Excel Pharma Division) located at Lote(cGMP compliant) involves in APIs and Intermediates development such as fexofenadine hcl, Febuxostat.
Fexofenadine hcl used to treat allergic symptoms of seasonal allergic rhinitis (sneezing, runny nose, itchy or watery eyes), and urticaria (hives).
Febuxostat is used to treat chronic gout and hyperuricemia.
Under Veterinary API division, though it is at nascent stage, product portfolio includes Clorsulon, Butaphosphan, Oxyclozanide, Ractopamine, HomidiumBromide Sodium, Closantel Sodium dehydrate.
In the Polymer Inputs business, Excel developed a range of property modifiers and flame retardants. The process of approval of these products is underway with potential overseas clients in USA, Europe and Japan.
EXFLAR(Flame Retardants), EXHALS(Range of light stabilizers), EXCLAR(Clarifiers for polypropylene), DMBPC (This molecule is used as anti-scratch agent for polycarbonate), THPE(A trifunctional (B3)
monomer for demanding applications in the polymer industry), Specialty Monomers with Wide Applications: Some of these polymers finds applications in adhesives and coatings.
Subsidiaries Info: Kamaljyot Investment Limited and Excel Bio Resources are subsidiaries of the company registering a net profit of 44 lakhs and 6 lakhs consecutively for the financial year 2014.
Bullet Points:
Company current operations mainly in Chemical Business and Environment Biotech division. In next few years we can expect Veterinary APIs, Human APIs and Polymer inputs divisions to contribute top line significantly. The FDA license for the Pharma plant has now been received in early 2015 and this will enable the Company to enter into the wide open area of Active Pharmaceutical Ingredients. Various product approvals from large Pharma customers are being actively pursued as management claims.

Currently GOVT stalled mining activities across major parts of the country, any change can lead to create additional demand for mining chemicals.

The biocides demand saw a good jump thanks to the Company's efforts in developing a new application in the preservation of wood and MDF. Company Environment Biotech division turned profit in the current quarter for the first time.

      Company always spending nearly 1% of sales (4.79 cr in 2014)   spent    on R & D activities, historically as well. The strong    Research   &    Development base in the Company will enable it to   develop advanced       intermediates for the newly launched    Herbicides and Fungicides. 


The Company has also taken steps to develop new business in the area of Electronic Chemicals which will find application in Solar Photovoltaic Industry and in Display devices.

The OWC Division was successful in installing a top of the model OWC machine at Pune with a treatment capacity of 2 Metric Ton per day in a one shift operation. Projects of similar
capacity were also set up at two different locations allotted by Panjim Municipal Corporation. Project for complete treatment of the vegetable waste generated at six different Agricultural
Produce Marketing Boards (APMBs) in the state of Uttarakhand.
Negatives:
Currently 50% dependence on Agro Chemical sector, as everyone aware which depends heavily on rain god mercy. OWC segment and Future pharma segment can change scenario likely to get re-rating.

Any jump in crude prices will slightly hit the bottom-line.

Key Raw material Yellow Prosperous price volatility.

Previously company faced stiff competition from China on Agrochemicals in India and
other euro countries. But recent stringent implementations of Anti dumping rules on China companies in Euro as well as in India coupled with closure of chemical factories not meeting the environment laws is benefiting the company.

Conclusion: Currently share price trading @340 levels commanding a PE of 9 against industry PE of 24. Considering future growth verticals on API and trustworthiness of promoters this should be part of core portfolio for everyone as I feel.
Disclosure: Purchased at 2 levels 192rs and 315rs levels.