There is a lack of tool which serves the actual need from an "Investor Perspective" to track their stock portfolio overtime factored with bought/sold stocks and added/withdrawn cash.
At present, most of the tools only support functionalities to track your portfolio on a daily basis but that is not sufficient because the overall P&L is a combined result of all transactions I made over time — for months, years or maybe decades. We can manually maintain Excel Sheet which is not a convenient process and also the stock prices are still not factored.
If I sold a few high weighted profitable stocks, the returns of my current portfolio will dramatically reduce but technically the profits are not reflected in my stockbroker app.
So after wandering for a long time, I buckled up to build a minimum viable product, EquiCase— where users can track their portfolio in a highly customized manner.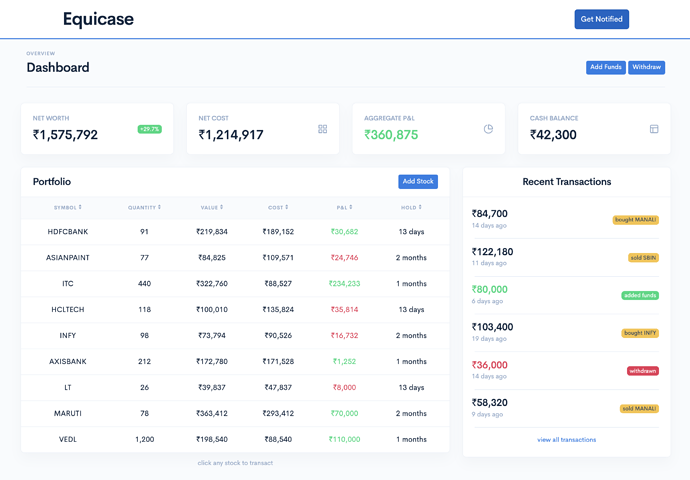 Typically, a user will add transactions grouped into 4 types:
Buy Stock.
Sell Stock.
Add Funds.
Withdraw Funds.
And based on those transactions, equicase will create an analytical dashboard providing you pretty good insights of your portfolio OVERTIME like average cost, holding period, aggregate stats, multiple portfolio support, portfolio return charts, etc.
Check demo (MVP): https://equicase.io/demo
Would really love to have your suggestions and insights on what would you like to visualize in your portfolio and also helpful in shaping up the product from "Investor Perspective"