History
Eon Electric started operation in 1958 with LT switchgear as Indo Asian Fusegear. They diversified into HRC Fuses, MCB, RCCB, CFL's, cables &Wires etc. In 2010, company sold their switchgear division to M/s Legrand France SA for the total consideration of Rs.400 crores. In the 2010 annual report V P Mahendru stated as
"I am pleased to share with you that the company has got a good opportunity for growth in high-tech Energy Efficient Lighting Products by divesting its Switchgear Division at a good price to M/s Legrand France SA. Legrand is a major global player in the field of electrical and digital building infrastructures and has the capacity, standing and reputation to grow the business to the next level and beyond. The divestment is subject to statutory and regulatory approvals. The Business Transfer Agreement (BTA) has been entered into with M/s Legrand France SA on July 22, 2010. The funds expected to be received by the company are proposed to be invested to pursue opportunities for growth in the areas of advance lighting systems (including the most efficient lighting sources – LEDs), new innovative products for energy management and conservation etc. Besides the Company will continue to operate its other existing businesses in the areas of lighting and wires & cables."
Thus the company name was changed to "Eon Electric Limited" in 2011. After the sale of switchgear division, company acquired two factories at Haridwar for setting up plants for LED lighting, mobile phone accessories, lithium – ion batteries, electrical fans and Geysers.
Company Profile
Eon Electric specializes in manufacturing and marketing a wide range of best high-tech electrical products, such as Lighting & Luminaires, world-class Fans, Modular Switches, Wires & Cables, Geysers and Mobile Accessories. It has state-of-the-art manufacturing plants in Haridwar, using world-class technology and quality checks. With a deep understanding of economic stimuli and customer needs, EON is determined to not only repeat its history of achievements. But also scale new heights of growth to become the nation's most preferred brand. And the energy behind people's smile.
LED Lighting – Joker in the Pack
Out of its products range, LED lighting business looks very promising and growth driver for the future. Company manufactures all types of LED lights such as
a. Downlight
b. Spot lights
c. Bulbs
d. LED tube lights
e. Street lights
There are various reasons to be bullish on LED's business
Government Opportunities
• Frost & Sullivan expects the Indian LED market to grow over US$ 1 billion in the next four years. The market will witness a growth rate of more than 40% till 2016. It is also anticipated that the LED lighting market will move towards high quality, adaptable lighting with more efficient output. The market will witness a convergence scenario with other technology areas like wireless sensors and networks, augmented reality, and flexible electronics. This will shift emphasis to the lighting system as a whole.
• The Central and States Governments, the Bureau of Energy Efficiency and the Energy Efficiency Services Limited (EESL), which is a joint venture of the 4 PSUs of the Government of India have launched a massive drive for replacement of the existing Street Lights across the country and lights in public spaces with energy efficient LED based street lights. Besides they have also launched programmes for distribution of Led bulbs to all the households at a heavily subsidized price through the Discoms. EESL and the ministry of power are working hand in hand with industry to bring this transition and ensuring that all government procurement of LED is made in India, helping the industry to move faster.
• Prime Minister Narendra Modi has described the LED bulb as a "Prakash Path" – "way to light,"The growing demand would also give push to make-in-India' initiative and would also help and support Prime Minister Narendra Modi's 'Make in India' campaign as the companies would manufacture locally here.
• As per the Electric Lamp and Component ManufacturersAssociatio (ELCOMA) vision, LED bulbs market would grow to Rs 20,000 crore by 2020 from an estimated Rs 4,000 crore in 2014. This has been driven by government initiatives of phasing out inefficient lighting sources such as incandescent bulb, tubes and halogen lamps.
• The Centre has set a target to distribute over six crore LED bulbs through State-run Energy Efficiency Services Ltd (EESL) in a span of one year, Power MinisterPiyush Goyal said today. - Business News Today: Read Latest Business news, India Business News Live, Share Market & Economy News | The Economic Times
True to the above points, Eon was successful in securing government orders to replace conventional street lights in Aligarh and Jodhpur worth Rs.51 Crores. Further to completion of these orders EON got extended orders for 33K street lights in Jodhpur and also in Aligarh. Besides this, EON has also won the contract in Varanasi. The latest order they have got from the Rajasthan Governement which is worth Rs.40 crores to install LED street lights in other cities including Gangapur, Jaisalmer, Sri Ganga Nagar etc.
As per the management, in next 3 years, there will be government contracts to replace 20 million street lights and Eon is expecting a bigger pie of that.
Retail Business
Eon's retail business is also doing very well. They have dealers and retails outlets in every state of India.
Retail Outlets 1,25,000+
Channel Partners 900+
Eon has tied up with Flipkart, Snapdeal, Amazon etc. for selling their products online. Retail LED business is also doing exceptionally well.
Export
Eon has tied up with European LED makers OMS with whom they have also started a company in India which manufactures high quality light fixtures in India and other Asian countries. If management commentary to be believed Eon is going to start exporting their LED lights in Europe through their partner.
LED Business growth over last few quarters (in Rs. Lakhs)

Last 4 quarters (March 15) LED business is consistently growing at very good rate. In the 9MFY16, LED topline is around Rs.63 crores against 9MFY15 topline of Rs.24 crores, PAT is Rs.13 crores against Rs.1.38 crores. For the FY16, it looks like LED business alone can generate topline of Rs.100 crores, conservative PAT could be somewhere around Rs.16 crores.
This trend will continue for next few years.
Electrical Consumer Durables
EON has also launched consumer durable products such as Fans, Water Heaters etc. although this hasn't picked up yet, this division could grow gradually. This faces tough competition from branded products.
Financial Strength
Eon Electric has a very strong balance sheet.

Eon's equity is Rs.110.86 crores, the book value of company is about Rs.70. At the CMP of 52, stock trades at P/B of 0.74 which seems very cheap compared to its peers (such as Eveready which is trading at 3.49 times book value).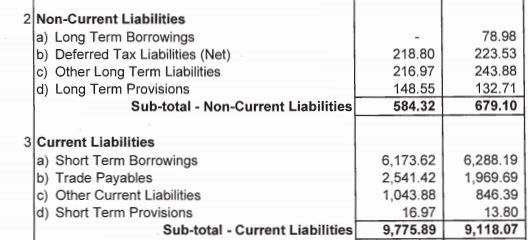 Company doesn't have any long term borrowings. Their short term borrowing which is a working capital loan is about Rs.61 crores. The company's debt-to-equity is about 0.5 (considering short term loans)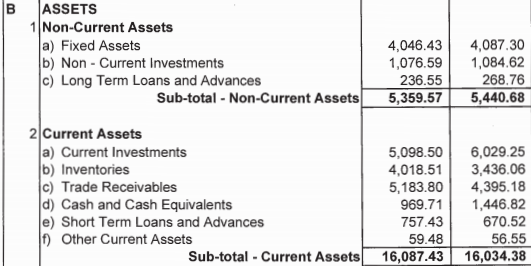 The company has non-current and current Investments in Mutual Funds and Bonds worth Rs.60 Crores. The cash and equivalents are about Rs.10 crores. Thus company is virtually debt free.
Company's cash flow over last few years is not very encouraging

The operating cash flow for the last few years has been negative. This is because of the fact that company sold the Fusegear division and realised cash of about Rs.400 crores which they invested in MF, Bonds and setting up new factories. I believe in the coming years operating cash flow should be positive owing to increased business activity in lighting segment.
The ROE, ROA has been negative for last few years. Once the company turns profitable in next few years, ROA and ROE can increase significantly.
Valuation
The company's net block is Rs.110 crores. The current market cap is Rs.82 crores. So it is available at very cheap valuation. The 9MFY16 revenue is about Rs.120 crores as compared to Rs.129 crores for the whole of FY15. Thus FY16 revenues could be around Rs.160 crores. The current market cap of the company is around Rs.85 crores, so the Rs.160 crores company is available at Rs.85 crores.
The book value of the company is Rs.72, so the stock is available at discount to the book value.
Given the visibility over the earnings of the company in the lighting segment, the stock looks very promising for long term.
Disclosure: I am invested in Eon Electric.